Anibal doing the work, needs results to follow
Tigers starter allows decisive four-run fourth, sandwiched between stretches of dominance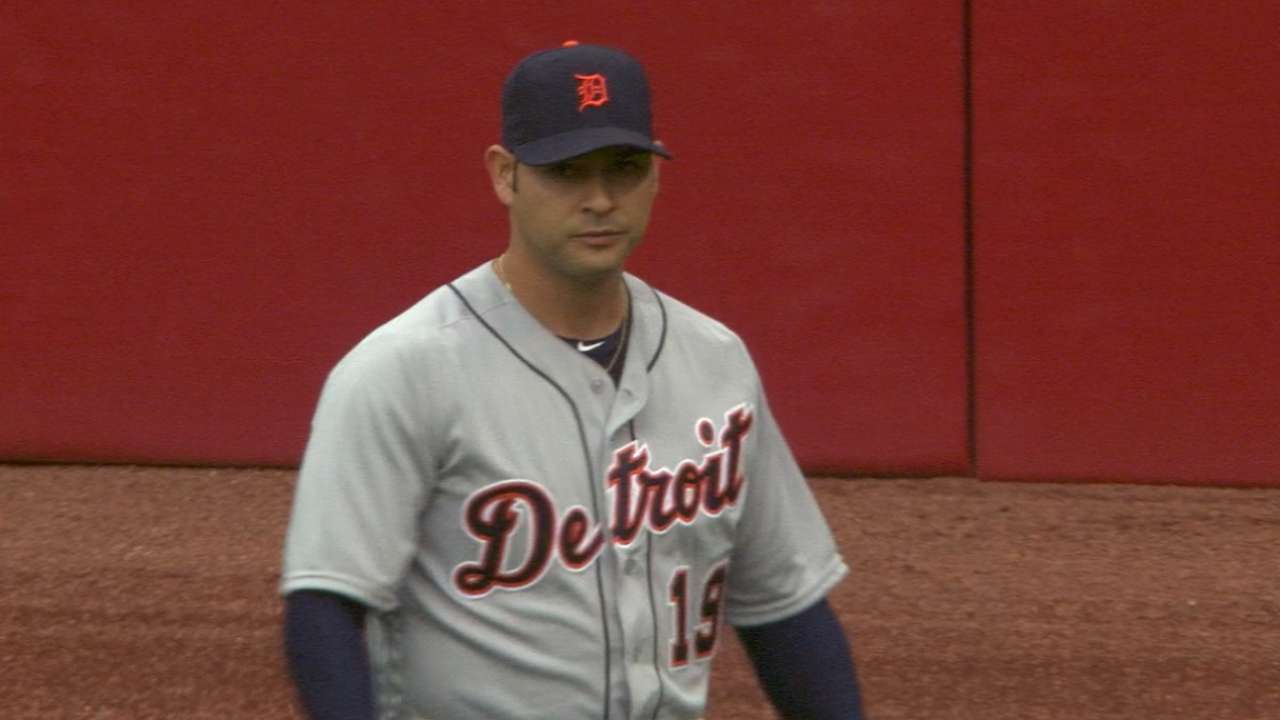 CLEVELAND -- Anibal Sanchez finally broke through the sixth inning that had been his wall Wednesday night. In fact, he went seven for the first time since last July, addressing his personal frustration of not pitching deep into games.
Six of those innings were stellar. A six-batter span of the fourth inning was his downfall. In the end, it was a 4-0 Tigers loss to Corey Kluber and the Indians, but a step in the right direction for Sanchez.
Now, of course, he has to build on it.
"I need to keep working," Sanchez said. "The good thing is I stopped the rally. The damage had already happened for runs. But in the end, I need to keep competing."
That has been the tricky part. Between the adjustments in his delivery -- no hip rotation for four outings, a return to the hip turn for the last two -- Sanchez has had little mechanical consistency, let alone statistical. Now that he has seemingly settled into a form, the Tigers hope the numbers settle in turn.
"Right now, I'm not sure we know exactly what to expect from him," manager Brad Ausmus said. "Hopefully he has some good solid outings the next few outings like he did today. Really, his last two have been pretty good. Then I think we will start to expect to see that type of Anibal Sanchez that gives you an opportunity to win.
"He's shown, I think, his last couple outings he's got the ability to really dominate a lineup at times. Tonight he was very good with the exception of one inning."
It was an Indians barrage sandwiched in between two dominant stretches. Sanchez retired eight in a row following a four-pitch walk to Carlos Santana to lead off his outing, and he retired nine a row from the fourth inning into the seventh. Recording 103 pitches, he turned in his longest outing of the season with his third-lowest pitch count.
His last meeting against Cleveland two starts ago resulted in one of the shortest outings of his Tigers tenure, when he was blistered for seven runs (six earned) on nine hits over 2 1/3 innings while struggling for swings and misses. He rebounded in his last start with 5 2/3 innings of three-hit ball and tallied nine strikeouts against Oakland, but he walked seven.
Wednesday he allowed four hits -- three resulting in runs during a four-run fourth, in part due to command struggles. The fateful inning began much like his first, with a walk to Santana and a strikeout of Jason Kipnis. However, as he ended his opening inning by inducing Francisco Lindor to hit into a double play, he lost Lindor in the fourth with a 1-2 pitch that came in and hit him.
Up came cleanup hitter Michael Brantley with runners at first and second. Brantley hit a ground ball, but through the right side. It was the first hit Sanchez allowed in the game, but it plated the only run Kluber needed for his shutout. Back-to-back doubles from Mike Napoli and Yan Gomes added on from there.
"A hit-by-pitch and the rally by the next three guys," Sanchez said. "The game was right there."
The stuff, he believes, is there, too. Now the results have to follow.
Jason Beck has covered the Tigers for MLB.com since 2002. Read Beck's Blog, follow him on Twitter @beckjason and listen to his podcast. This story was not subject to the approval of Major League Baseball or its clubs.