Kluber battles early, escapes to go distance
Indians ace briefly loses command, but recovers for second straight domination of Tigers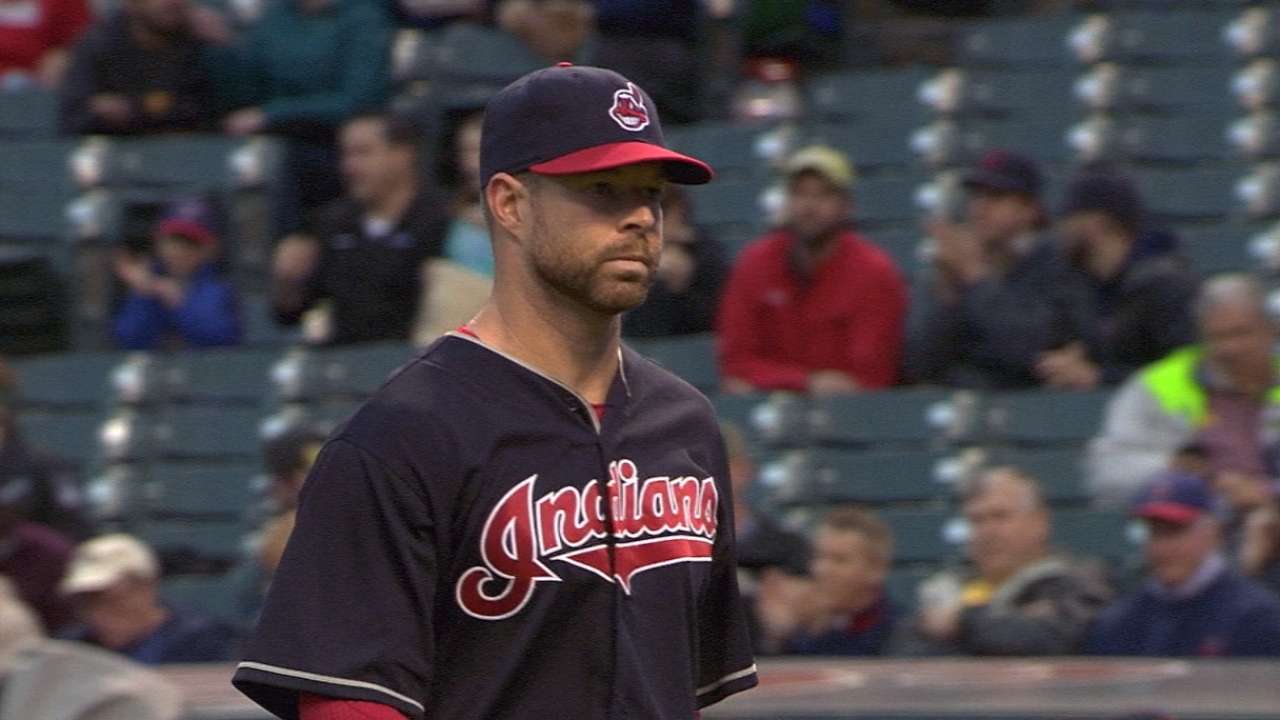 CLEVELAND -- When Corey Kluber worked to two strikes on Tigers slugger Justin Upton in the ninth inning Wednesday night, everyone knew what was coming next. The third pitch that flew from Kluber's fingers was his signature breaking ball, and Upton did not stand a chance.
Upton swung through the pitch for the final out of a 4-0 victory for the Indians, who improved to 5-0 against Detroit this season. Catcher Yan Gomes pumped his fist and slapped his mitt as he hopped out of his crouch and headed toward Kluber. As the pitcher does so often, he tugged at his right sleeve after the strikeout, and then shook Gomes' hand firmly as a subdued celebration of a dominant shutout -- the second of his career.
This was vintage Kluber.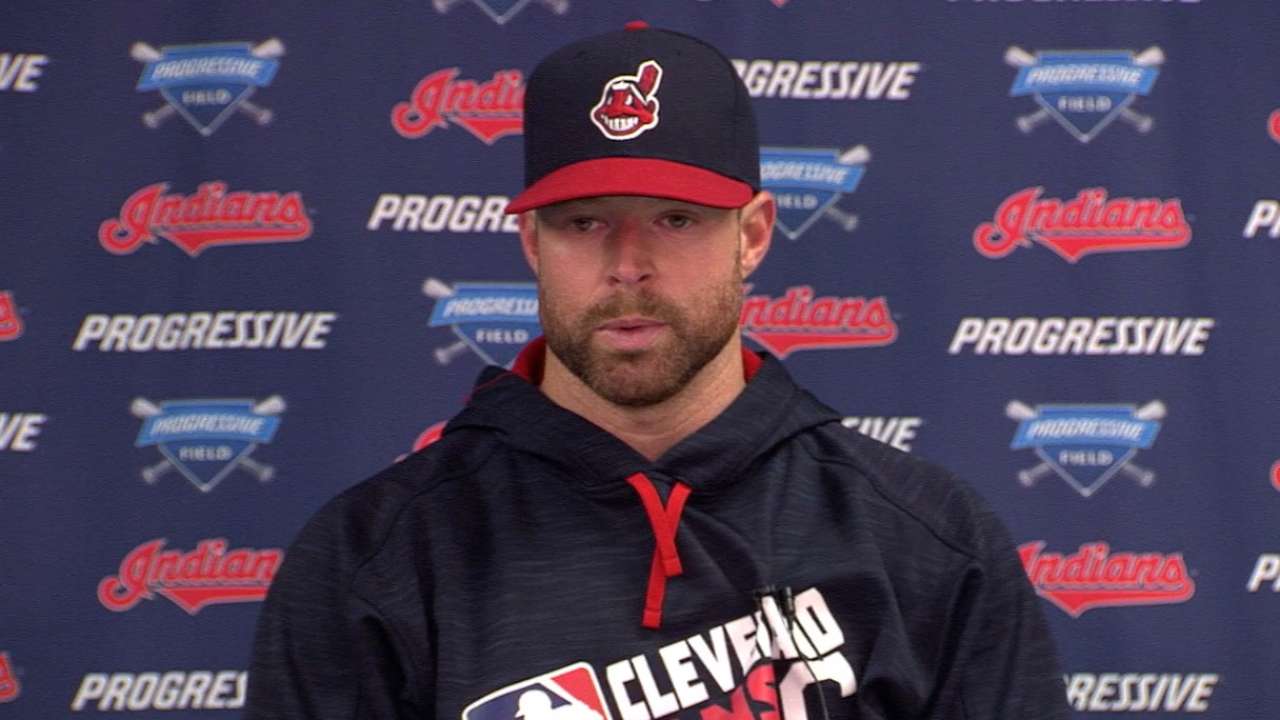 "We all know how strong mentally he is, but his stuff is so good," Indians manager Terry Francona said. "It was exciting to watch him get going because of what it means, not just tonight, but continuing through the season."
Kluber now has a pair of wins on the season, and both have come in overpowering efforts against the Tigers. On April 23 in Detroit, the leader of Cleveland's rotation showed off his power and precision, piling up 10 strikeouts against no walks in eight stellar innings. This time around, Kluber flaunted his fortitude, escaping a pair of dicey situations and ended the evening with 16 outs via ground balls.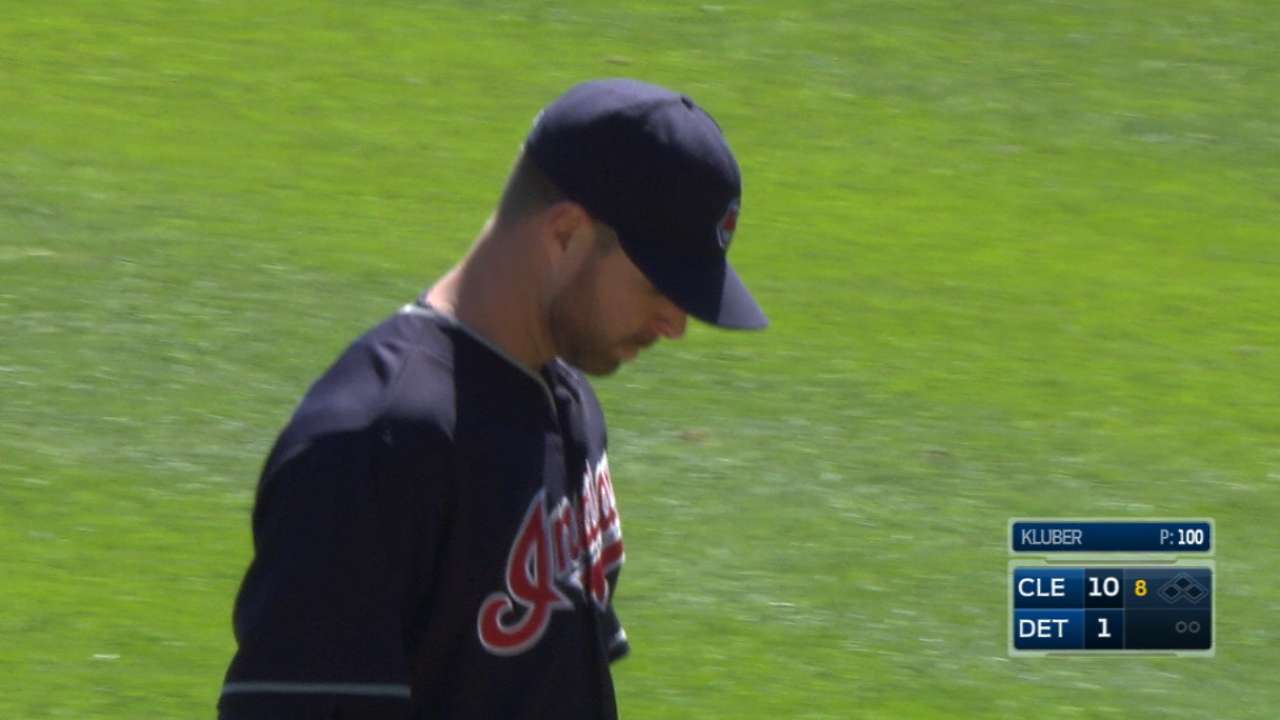 Kluber ended his 111-pitch complete game with seven strikeouts, five hits scattered and two walks.
Combined with a strong effort in Philadelphia last time out, Kluber now has a 1.13 ERA to go along with 23 strikeouts, two walks and a 0.58 WHIP in his past three outings (24 innings). During that three-start span, the 2014 American League Cy Young Award winner has trimmed his season ERA from 6.16 to 3.35, quieting some early-April criticisms.
Corey Kluber's last three starts: 24 IP, 12 H, 4 R (3 ER), 2 BB, 23 K.

— Jordan Bastian (@MLBastian) May 5, 2016
"Early on, I didn't feel like I was really pitching that bad," Kluber said. "It came down to having one big inning every game, for the most part. Really, the key for me was just trying to minimize the big innings. Those are the ones that come back to hurt you. I was trying to get back to going pitch by pitch."
Kluber returned to that mindset on Wednesday night.
His first test came in the second inning, when Nick Castellanos got things rolling with a one-out single and then Kluber temporarily lost a feel for the strike zone. The pitcher fired nine consecutive balls, leading to back-to-back walks to James McCann and Anthony Gose to load the bases. When Kluber finally did throw a strike to Jose Iglesias, the Progressive Field crowd unleashed some sarcastic cheers.
"I totally lost it," Kluber said. "Really, none of the pitches were even close. I tried to just step back, take a deep breath and get back to pitch-by-pitch, getting one guy out at a time."
For Kluber's first escape act of the night, he induced a chopper off the bat of Iglesias. First baseman Mike Napoli charged and gloved the grounder and snapped a quick relay throw to Gomes to cut down Castellanos at the plate for the inning's second out. Kluber followed by striking out Ian Kinsler to end the inning.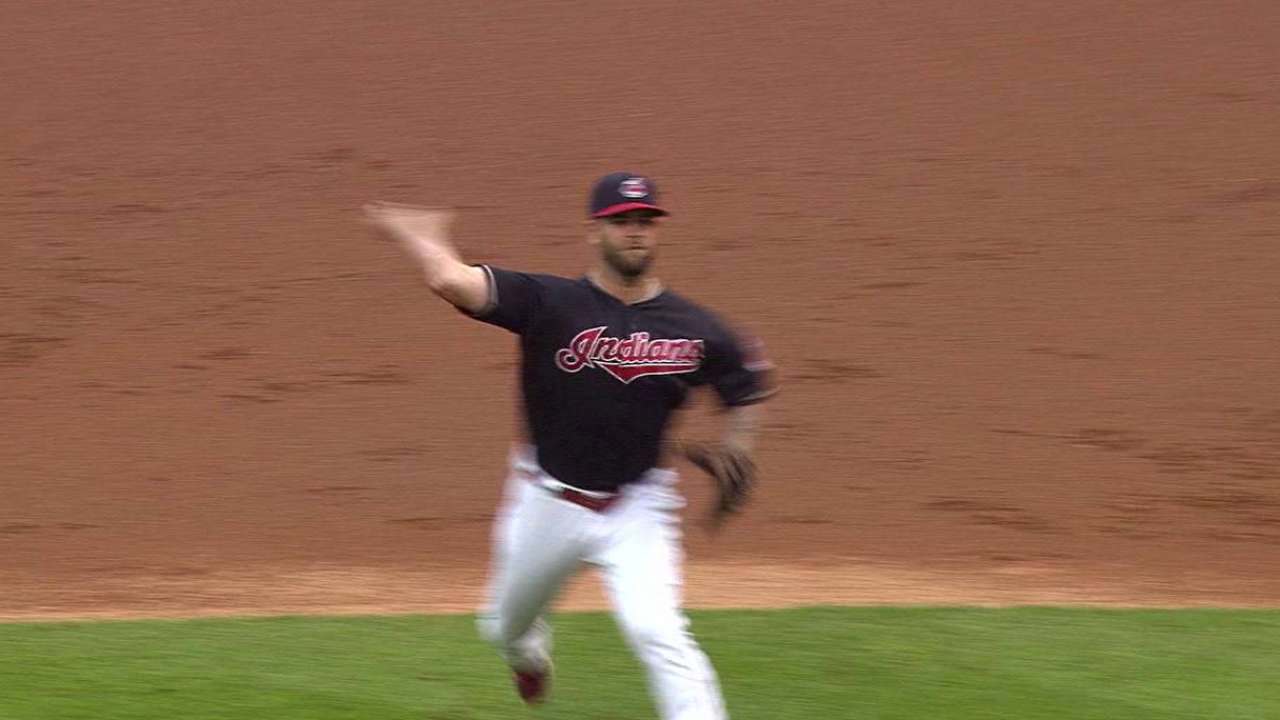 In the fourth inning, Upton led off with a double that bounced off the center-field wall, where rookie Tyler Naquin hit a second too early, throwing him off on the catch attempt.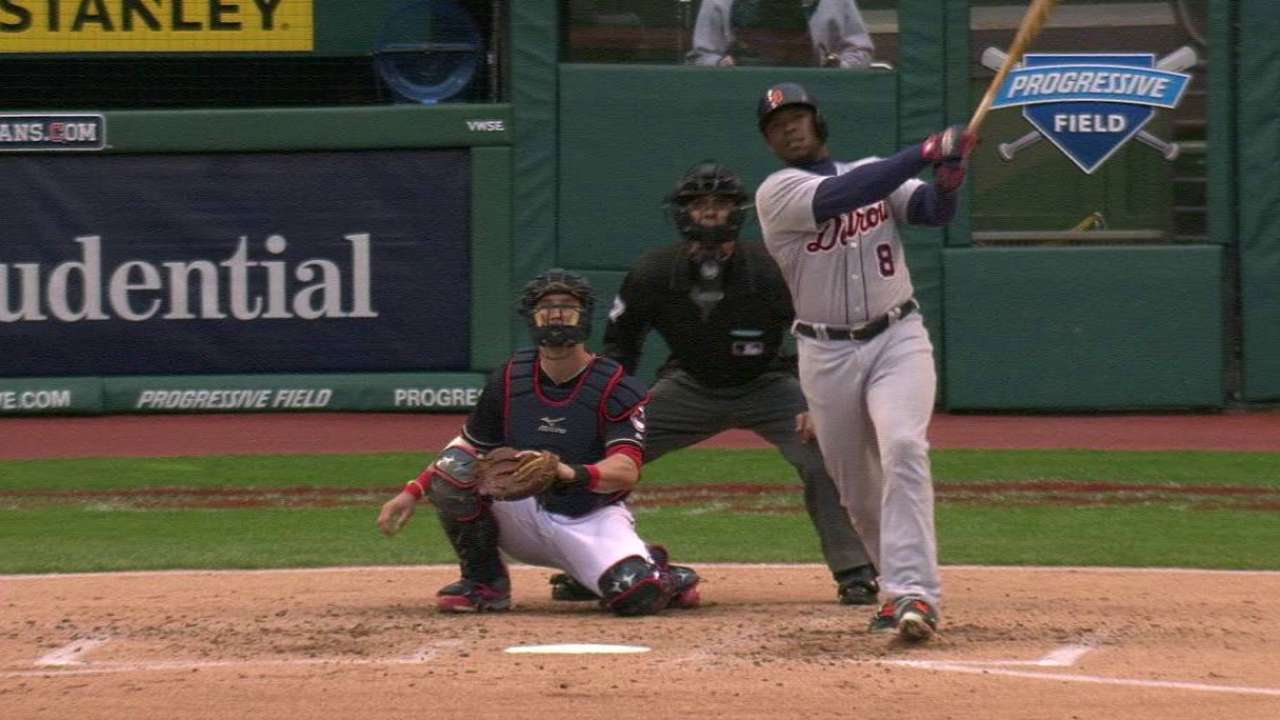 Castellanos then pulled a pitch from Kluber into right field, putting runners on the corners with no outs. For his next escape, Kluber got McCann to ground a pitch to third baseman Juan Uribe, who held Upton at third before starting a 5-4-3 double play.
Kluber followed that play with a strikeout of Gose to end that threat.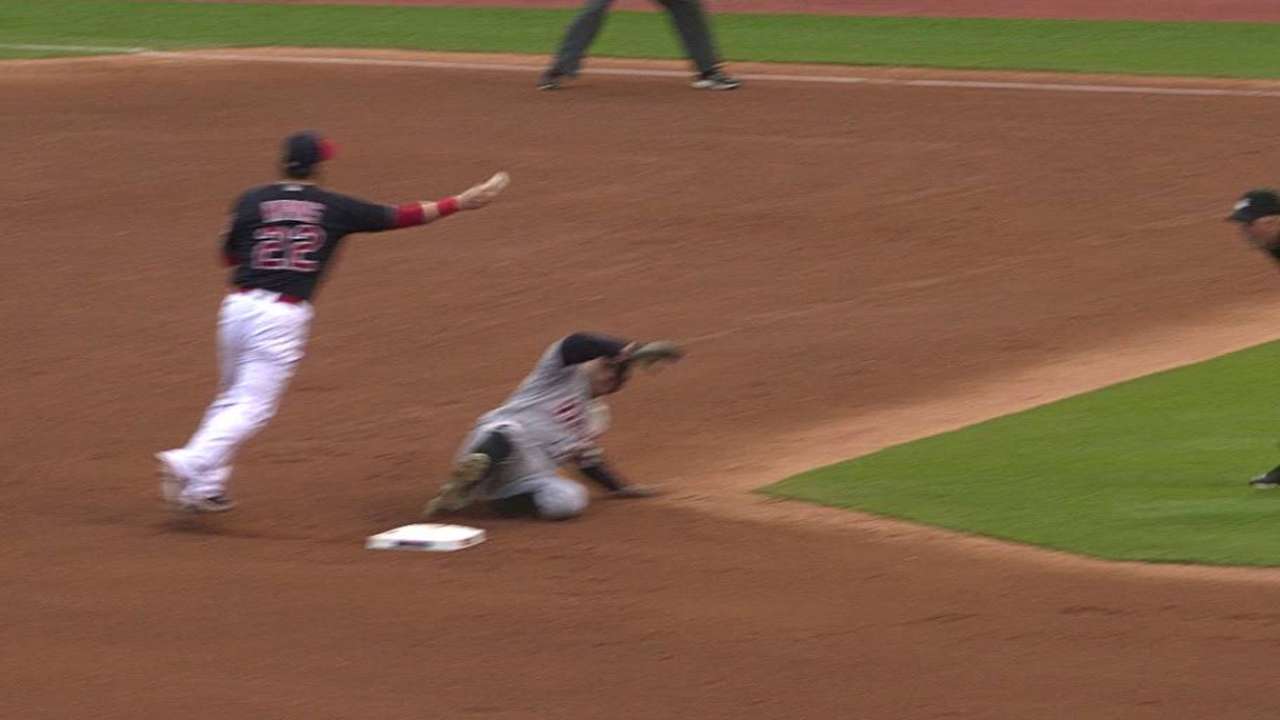 "I think that kind of set the tone throughout the game," Gomes said of Kluber erasing Detroit's scoring chances. "That's been some of our problems before. Somebody ends up getting a hit and a big inning happens. Some of our losses, that's how they happened. They kind of get away from us. He was able to put the brakes [on]."
And Kluber looks like he might be finding what was missing early on this year.
"It was really fun to watch," Francona said. "We've seen, when he gets going and he gets in that rhythm and routine, what he can do every fifth day. So, that's exciting."
Jordan Bastian has covered the Indians for MLB.com since 2011, and previously covered the Blue Jays from 2006-10. Read his blog, Major League Bastian, follow him on Twitter @MLBastian and listen to his podcast. This story was not subject to the approval of Major League Baseball or its clubs.