First pitch is Donaldson's early Mother's Day gift
Reigning AL MVP honored mom at Rogers Centre after receiving awards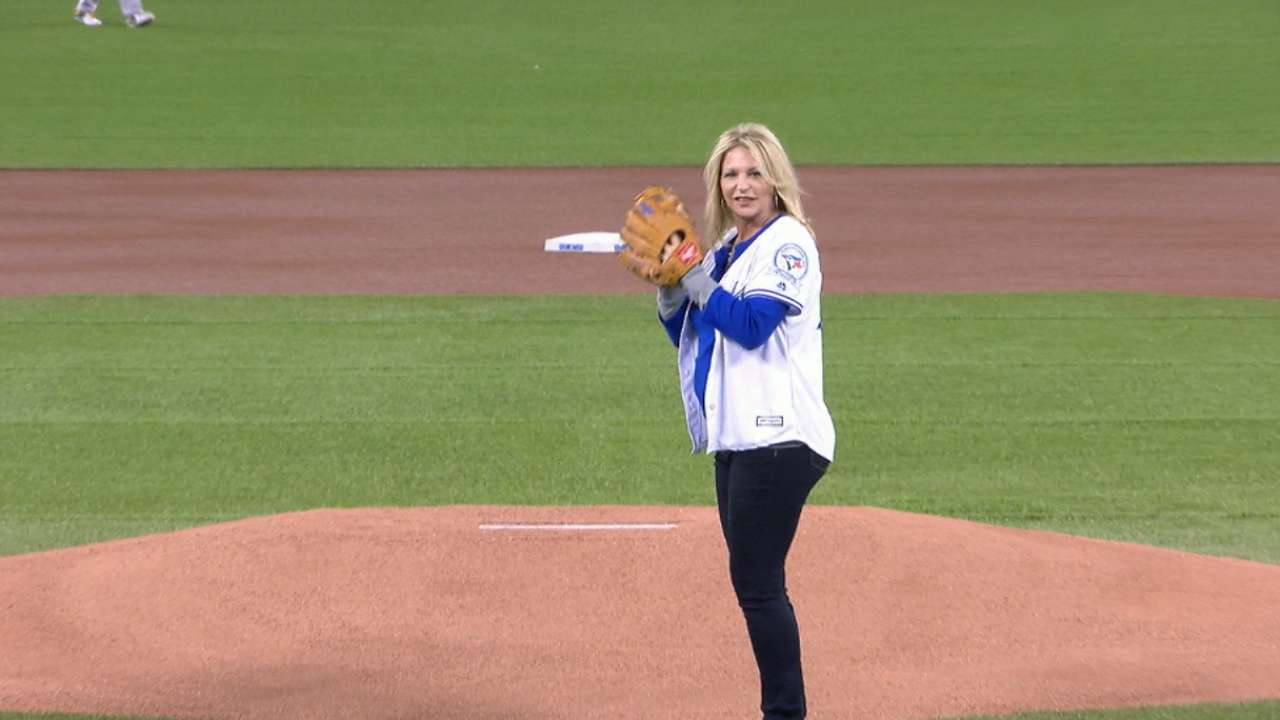 TORONTO -- It was a made-for-Hollywood moment that couldn't have been scripted any better. Prior to the Blue Jays' 6-3 victory against the A's on April 24, Lisa French had the opportunity to throw out the first pitch to her son, Josh Donaldson, on his bobblehead day, creating a moment the two of them will never forget.
To say Mother's Day came early "would be an understatement," said French, who raised Josh as a single mother and a divorcee after Levon Donaldson was sentenced to 15 years in prison for several crimes.
French admitted that there were times when her son was growing up that the mere thought of a moment like this was exactly that -- a thought -- and many years later, those dark times are now a fragment of the past. Instead, the two had a chance to share a memory that will last a lifetime in front of a sold-out and energized Rogers Centre crowd.
"It's surreal," French said as she reflected on the moment and all the accolades her son has earned. "It's really unbelievable when you think about it, to see him go through what he went through and work hard the way he did. It's so special as a mom to see him live out the dreams that he worked for every day. I could not ask for anything better, and to top it all off, they're winning the game."
Donaldson was presented with his American League Silver Slugger Award, Players Choice Award and AL Outstanding Player Award before the game, and he was given the chance to choose whomever he wanted to throw out the first pitch on the afternoon. French said she found out about the invite on a phone call from her son about a week prior to the game, and that she actually had a dream about it before it happened.
"Probably four days before I got called," French said about the dream. "I was just in the kitchen, acting like I was throwing out the first pitch. Four days later, I get the call telling me the news. I was like, 'This is crazy.' Nobody is ever going to believe this story, but I was more than thrilled."
• Shop for Blue Jays Mother's Day gear
Since Donaldson first picked up a baseball at the age of 4, he would work on his game with French's brother, Chuck Pyritz. Even as a kid, Donaldson would work at his craft for hours on end, with French having to convince her young baseball star to come back inside, eat his dinner and do his homework. After receiving the news from her son that she was going to throw out the first pitch, it was French's turn to get some lessons from her brother.
"I went over to his house to practice and threw like 100 pitches," French said. "I felt good, but then after, I had to 'IcyHot' my arm. It was sore for three days. I didn't want to pull anything, and I definitely didn't want to bounce that ball."
French was on target with her pitch, and the two embraced in a warm hug in front of the mound. Although Donaldson is as laser-focused as a ballplayer can be, Toronto's third baseman and the 2015 AL Most Valuable Player Award winner couldn't help but express his emotion about the moment, and his gratitude toward the woman he describes as his "rock" and "best friend."
"I know how proud she is of me," Donaldson said. "Before the game, I could see how happy she was. It was a neat moment, and it's tough because you want to be dialed in before the game, but it's a special moment for me, a special moment for her and I won't forget it.
"We have a great relationship. To be able to share that, that's a memory that will last a lifetime."
As far as what the two have planned for Mother's Day itself? French was unsure exactly, but she was quick to point out that every minute she spends with her son is extraordinary in its own right, and the move from Oakland to Toronto has made it a little easier for her to visit on a more regular basis. The two spent last Mother's Day in Toronto, with Donaldson showing his mom the city and its various attractions.
"Every day to me, when I'm with him, is Mother's Day," French said. "There's a lot of special moments between us that have carried throughout time, and they don't necessarily fall on that specific day. He'll do things for me like send me flowers or call me unexpectedly, and it will always remind me, that's my little boy."
Alykhan Ravjiani is a reporter for MLB.com based in Toronto. This story was not subject to the approval of Major League Baseball or its clubs.