Lessons learned for Manaea in first 2 starts
A's prospect has impressed, but there's room for improvement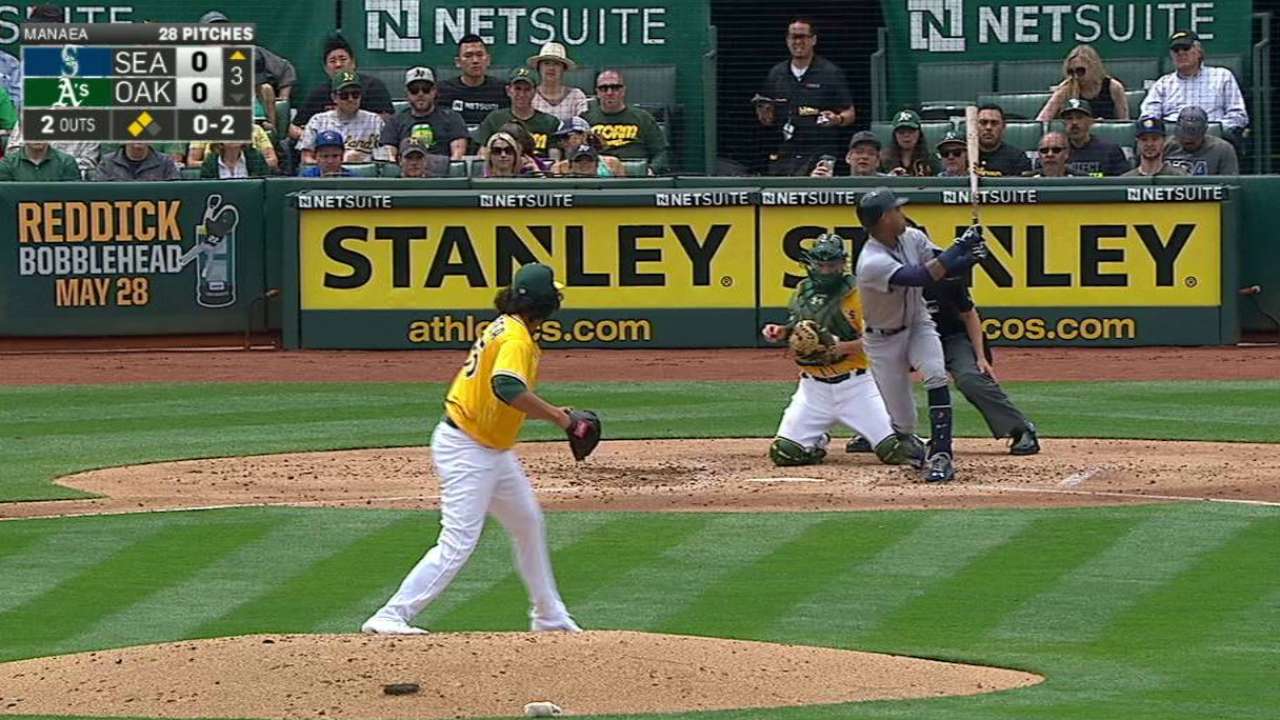 OAKLAND -- Sean Manaea received an advanced baseball education through his first two Major League starts. What he needs now is a victory.
The A's rookie left-hander gave up all four of his runs in the fifth inning and left the game with a four-run lead. The bullpen could not make it stand up, giving up five runs over the sixth and seventh innings to drop a 9-8 decision to the Mariners, who completed the series sweep Wednesday.
"Outside of four pitches in that last inning, he did outstanding," A's catcher Stephen Vogt said. "They took advantage of getting a good opportunity. Wow, that happened quick. His slider was sharp and his fastball command was better. We should have gotten him deeper into that game."
Manaea, the A's No. 2 prospect, took some of the blame for allowing the fifth inning to get a little out of hand. He retired the first two batters he faced before Norichika Aoki beat out an infield single to spark the four-run rally, highlighted by Nelson Cruz's monster blast to straightaway center.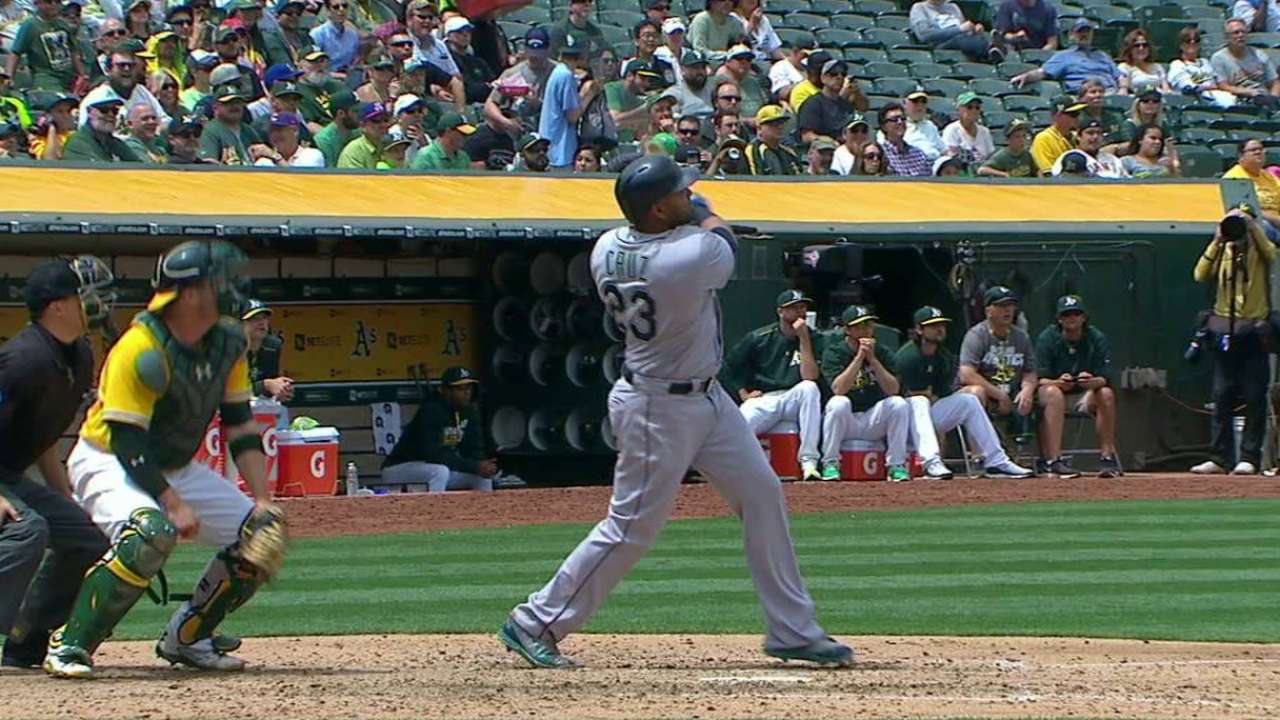 "I should have done a better job of slowing things down," Manaea said. "I felt like I was trying to rush things, get through the fifth inning, get things done quick. I got those two quick outs. That's kind of what I was thinking. I should have stepped back a little bit and taken a deep breath."
His game plan against Cruz included trying to beat him in with fastballs. It was going OK until the home run that landed in the second level beyond center field.
"That pitch I just left out over the plate. He had seen the fastball the previous six or seven pitches, so he's probably got the timing down," Manaea said. "I should have mixed it up a little bit there. I tried to go inside and it just went over the plate."
His first start, against the Astros, was similar. Manaea gave up a run over his first five innings and then didn't record an out in the sixth and was charged with three more. The A's rallied to win that game behind a solid effort from the bullpen.
"I'd say it's definitely a learning curve," Manaea said. "It's just something I have to take into my next start if it happens again. I've learned a lot through these two starts."
The A's bullpen, which has been strong this season, seemed to fall apart as a group.
"You get a four-run lead like that and we have our best guys available for the game, I feel like we're going to win that every time," A's manager Bob Melvin said. "It didn't happen today. Unfortunately that's going to happen from time to time. It would have been a nice game to put away."
Instead, the A's lost their fourth straight, matching their longest losing streak of the year.
"We've been priding ourselves in the job we've been doing, stranding runners and keeping us in the ballgame, and today we didn't do that," A's reliever John Axford said. "None of us did that. It was just unfortunate that it all happened for all of us on the same day."
Rick Eymer is a contributor to MLB.com based in Oakland. This story was not subject to the approval of Major League Baseball or its clubs.