Don't mind me: Drury dives into stands for grab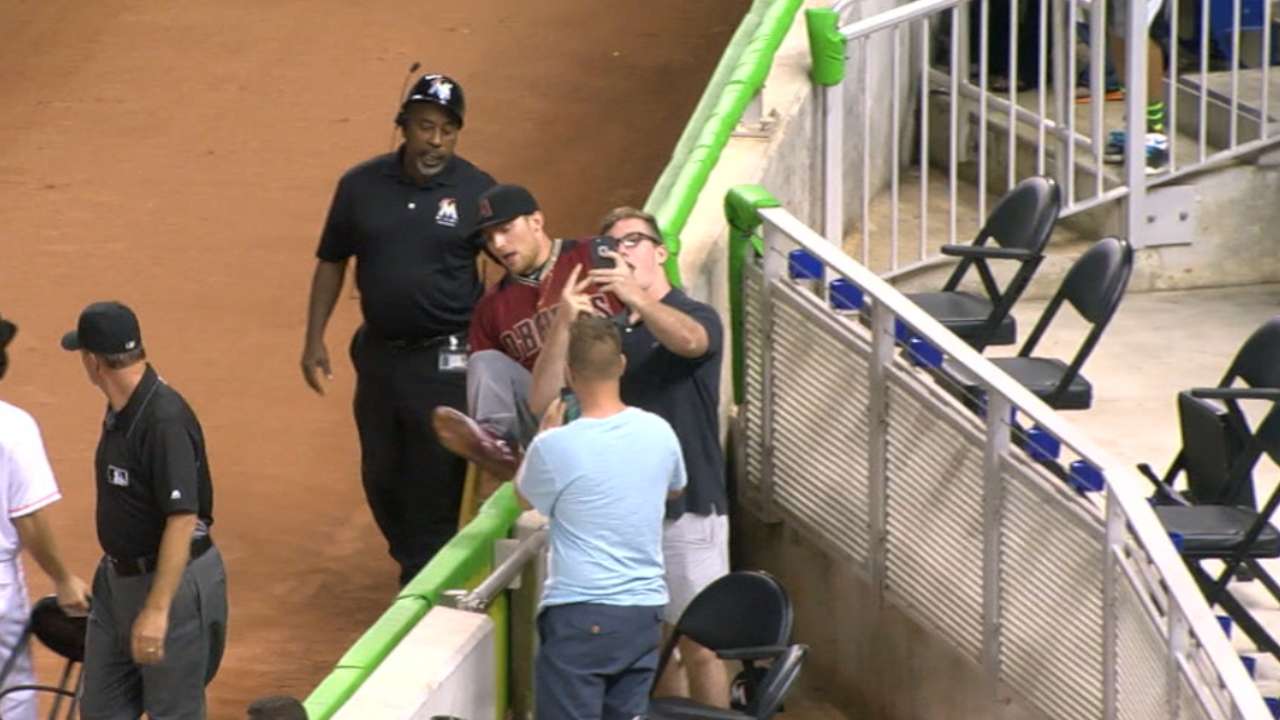 MIAMI -- Brandon Drury got up close and personal with the Marlins Park fans along the right-field line in the fifth inning of Wednesday's 4-3 D-backs loss. Chasing a foul fly ball off the bat of Miami's Martin Prado, the D-backs' right fielder went tumbling into the right-field seats to make a nice running catch.
"I shifted over a little bit to give myself a good chance to cover the line," said Drury, who ran full speed over the waist-high barrier. "The outfield is still new right now. I was taking a chance of running into the stands, to be honest. I really didn't know [how close] I was. I just wanted to catch the ball. I caught the ball, that's what matters."
With Marlins catcher J.T. Realmuto on first base and no outs, Drury attempted unsuccessfully to get to his feet following the catch, but still sprawled out and managed to flip the ball back to the field. It wasn't in time, however, to get Realmuto, who tagged and advanced to second.
One way to react to a player spilling into the stands after a great catch: take a selfie? https://t.co/hlanvdeiSN pic.twitter.com/5SFcAtjVev

— Cut4 (@Cut4) May 5, 2016
"I knew I [caught] it, so I just tried to skid in [a throw]," Drury said. "Next time I'll just hold onto the ball, because they can just go to second on that play. If I [make a bad throw], they might get to third. But I was just trying to get rid of it quick. That was the first thing I thought."
The infielder by trade is still learning the finer points of playing the outfield.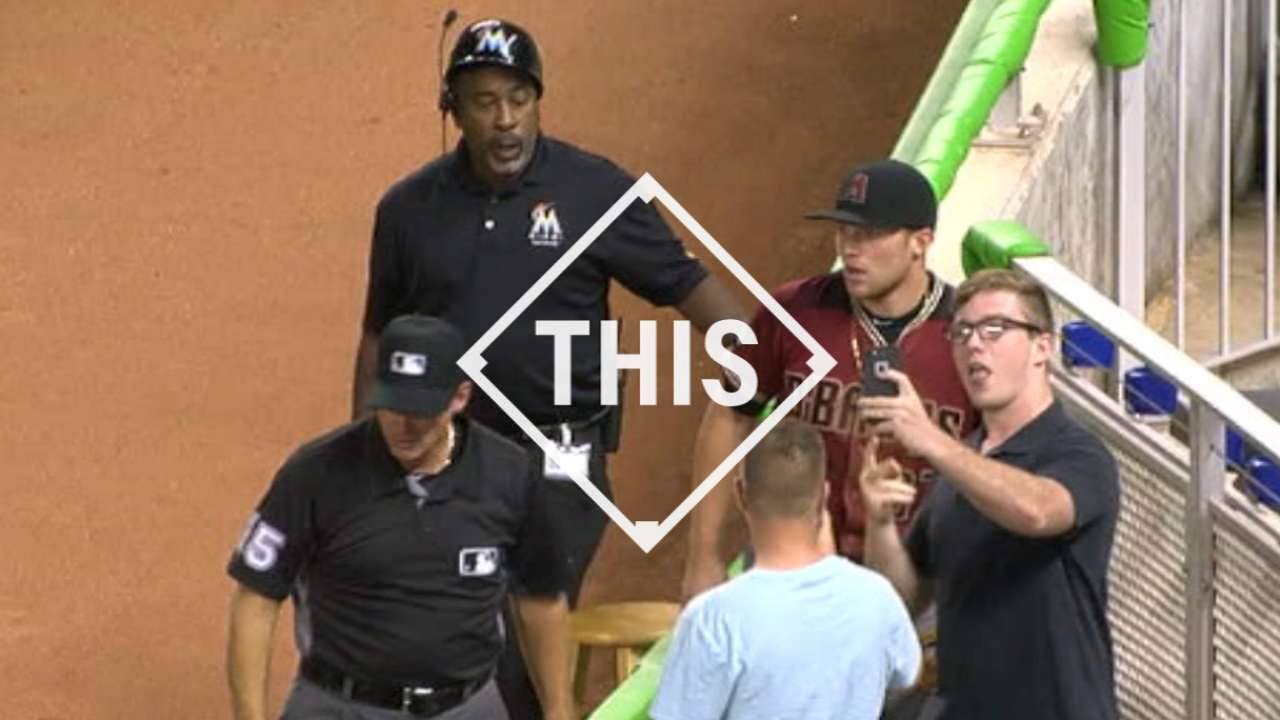 "It's tough to go out there and play all these different positions every night," manager Chip Hale said. "And for him to be able to go in the stands like that, he's a ballplayer. He's a tough kid.
"It's one thing if you're an outfielder. But he's an infielder, learning to play the outfield on the fly. Those are all tough plays. For him to make a play like that, he's busting hard."
An inning later, Drury showed his inexperience in right field, as a hard-hit liner off the bat of pinch-hitter Cole Gillespie glanced off the end of his glove for an error.
"I've had some tough plays in the outfield so far," Drury said. "It's an excuse, but [it wasn't until] a week or two left of Spring Training I started taking fly balls.
"It's new to me. But I come in working on my stuff every day. A lot of those plays are still new to me. I've got to get used to them, but I will."
Glenn Sattell is a contributor to MLB.com and covered the D-backs on Wednesday. This story was not subject to the approval of Major League Baseball or its clubs.