Souza expects to play Friday after early exit
Rays outfielder left game in sixth due to pectoral spasm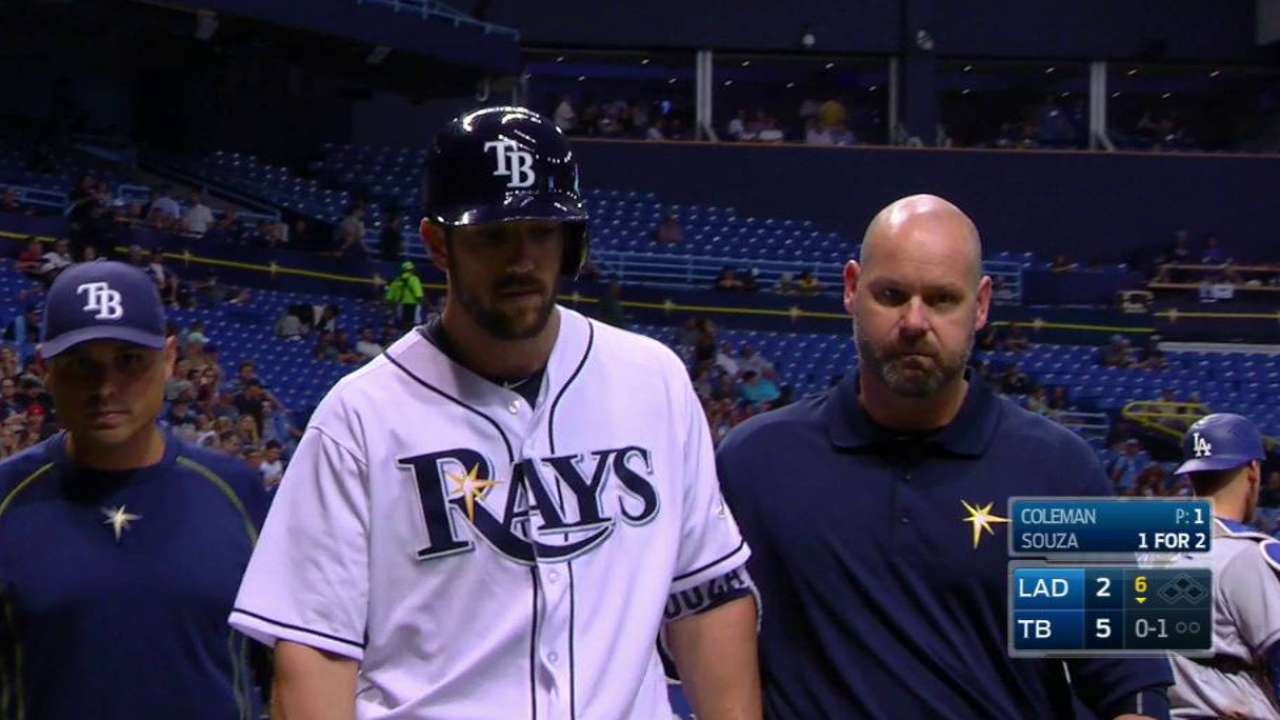 ST. PETERSBURG -- Steven Souza Jr. left Wednesday night's 8-5 win over the Dodgers after suffering a pectoral spasm after swinging the bat.
"It was a weird feeling, I don't really know how to explain it," Souza said. "I've never had anything like that happen to me, so I was a little freaked out."
With no outs in the sixth, Souza swung and missed at Dodgers reliever Louis Coleman's pitch. The Rays outfielder was clearly in some discomfort, which prompted manager Kevin Cash and assistant athletic trainer Paul Harker to check on Souza at home plate.
"My chest obviously had a spasm of some sort," Souza said. "I was a little out of breath and then took a step back and came out of the game as a precaution.
"... I'm OK now. It just kind of lingered a little bit. As soon as we got back and took a look at it, it simmered down. It felt really weird, like a tingling sensation throughout my body. I didn't know what it was. It didn't feel like anything muscular, or if I broke anything. It's really hard to explain."
After a brief conversation, Souza was taken out and Kevin Kiermaier was sent to pinch-hit. Souza went into the clubhouse where he was examined.
"The doc checked my heart and said everything sounds good," said Souza, who expects to play Friday night in Anaheim.
Souza was 1-for-2 in the game prior to his exit, hitting his sixth home run of the season to give the Rays a one-run lead in the bottom of the fourth inning.
Bill Chastain has covered the Rays for MLB.com since 2005. This story was not subject to the approval of Major League Baseball or its clubs.