Fulmer settling in at Double-A, won't be rushed
Hahn wants to see club's No. 1 prospect develop in Minors
CHICAGO -- The first three starts at Double-A Birmingham this season for Carson Fulmer featured an uncharacteristic 10 walks and eight strikeouts over 12 2/3 innings.
Luckily for the White Sox No. 1 prospect per MLBPipeline.com, the team isn't basing the right-hander's outlook for the immediate future on that small sample.
"It's a little premature to extrapolate his big league readiness from [five] Double-A starts," White Sox general manager Rick Hahn told MLB.com. "The more recent ones are obviously better than the first couple. But it's all part of the development process."
"He's making some progress," assistant general manager Buddy Bell said of Fulmer. "It's sort of what we've seen with a lot of younger guys. The fastball command gets him in trouble a little bit. That's really the most critical thing for any pitcher. He continues to improve with that just about every start."
Fulmer, 22, has 47 2/3 Minor League innings since the White Sox selected him eighth overall out of Vanderbilt in the 2015 Draft. His name popped up again on Tuesday when the White Sox designated John Danks for assignment and the fifth starter's spot opened up in one of baseball's best rotations this season.
Right-hander Erik Johnson takes the mound for Thursday's series finale against the Red Sox, but there's nothing guaranteed beyond that start. Miguel Gonzalez and Jacob Turner also remain firmly in the mix.
After that brief lapse in control, Fulmer has a 9-to-1 strikeout/walk ratio over his last two starts covering 12 innings. Fulmer clearly has adjusted already at this new competitive level.
"Quite frankly, in a perhaps mildly twisted way, we were OK with a guy struggling at the Minor League level," Hahn said. "Having these guys go through failure and learning how to cope with it and learning how to climb out of a hole serves them well in the big leagues, when inevitably they are going to struggle at some point.
"There certainly was a great deal of hype and understandable excitement about Carson in Spring Training. So the fact that he's scuffled a little bit early on will probably be to his long-term benefit."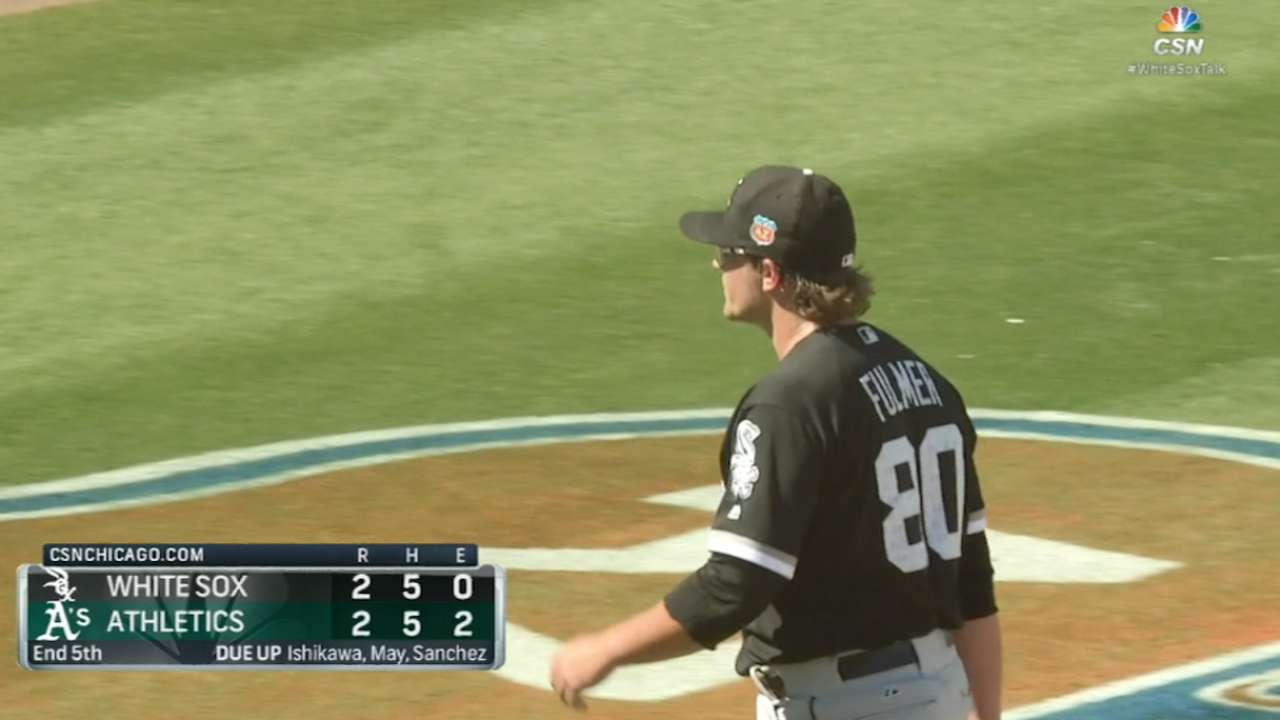 Bell said Fulmer is about as competitive as he has ever seen, with the intensity that makes him good also making him bad at times. Experience will help Fulmer slow things down, per Bell.
Will that experience eventually lead Fulmer to the 2016 White Sox rotation, giving the American League Central leaders a boost from within their system? Hahn wouldn't promise anything aside from keeping an open mind.
"We are absolutely very open-minded to any of the premium guys in our system coming up and helping us," Hahn said. "We have not by any means closed our minds off to other options in the system should they rise up to the level where we feel they are ready.
"One thing we are not going to do is rush anybody because there is a need in Chicago. That's not good for anybody. So it will be more about any of these prospects forcing the issue and forcing their way to Chicago where there happens to be a need."
Scott Merkin has covered the White Sox for MLB.com since 2003. Read his blog, Merk's Works, follow him on Twitter @scottmerkin, on Facebook and listen to his podcast. This story was not subject to the approval of Major League Baseball or its clubs.