Blash's mom pushed rookie in right direction
Padres outfielder gives 'perfect person' credit for getting him to Majors
SAN DIEGO -- Growing up in St. Thomas in the U.S. Virgin Islands, young Jabari Blash was the mischievous type.
There were days when Blash did everything he could to find a way out of baseball practice after school. His favorite strategy was to purposely leave his equipment bag at home.
Yvette Blash knew her son too well.
She'd find his hidden baseball bag and load it into the trunk of the car. When Blash called after school to tell her the bag had gone missing, she'd calmly inform Blash that, no, in fact, it had not.
Flash forward a decade and a half. Blash is a rookie outfielder with the Padres, and he gives Yvette a lot of the credit for getting him there.
"She just literally made me into the player I am, and she sacrificed a lot to make sure I could play," Blash said. "I found out later in my career -- some of the trips I took when I was younger, she pretty much worked lunches just to get me where I was going, to have the funds available."
A single mother of three boys, Yvette Blash is the manager of a local post office. She'd often work extra hours -- early mornings and lunch -- to earn money to pay for her sons' baseball trips.
Yvette was adamant that Jabari play baseball for a couple reasons -- first because she saw the talent in him from a young age. Second, she didn't like the other options.
"On that island, at the time, there was not a whole lot to do," Yvette said. "I saw his friends going directions that I didn't like. ... I just made up my mind that that wasn't happening with my sons."
Basketball was Jabari's first love, but Yvette pushed him toward baseball, because, she said, "the baseball group was like a family."
• Shop for Padres Mother's Day gear
Still, in Yvette's eyes, her son didn't truly embrace baseball until he was about 15 years old. Yvette had saved up for Blash to take a trip to Jupiter, Fla., for a Perfect Game tournament. For the first time, Blash played against teams full of players with similar talent levels.
"It was a lot of money just to get him on a team, Yvette said. "But he loved it. It was a whole different level of baseball. He had to use the talent.
"And look at him now. He loves it. He eats, drinks and sleeps baseball."
Blash refers to his mother as "the perfect person." His eyes get wide before he reinforces the notion, saying, "It's actually kind of scary, but she really is perfect."
As a child, Jabari never liked going to his mother for advice, because she'd answer him with another question -- the same one every time.
"Well," Yvette would respond, "What's the right thing?"
For Yvette Blash, the right thing was always being there for her sons. That meant going to every game, taking them to every practice and working hard enough to ensure that they could pursue their baseball dreams.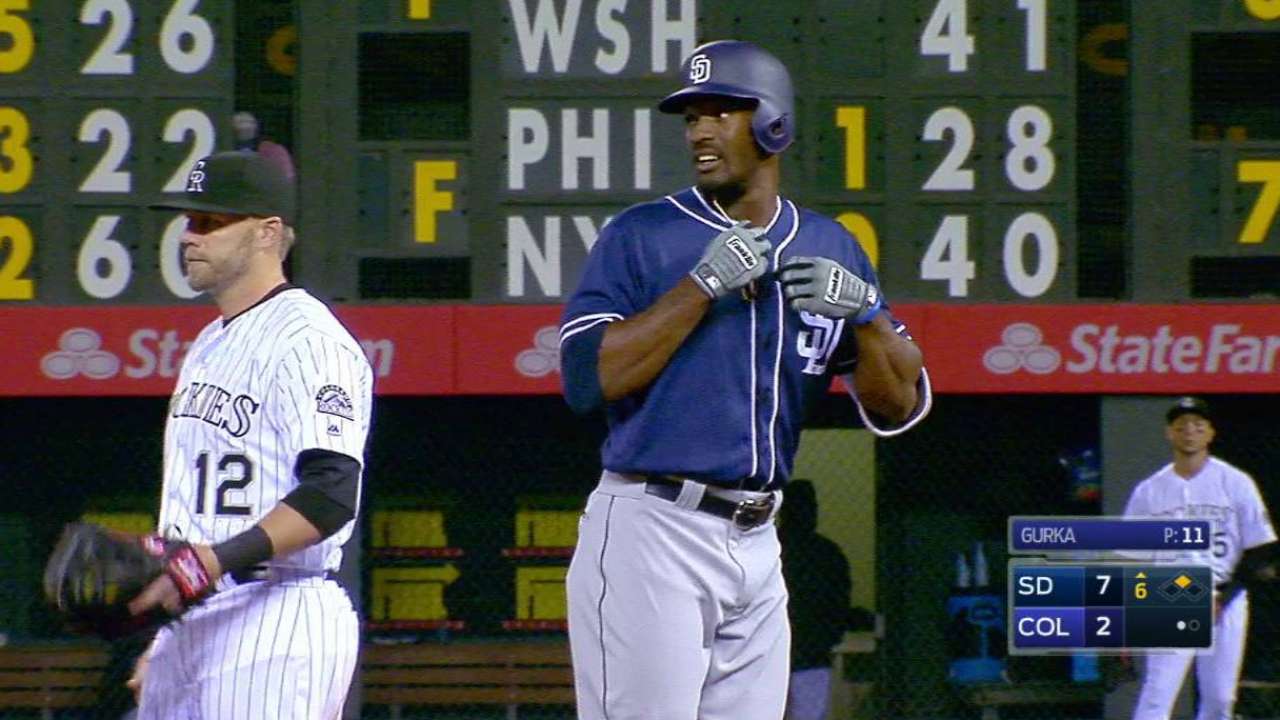 "I was never the type of parent who would drop my sons off and leave," Yvette said. "I was a single parent, so I felt like I had to work twice as hard. It was a sacrifice, but it was out of love. And at the end of the day, it may have been a sacrifice, but it was all worth it."
In term's of Blash's baseball career, it has, indeed, all been worth it. Blash was selected in the eighth round of the 2010 Draft, and after six seasons in the Mariners' organization, the Padres scooped him up in the Rule 5 Draft this past offseason.
After receiving the news he'd made the Opening Day roster last month, Blash retreated to the Petco Park dugout, where the first thing he did was place a phone call to his mom. He had barely gotten the words out of his mouth, before he was forced to pause, allowing Yvette time to scream.
"She was ecstatic," Blash said. "She knows how much I love the game, and how hard I work, so she was happy for me and the accomplishment."
Once she settled down a bit, Yvette had a message for her son, on the other end of a phone 4,000 miles away.
"I told you so," she said.
As with most mothers, Yvette Blash knew best all along.
AJ Cassavell covers the Padres for MLB.com. Follow him on Twitter @ajcassavell. This story was not subject to the approval of Major League Baseball or its clubs.