Bourjos' defense a nice fit for Phillies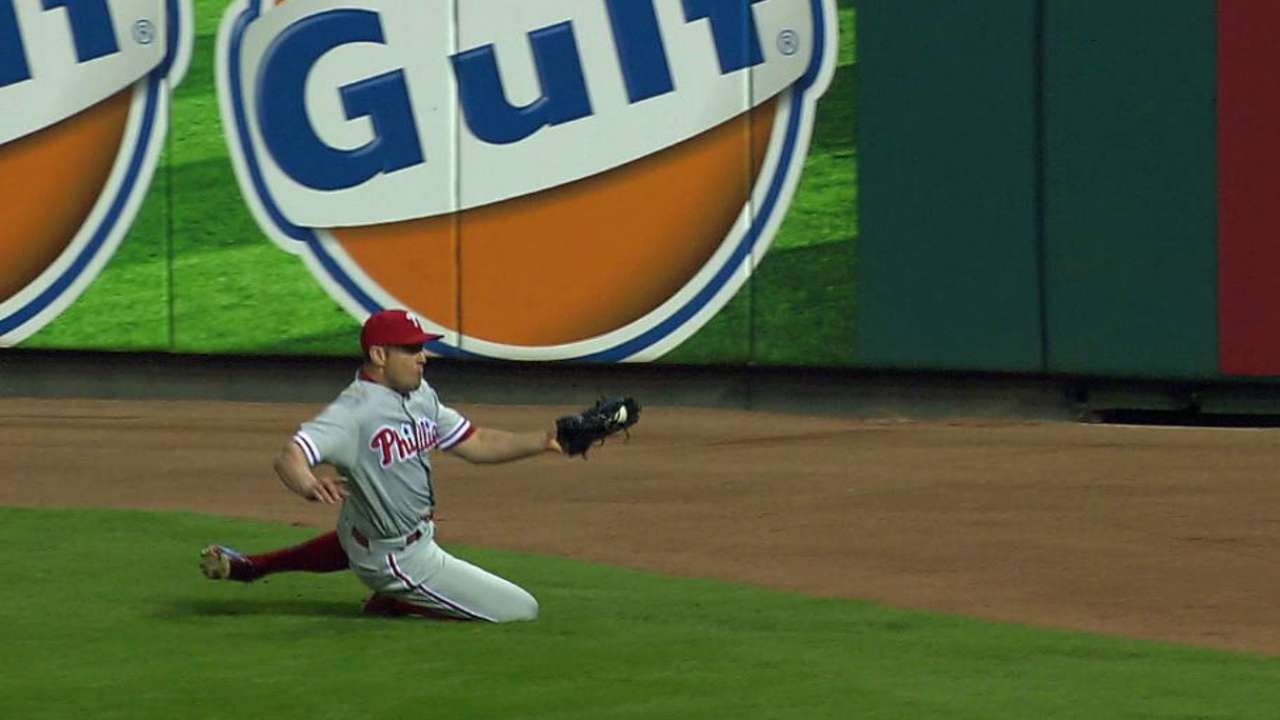 ST. LOUIS -- Peter Bourjos burned his former team Tuesday night with his best weapon -- his glove.
Bourjos' sliding catch in right field on a tailing line drive off the bat of Randal Grichuk in the fourth more than likely saved a run as Yadier Molina had a good jump off of first with two outs. Aaron Nola and Ryan Howard did the rest in the Phillies' 1-0 win over the Cardinals.
"At first when it was hit I was like, 'Alright, I've got a good jump, I think I'm going to get there,' and then it kept slicing away, slicing away and that's when I was like, 'Oh boy, I think I'm going to have to dive for this,'" Bourjos said.
Grichuk made sure he let his friend know how he felt about his glove work before Wednesday's game.
"He was giving me a hard time about it," Bourjos said. "I just saw him in the dugout. I said you never hit the ball to right, hit it to left like you normally do. It was pretty funny."
All kidding aside, Bourjos has brought a strong defensive component to the Phillies' outfield that the team has lacked in the past.
"In the past, we've had outfielders who could catch the ball, but didn't have a lot of coverage," Phillies manager Pete Mackanin said. "Now we've got guys who can cover a lot of ground. … Just that one play was one of the biggest parts, if not the biggest part, of the game."
Bourjos, who has mainly played center field, has had to adjust to playing right and left for the Phillies.
"I'm getting more and more comfortable out there," Bourjos said. "It's a process, it's a learning curve. In center you can see everything that's going on, the ball doesn't slice as much. In right and left the ball starts slicing and you can't see where the pitch is and start reacting a little sooner."
Bourjos has struggled so far at the plate, hitting .169 in 77 at-bats. But Mackanin said he's won three or four games using his speed to make stellar catches.
"He's got a great makeup," Mackanin said. "He knows what his job is and he doesn't take his at-bats onto the field, which we try to point that out to everybody. You don't have to point that out to him. He takes pride in his defense."
Bourjos believes his hitting will come around.
"I think I need to stay on top of the baseball and stay in right center," Bourjos said. "If I do that and put the ball in play, the average will start going up and I'll be able to help the team win on the offensive side too."
Joe Harris is a contributor for MLB.com based in St. Louis. This story was not subject to the approval of Major League Baseball or its clubs.