Splitter serving Neris well in relief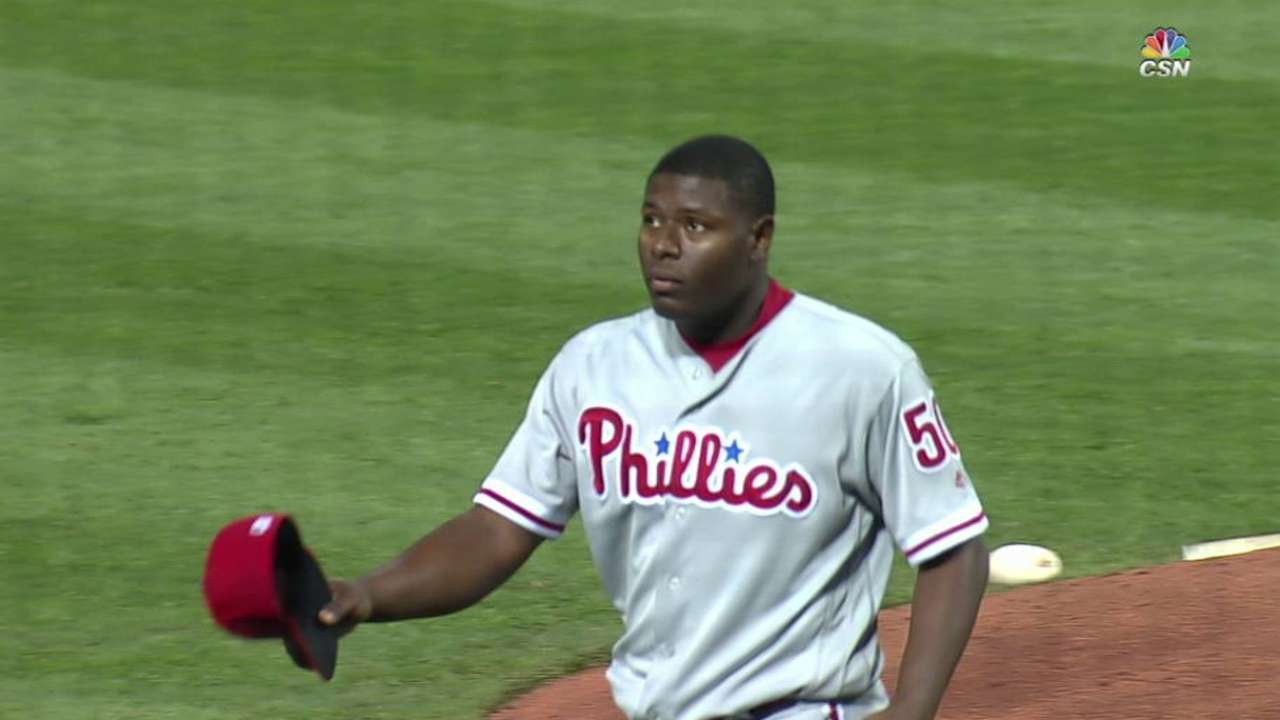 ST. LOUIS -- Phillies manager Pete Mackanin calls Hector Neris' split-finger fastball an invisible pitch. More and more opponents may start to agree.
Neris has gained confidence with the pitch with every outing this season. Combine his new-found willingness to throw the splitter in any count with a mid-90's fastball and it's a potent late-inning combination.
Neris has racked up 27 strikeouts in 16 1/3 innings with a 1.10 ERA. He struck out all three Cardinals he faced in the eighth inning of Tuesday's 1-0 Phillies win, setting the tone with his first pitch.
"Yesterday the first pitch he threw to the first hitter he faced was a split for a strike," Mackanin said. "Once the hitter sees that, you can't sit on a fastball."
Having the confidence to throw the split at any time is the biggest difference for Neris this season, which is exactly what the Phillies wanted to see.
"It's such a good pitch," Mackanin said. "Last year, we kept thinking, boy if he could just get to that and use it more often, that it could be an effective pitch. But last year he was waiting, trying to get ahead with his fastball and he couldn't. He couldn't locate his fastball well enough to get ahead with it."
Neris said he learned the split-finger from Jose Paulino, his coach in his native Dominican Republic.
Phillies closer Jeanmar Gomez and Dalier Hinojosa are also starting to throw a splitter. They have asked Neris how he throws his.
Neris actually has two different splitters: One goes straight down and the other tails. He said he can control it with his grip.
"It's hard to lay off of," Mackanin said. "You can see the movement on the pitch. When it gets right into the zone and he keeps it down. He can keep it down in the zone and when a guy throws 93-94 [mph] like he does, you have to hit off the fastball and so you see it, you go after it and it just disappears on you."
Joe Harris is a contributor for MLB.com based in St. Louis. This story was not subject to the approval of Major League Baseball or its clubs.