Holliday's walk-off lifts Cards over Phillies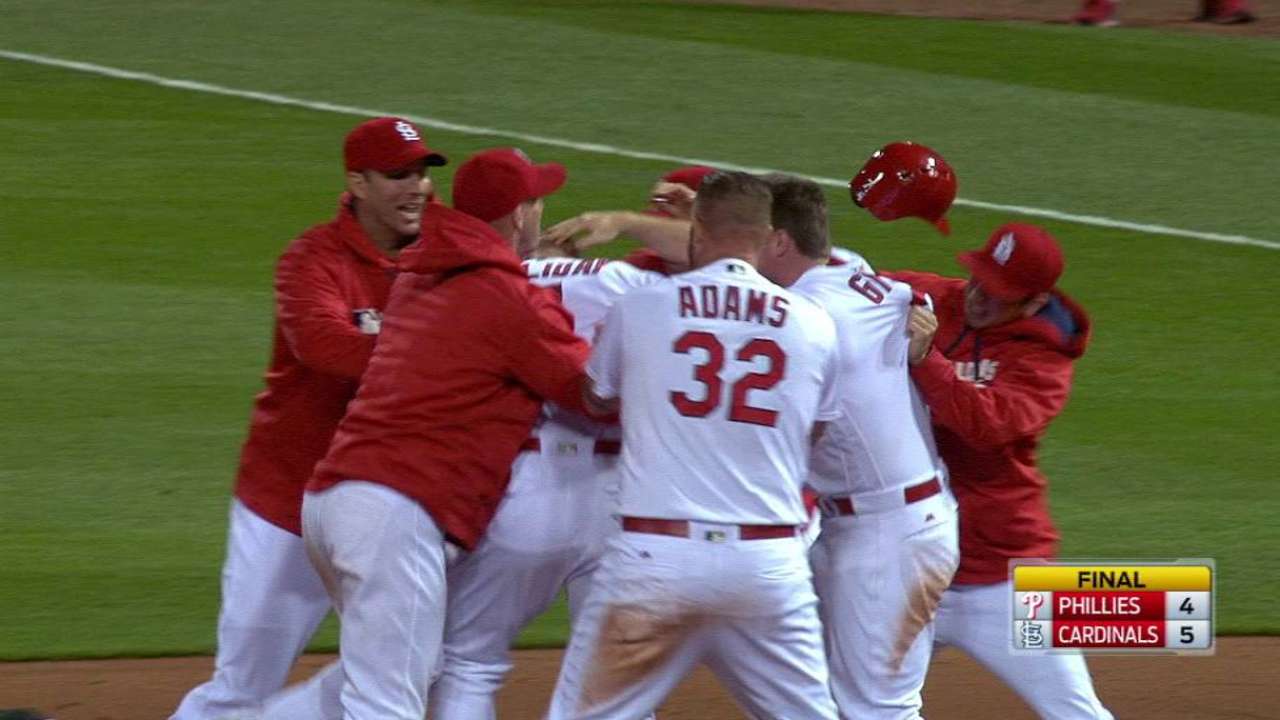 ST. LOUIS -- Despite Ryan Howard's best attempts to propel the Phillies to another win in his hometown, the Cardinals stunned Philadelphia with a two-run ninth to celebrate their first walk-off win of the season, a 5-4 victory in front of 40,725 at Busch Stadium on Wednesday.
The Cardinals entered the ninth behind by two, but immediately stirred against closer Jeanmar Gomez. Pinch-hitter Kolten Wong opened the inning with a seven-pitch walk and moved to third when pinch-hitter Matt Adams drove a ball off the top of the wall in center. Stephen Piscotty plated the tying run with an infield single before Matt Holliday snuck a single to left for the win. More >
"That guy's a sinker ball pitcher, and I thought he might try to pitch me in," Holliday said after collecting his eighth career walk-off RBI. "So I wanted to see a pitch and was just trying to hit a ball hard. It was an important game for us to win."
The blown save was Gomez's first in 10 opportunities.
"I'm disappointed in the first hitter," Gomez said. "The first hitter I had the walk, he tied the game. I have to make a good pitch in that situation."
While the Cardinals snagged a win, starter Mike Leake still hasn't. He retired the first 10 batters he faced before being ambushed in the fourth. A single and walk brought the inning to Howard, who belted a 2-0 pitch into the center-field grass for his 23rd career home run against the Cardinals. A solo homer from Odubel Herrera the following inning nudged the Phillies' lead to four and kept Leake winless in his first six starts with the team.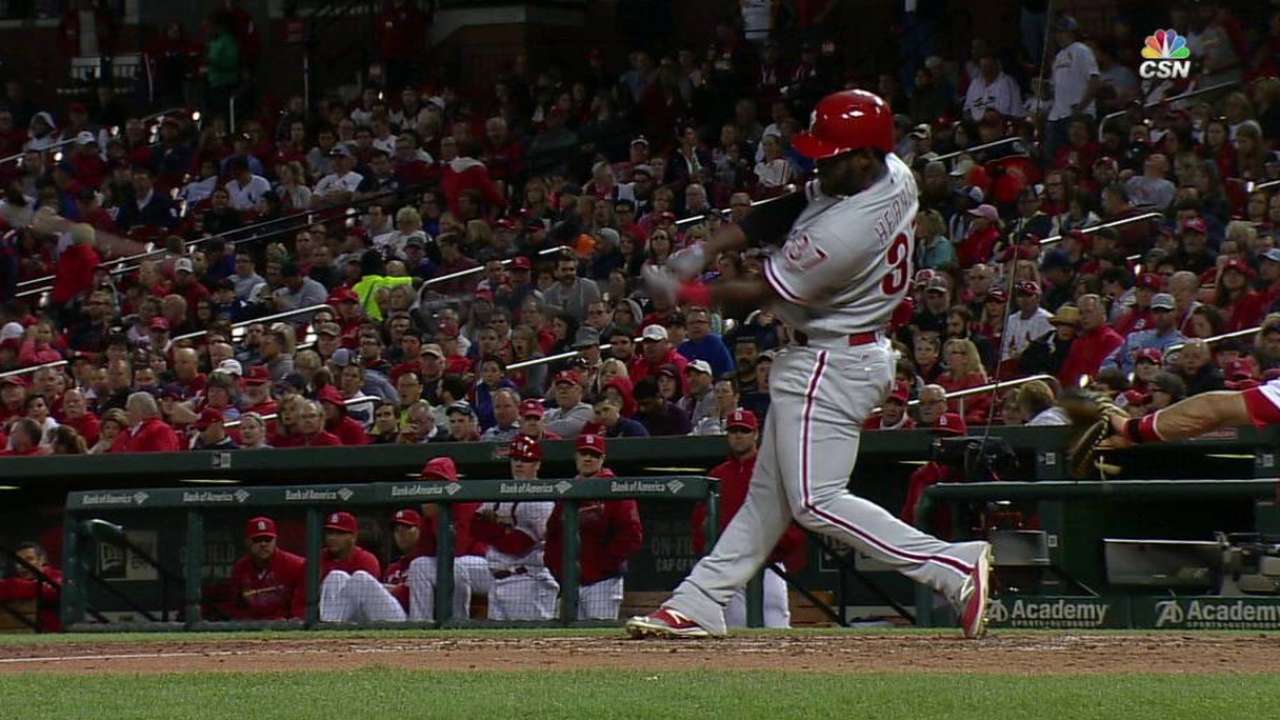 Phillies starter Adam Morgan eased through four innings before being chased in a fifth-inning that saw the Cardinals score three runs with the help of two replay reviews. It marked the Cardinals' second comeback out of a four-run deficit this season.
"You can absolutely build on it," Piscotty said. "It's a lot of fun to jump around kind of like idiots out in center field."
MOMENTS THAT MATTERED
Howard's home cookin': Howard's 421-foot home run to center field in the fourth was his second in as many nights. The native St. Louisan continues to feast on Cardinals pitching. He is hitting .336 with 23 home runs and 69 RBIs and is averaging a home run every 10.6 at-bats for his career against the Cardinals.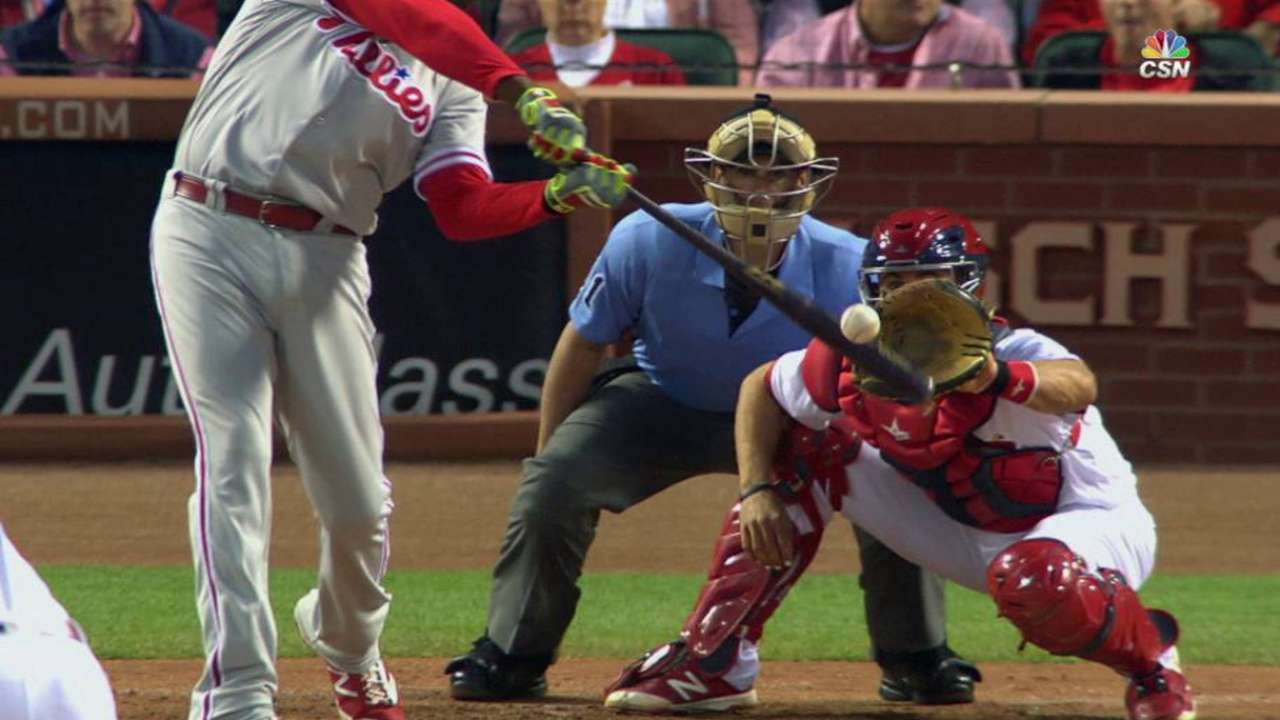 Movin' on up: Aledmys Diaz debuted as a leadoff hitter and drove home the Cardinals' first two runs on a fifth-inning single that Phillies shortstop Freddy Galvis couldn't corral. Prior to Wednesday, all of Diaz's starts had come as a seven- or eight-hole hitter. The Cardinals needed a fill-in leadoff hitter after manager Mike Matheny opted to unplug Matt Carpenter in an effort to load his lineup with right-handed bats.
Gomez gives it up: Gomez couldn't convert his 10th save in as many opportunities. Piscotty's infield single scored Wong to tie the game and Holliday's walk-off single handed Gomez his first loss of the season.
"I mean he's not infallible and like I said he got himself into a jam but I went out there and told him let's get a ground ball and get out of here," Phillies manager Pete Mackanin said. "And he got us a ground ball so what else can he do? Ground balls find holes." More >
Standing tall: Reliever Matt Bowman settled the game for the Cardinals upon Leake's exit. Bowman, a Rule 5 right-hander, retired all six batters he faced to keep his club within one run of the lead. Bowman, who continues to draw more high-leverage assignments, has been scored upon in one of his last eight appearances. In total, the Cardinals bullpen pitched four scoreless innings in the game.
"I thought Bowman did a terrific job going two innings," Matheny said. "He was so efficient in the first one that he was able to go back out and did a nice job being able to keep us in a spot where we still had [Seung Hwan] Oh and [Kevin] Siegrist and [Jonathan] Broxton and [Trevor] Rosenthal sitting down there. They kept us there and then the offense took over."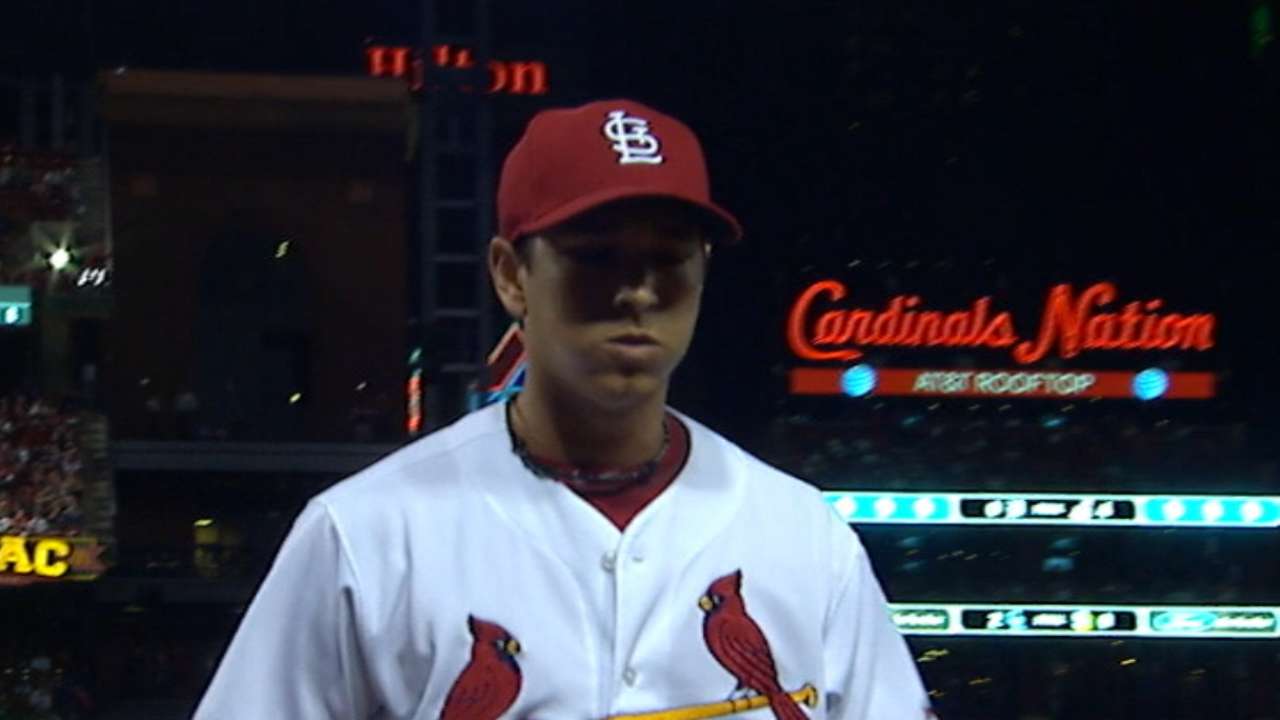 QUOTABLE
"I thought it hit that flower bed out there and bounced back. I saw the umpire's arms signal not a homer, and I just had to get to second safely." -- Adams, on starting to celebrate prematurely thinking his ninth-inning hit to the wall had cleared it.
SOUND SMART WITH YOUR FRIENDS
Herrera has hit safely in all seven of his career games at Busch Stadium, going 12-for-28 in all. Before Wednesday, he had hit only one first-pitch homer in his career.
UPON FURTHER REVIEW
The umpires ended up turning to replay four different times in Wednesday's game, totaling nine minutes and three seconds of stoppage times. The first two reviews helped the Cardinals to a three-run fifth inning. The umpires first went to replay to get a better look at Ruben Tejada's ground ball down the left-field line. After a 5-minute, 1-second review, Tejada was awarded a leadoff double.
Tejada then came around to score on another play that was eventually reviewed to determine if Eric Fryer had slid in safe behind him. That call stood. Neither Mackanin nor Morgan used the seven-plus minutes of review time as an excuse for his fifth-inning struggles.
"I don't want to make that as an excuse and I'm sure Adam doesn't because he's very accountable," Mackanin said. "And you know long innings are long innings no matter what the reason."
The Phillies were awarded a ninth-inning single on a call that was overturned with replay, and crew chief Mark Carlson took the headset one final time in the ninth to confirm that Adams' drive to center hadn't cleared the wall.
"There are just going to be those nights where you have one close play after another," Matheny said. "We have to take our time and look at it. We have the technology there. We're not out here to rush through this thing. We have to get it right."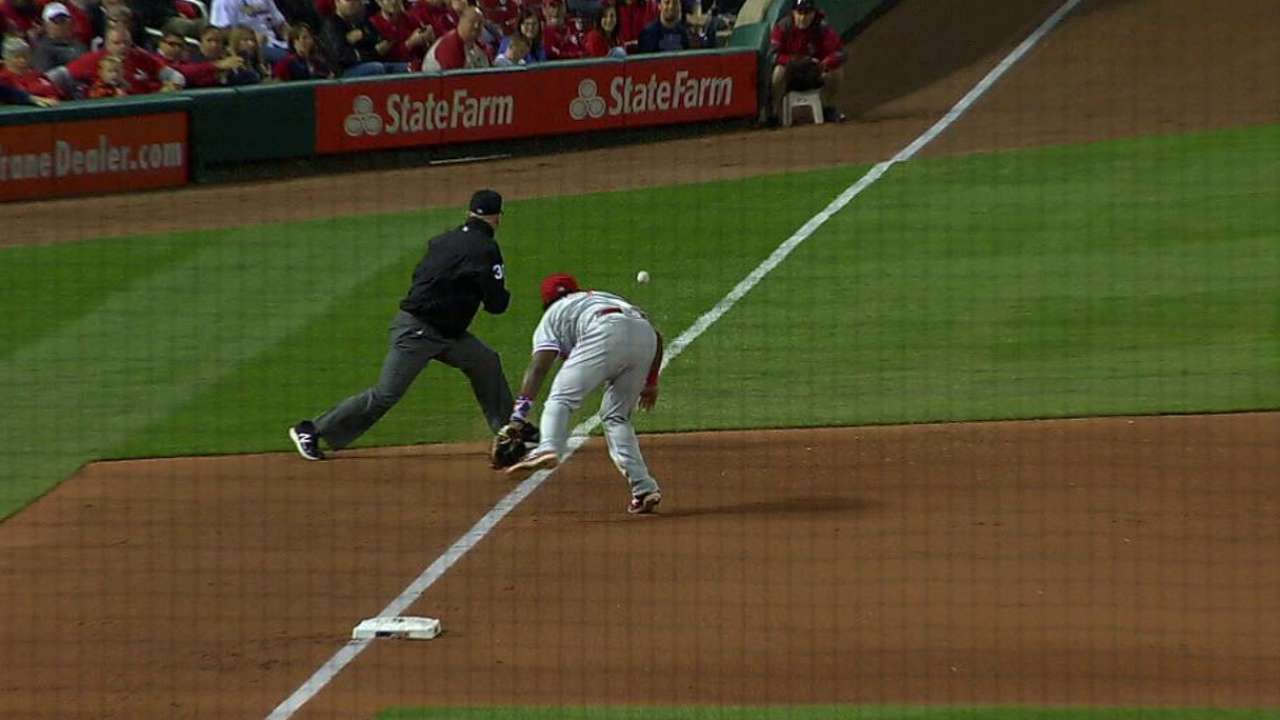 WHAT'S NEXT
Phillies: Jerad Eickhoff (1-3, 4.15 ERA) will be looking for his first win since April 13 in the finale of a four-game series Thursday at 1:45 EST. The right-hander has never faced the Cardinals and is coming off a no-decision against Cleveland in which he gave up three runs in six innings.
Cardinals: Winless in his last three starts, left-hander Jaime Garcia will be looking to get back on track Thursday when he starts against the Phillies to close the Cardinals' four-game series. If Garcia can notch seven strikeouts in the outing, he will pass Chris Carpenter for third on the Busch Stadium III all-time list.
Watch every out-of-market regular season game live on MLB.TV.
Jenifer Langosch has covered the Cardinals for MLB.com since 2012 and previously covered the Pirates from 2007-11 for MLB.com.

Joe Harris is a contributor for MLB.com based in St. Louis.

This story was not subject to the approval of Major League Baseball or its clubs.