Mom with 'warrior' spirit set example for Soto
Angels catcher drew strength from woman who provided for kids, cared for ailing husband
Angels catcher Geovany Soto was 8 years old when his father, Antonio, contracted Guillain-Barre Syndrome, a rare disorder in which the body's immune system attacks the nerves, causing paralysis. He watched his mother, Norma Ponce, care for her husband, work full-time and provide for two kids.
And from her, Soto drew strength.
"My mom's a fighter," Soto said. "A warrior."
Soto recalled a Christmas right around that time. His father spent five consecutive months in the hospital, and all of the time and energy spent by his side kept the family from purchasing a Christmas tree. Only a week remained until Dec. 25, and trees everywhere were sold out. So Norma found a loose branch, spray-painted it white, decorated it with lights and displayed it proudly in the living room.
Soto smiled at the thought.
"I'd say that was one of the best Christmases I ever had," Soto said.
He believed that moment summarized his mother better than any other.
"She was dealing with the whole household, dealing with a husband who couldn't even move his neck, dealing with me and my sister, and paying all these bills and trying to get us through," Soto said. "That's what I remember about my mom. She's always a fighter, always going through odds, and always preaching that. Always preaching, 'Go forward, never surrender upon bad times, always hit your problems head-on and fight for what you believe in.'"
Soto was born in San Juan, the capital of Puerto Rico, with a sister who was four years older and very much acted as a second mother. When Soto was 4, the family sought a better life, saved whatever money they could and settled into an apartment in the Bronx without speaking a word of English.
Three years later, they moved to Ocala, Fla., a predominantly white city.
A year after that, they moved back to Puerto Rico.
"I was always the new guy," Soto said, "and I took a lot from kids."
Soto's father quickly ditched the wheelchair and got around on forearm crutches, and kids teased about that, so Soto got into a lot of fights. He initially got his love for baseball from his father, and later, he gained determination from him.
• Shop for Angels Mother's Day gear
"He'd get up, against all odds, and he'd fall down," Soto said of his dad. "Then he'd get up again and try to walk around the house, because he needed to. He needed to work, he needed to provide."
Bills were difficult to pay, but Antonio and Norma managed. One month, they'd pay the electricity, and then the mortgage would linger, so they'd pay that the following month. The cable and phone would be overdue the month after that, so they'd pay that one next. And on it went.
Soto and his sister were forbidden from getting jobs, because Antonio and Norma felt making money at an early age would sway them from going after what they were most passionate about. And somehow, they never lacked anything. If Soto needed a catcher's mitt, he got it. If he was invited to a showcase, they found a way to send him.
"They gave me a shot," Soto said, solemnly. "They gave me the shot."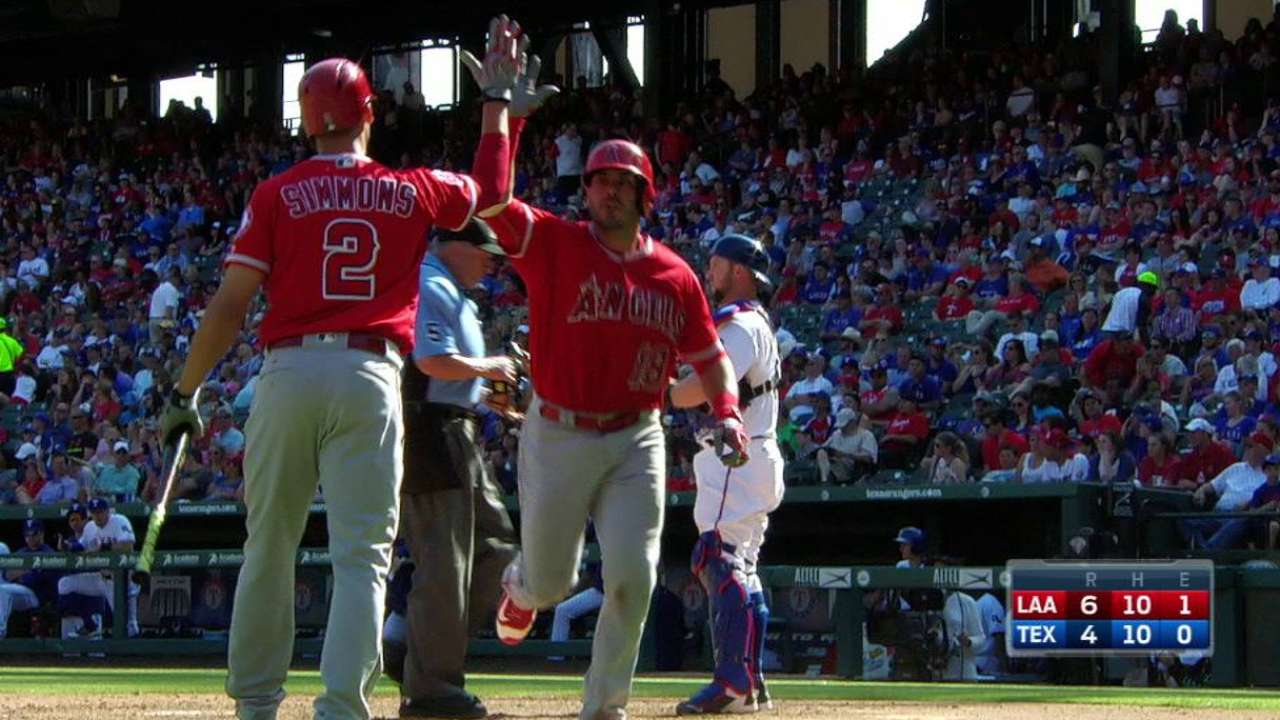 Antonio and Norma don't struggle with money now. Soto made sure of that. Antonio, 60, works on cars only a couple of times a week to stay active, no matter how much it beats up his body. Norma, 56, still works as a car repossession agent, like she always did. They still live in the same house, because Norma has refused to let her son buy her a new one.
All she wanted was TVs, big ones, with the MLB.TV package, so she could watch every game for every Major League team her son ever played for. Soto buys her a new TV almost every year, for the living room and the bedroom.
"Full of pride," Norma said, in Spanish, about the man her son has become. "Full of pride. I always knew that if he wasn't a big league player, he was going to be a great person with strong values. He's always been a good kid. And I knew he would always be on the right path."
Soto grew up, like most kids from Puerto Rico, idolizing Ivan Rodriguez. He never wanted to be anything but a baseball player, even as exposure to the Draft caused interest in the sport to wane throughout the island.
Soto received a scholarship to the American Military Academy in Guaynabo midway through high school, then got drafted in the 11th round by the Cubs in 2001. He won the National League Rookie of the Year Award and made the All-Star team in '08. Now he's 33, playing for his fifth team in his 12th season.
Angels games mainly start at 10 p.m. in Puerto Rico, so Norma will get home around 6, nap for a couple of hours, turn on one of those big plasma TVs and watch through the night, until it's time to go to work again.
"I tell everybody that all my success I owe to my mom and dad," said Soto, now married with two daughters. "I don't care who you are. Life is going to get you and beat you down and put you to the ground, no matter what you do. You have to have that ability to shake it off, the ability to keep going forward, because it's going to happen. No matter who you are, it's going to happen. I saw that with my parents."
Alden Gonzalez has covered the Angels for MLB.com since 2012. Follow him on Twitter @Alden_Gonzalez and Facebook , and listen to his podcast. This story was not subject to the approval of Major League Baseball or its clubs.