D-backs stay cautious with Segura's nagging injury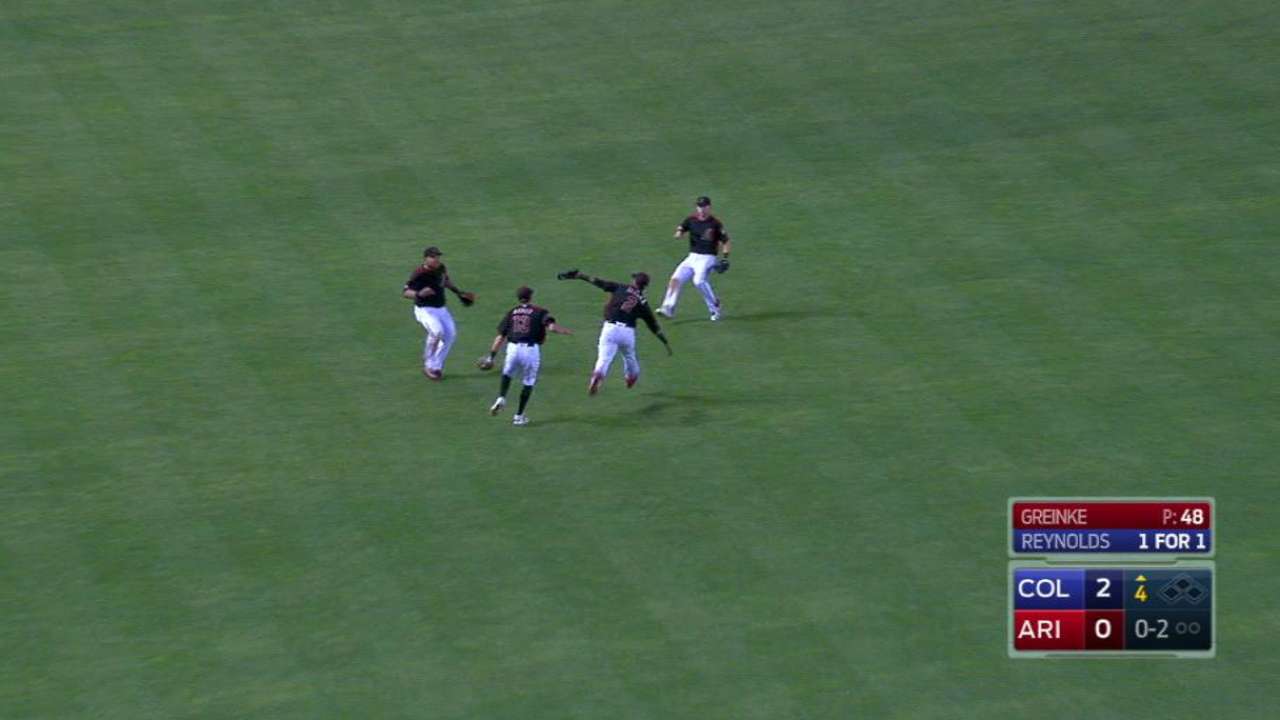 MIAMI -- Jean Segura would really like to get back to the top of the D-backs' lineup card, but until he's fully recovered from a hip flexor suffered on Saturday, that isn't going to happen.
Segura did not start for the third consecutive game Wednesday, and the Arizona shortstop continues to be listed as day to day. Segura did deliver a pinch-hit single to lead off the seventh inning of Arizona's 4-3 loss to Miami, but he was forced out at second on Jake Lamb's grounder.
"I feel better today," Segura, who still isn't completely back to his old self, said before the game. "It's too early to go out there and blow up and lose some more time. I'll rest [another day] and see how it feels."
He said he doesn't know when to expect to return to the lineup.
"Tomorrow or Atlanta [over the weekend], we don't know yet," Segura said. "We'll just see how the progress is going to go. I think I'm being smart and not try to be too tough. It's only May; we've got five months to play. So I'll miss a few days and hopefully get back."
Of the nagging injury, Segura said he felt something in his hip during Saturday's game as he was running to first. It's a bit frustrating in that he isn't sure if the injury requires rest or rehab.
"We don't know," he said. "Sometimes your body, you don't know how it's going to react to things."
Manager Chip Hale said he continues to see progress.
"He ran today, again. He ran well, probably better than he did yesterday," Hale said. "He just feels like there's a little bit in the hip flexor area that is just not allowing him to go full throttle."
That's part of the quandary; Segura is a top-of-the-lineup, full-throttle kind of player.
"If it was anybody else, if it wasn't a basestealer, a guy that's going to let it go and run hard, I'd probably let him play," Hale said. "But there's no reason to let him go out there, hit a ball in the gap, try to stretch it into a triple and then blow out and lose him for a month.
"So it's better to sit him out today and tomorrow, maybe, and make sure he's healthy."
Segura said he would still like to contribute to the team, even if it's in a reserve role for now.
"I feel OK to play," Segura said. "They don't want me to go out there not feeling 100 percent. I'm still available to come off the bench. I told them I feel [well] enough to play, but they don't want me to go out there if I don't feel 100 percent.
"I'll be on the bench, maybe pinch-hit, play some defense."
Glenn Sattell is a contributor to MLB.com and covered the D-backs on Wednesday. This story was not subject to the approval of Major League Baseball or its clubs.