Bour targets Friday return after doctor's visit
Hand specialist indicates first baseman doesn't have serious finger injury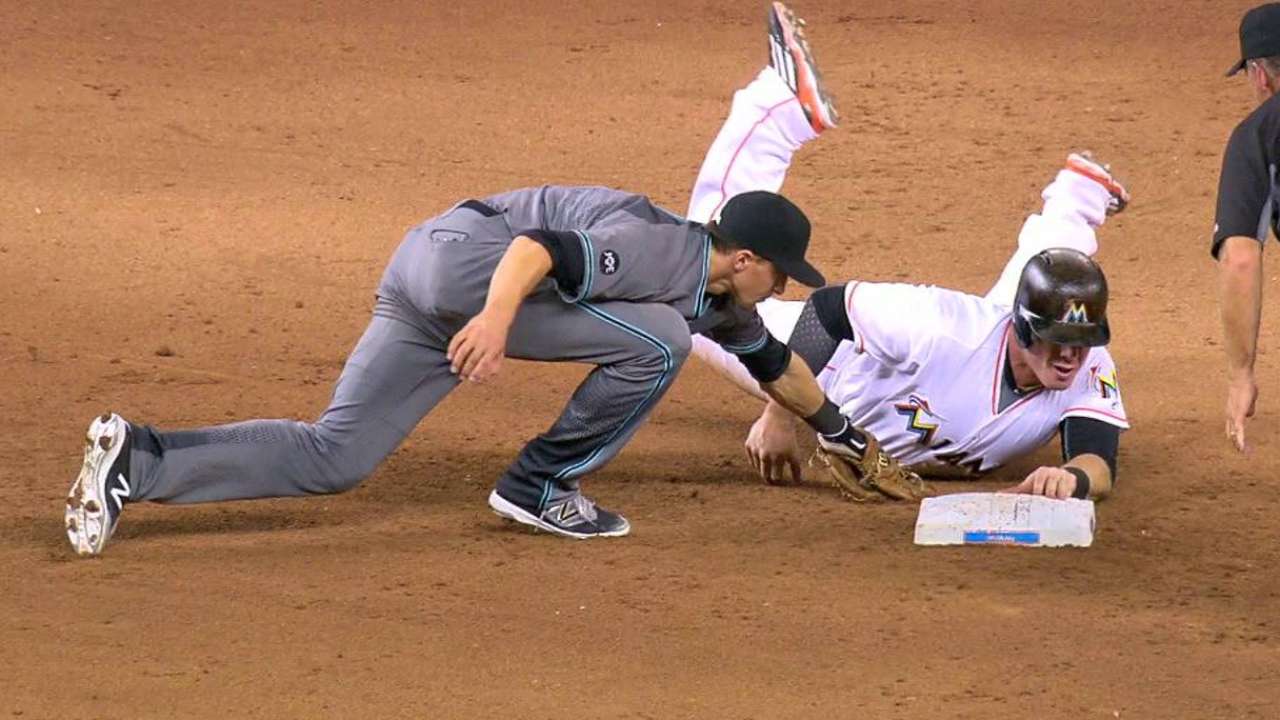 MIAMI -- A visit to a hand specialist on Wednesday confirmed Justin Bour isn't dealing with a serious finger injury. The best-case scenario is the Marlins first baseman could be ready to return on Friday against the Phillies at Marlins Park.
In the eighth inning of Tuesday's 7-4 win over the D-backs, Bour dislocated his left pinkie while diving back into second base. An X-ray showed no fracture, but before taking their next step, the Marlins made Bour an appointment with Dr. Patrick Owens, the team's University of Miami Heath System hand doctor.
Bour reset his pinkie immediately after the injury occurred, and he is able to bend the finger.
"[Owens] said I did a good job of resetting it," Bour said on Wednesday following Miami's 4-3 win. "It's just one of those things where I've got to get the inflammation down. We're trying to shoot for Friday."
Before Wednesday's game, manager Don Mattingly was hopeful the injury wouldn't require a stint on the disabled list. Indications are that will be the case.
"We feel like we've kind of dodged a bullet," Mattingly said. "It may be a few days."
Bour pinch-hit on Tuesday, drew a walk, and was injured on a fluke play. With one out, Martin Prado lifted a fly ball to center field. After making the catch, Chris Owings threw home and nabbed Derek Dietrich, who had tagged on the play.
The double play ended the inning. But catcher Welington Castillo continued on and threw to second, prompting Bour to dive back into the bag.
Mattingly said Castillo made the right decision to keep going.
"You don't know the inning is over," Mattingly said. "They always talk about keep playing now because of replay. If he is safe [at home], then the play is necessary. So they did the right thing to keep playing.
"Actually, I had the same injury, going back into a base, I dislocated a finger. It happens so fast, you don't even realize it."
Dietrich started at first base on Wednesday. Chris Johnson and Miguel Rojas are other options to play first.
Bour caught a break because the injury is to his left hand, or the top hand when he swings the bat. Had it been the bottom hand, it would present more trouble, not only swinging but throwing.
Bour may wind up taping his pinky and ring fingers together before hitting.
Bour, batting .276 with three homers and 12 RBIs, doesn't wear batting gloves, and he doesn't anticipate that changing.
"No batting gloves," he said when asked if he might need to wear some protective guard on his hand.
Joe Frisaro has covered the Marlins for MLB.com since 2002. He writes a blog, called The Fish Pond. Follow him on Twitter @JoeFrisaro and listen to his podcast. This story was not subject to the approval of Major League Baseball or its clubs.