Britton progressing; O's using 3-man bench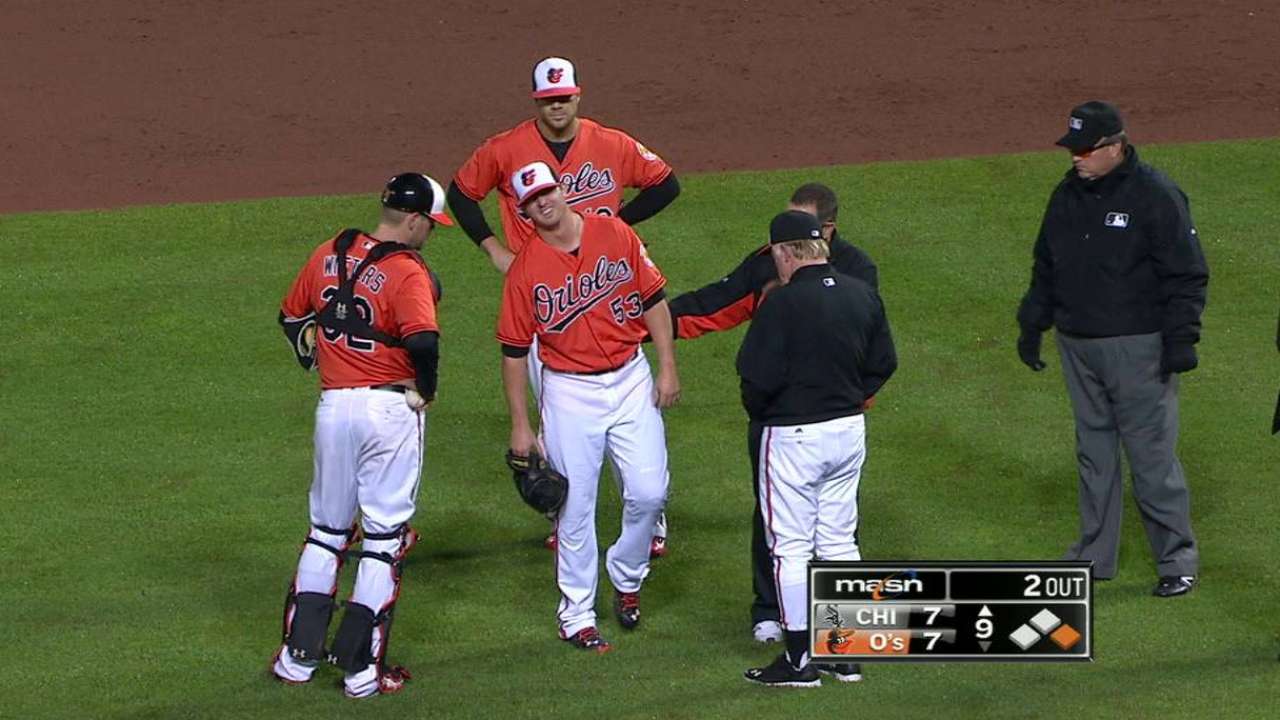 BALTIMORE -- The Orioles' roster remains a bit in limbo as the club continues to monitor Zach Britton's left ankle, which makes losing an extra pitcher -- to add an infielder in the wake of J.J. Hardy's left foot injury-- a sticky situation.
Britton, who suffered an ankle sprain in Saturday's game, threw a short bullpen session of sorts on Wednesday and was encouraged with how he's progressing. Showalter wouldn't comment much on Britton's availability prior to Wednesday's game, but he did say that it plays into the team's defensive alignment with Manny Machado at shortstop and Ryan Flaherty at third base.
"Right now, Britton's situation is kind of dictating this," Showalter said of having a three-man bench. "Let's face it, we're one tweak of something from having to make a move. We're in a position to go where we need to go if something comes up."
Baltimore would like to add Paul Janish, who is on paternity leave in Triple-A, and Showalter said he would be available to the club as early as Thursday despite the leave.
As for Britton, the Orioles' closer could be available at some point during this series, though he's unlikely for Wednesday's game. The Orioles will express caution with their All-Star lefty, and Britton expects to be pitching with a brace on for at least a little while when he returns.
"You hurt your ankle, it's not like something ever goes away," Britton said. "I think that's something for the offseason. It's going to be something we deal with throughout the year. But it's not painful. Just got to kind of stretch it out again and go through the motions a little bit of covering first, pitching off the mound. But it feels pretty good."
Brittany Ghiroli has covered the Orioles for MLB.com since 2010. Read her blog, Britt's Bird Watch, follow her on Facebook and Twitter @britt_ghiroli, and listen to her podcast. This story was not subject to the approval of Major League Baseball or its clubs.