Myers, Kemp proving a potent combination
Padres first baseman, right fielder finding success batting 2-3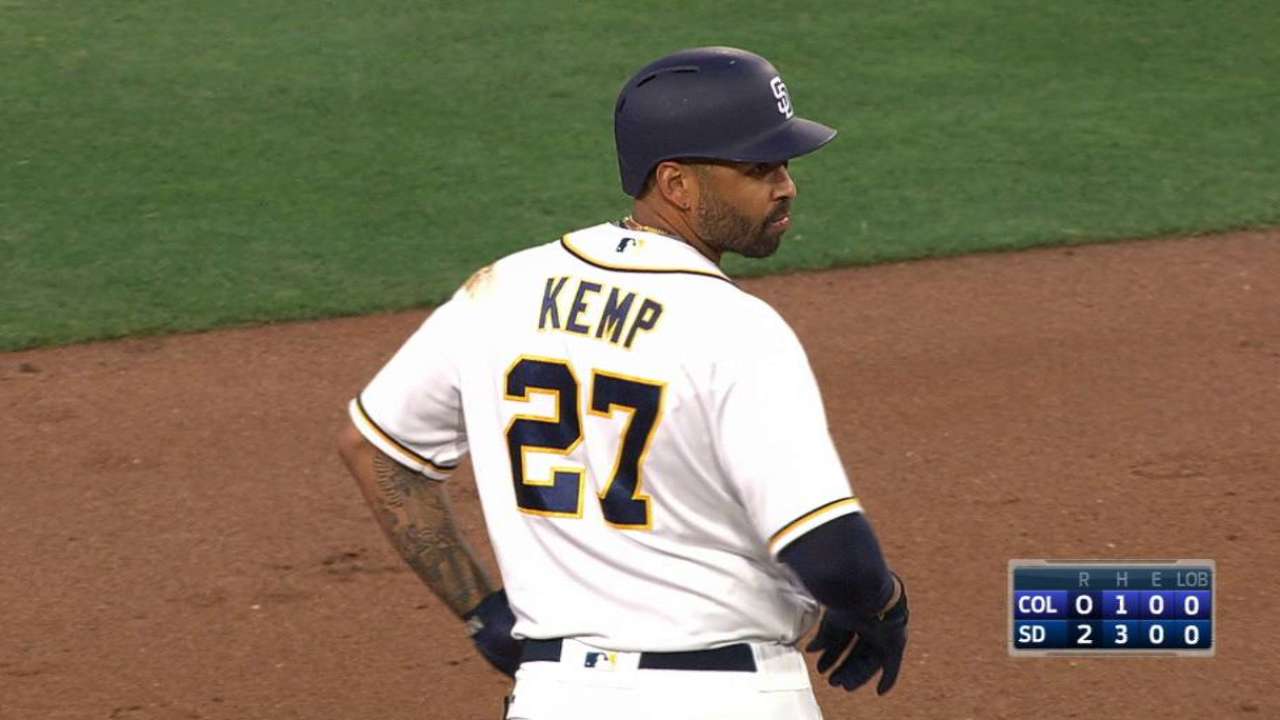 SAN DIEGO -- Wil Myers has taken off since he was moved to the second spot in the Padres' batting order. He's hitting .371/.416/.586 since manager Andy Green made the change in mid-April.
In Myers' eyes, that recent run of success has little to do with his position in the lineup and a whole lot to do with the guy hitting behind him, Matt Kemp.
• Cast your Esurance All-Star ballot for Kemp, Myers and other #ASGWorthy players
In Myers and Kemp, the Padres boast one of the better 2-3 combinations in the National League. Both rank in the top 30 in the NL in batting average, slugging percentage and OPS entering Wednesday's series finale against the Rockies.
"The two-hole is not what I believe got me hot," Myers said. "I believe a lot of it has to do with Matt behind me. I give a lot of credit to him. He's got me some good pitches, and he's got me back to seeing the ball well and got my approach back.
"Obviously, getting better pitches helps that. A lot of it has to do with him, the way he's swinging the bat right now. It's scary for pitchers to walk me."
The combo has been on display of late, as Kemp has driven in Myers a couple times in the past week. Going into Wednesday's game, Myers led the club in on-base percentage, and Kemp led in RBIs.
"It's been pretty effective," Kemp said. "He's done a good job, he's getting on base. A power hitter like him in the two-hole, that's pretty dangerous. ... For me, my job is to drive in runs. If he gets on base, I drive him in. That's basically how it's supposed to work."
After Kemp went 2-for-4 with a homer on Tuesday night, Myers called him, "the best player I've ever played with."
That level of respect is mutual.
"He's definitely grown as a hitter," Kemp said of Myers. "He's going to be very successful in this league for a very long time."
Padres skipper Andy Green has been impressed with the way the two complement each other in the order. Since moving to the two-hole, Myers has reached base 32 times in 17 games. And according to Green, "If you're on first base, you're in scoring position with Matt."
"Matt is as productive a three-hole hitter as there is in the game right now, I think he's been outstanding." Green said. "Wil's been great. I'm pleased they're my 2-3. I don't know exactly where they rank in the game, but they're doing a great job.
AJ Cassavell covers the Padres for MLB.com. Follow him on Twitter @ajcassavell. This story was not subject to the approval of Major League Baseball or its clubs.