MLB.com Columnist
Tracy Ringolsby
It's Act II, and The Freak's not throwing away his shot
Lincecum's planned workout the 1st step in right-hander's return to big stage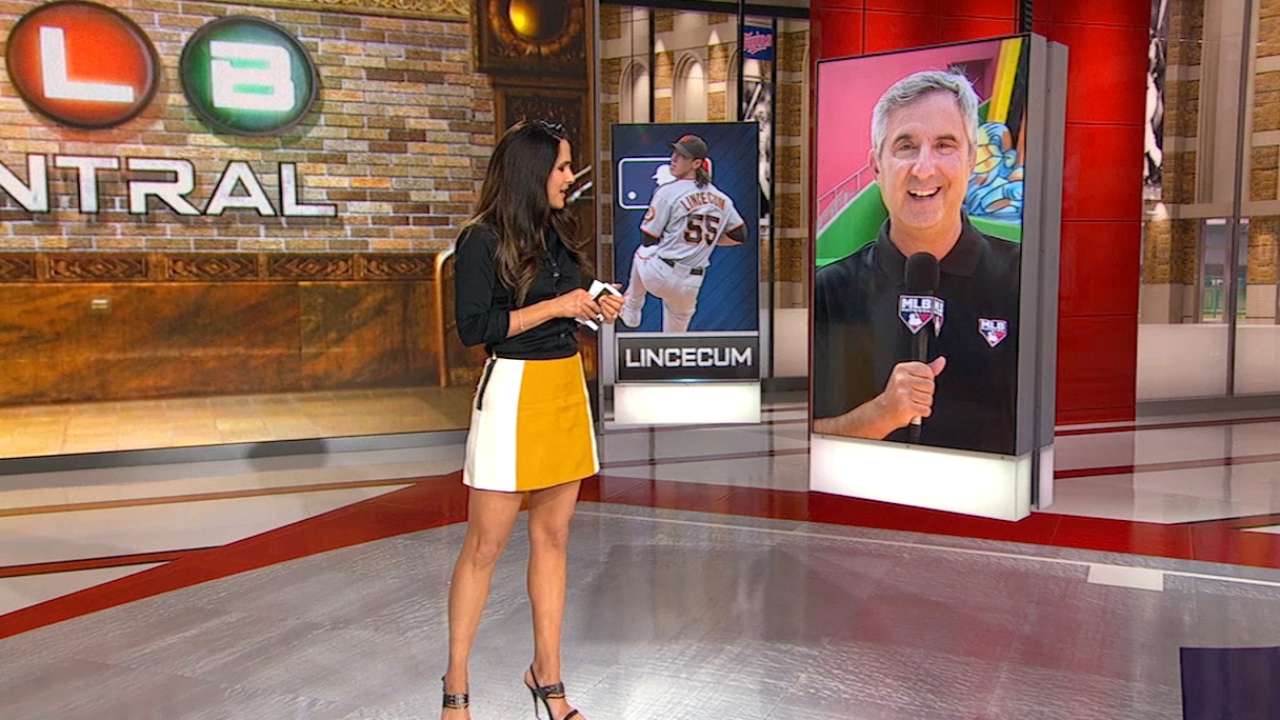 It's Tim Lincecum's show, and it's finally time for him to get back onstage. And it's all about timing -- perfect timing, in Lincecum's case.
The two-time National League Cy Young Award winner is planning a workout at Scottsdale Stadium, the spring home of his longtime team, the San Francisco Giants, on Friday. Scouts from at least 11 Major League teams will be in attendance to see if the right-hander known as The Freak during his prime still has what it takes to compete at the big league level.
Odds are that Lincecum does. If he didn't, rest assured there would be no workout on Friday afternoon.
Lincecum and his advisers get it. They know he may have been competitive the past five years, but he wasn't that Cy Young-caliber pitcher -- who, in addition to winning the award twice, finished in the top 10 in the voting two other years.
They know that Lincecum's season ended prematurely last year on June 27 because of physical problems that led to hip surgery in October.
And they know the time is right to find a pitching-hungry contender that is willing to take a shot on a rejuvenated Lincecum.
Each day, the number of possibilities increases, as the reality that what a team has now isn't what it hoped for in the spring is sinking in. Lincecum and his advisers knew he'd have a more receptive audience once the season started and holes that teams had hoped to have filled in the offseason became in-season concerns.
That's why late in Spring Training, when reports surfaced that Lincecum would audition for scouts, the workout was scuttled as he was not fully recovered from that hip surgery.
And that's why Lincecum has continued to work out in Scottsdale at the Giants' spring facilities. Now he is ready.
Lincecum undoubtedly could have received an invite to a big league camp, and the team, having him under contract with a small guarantee and lot of incentives, could have sent him to extended spring camp to continue the rehab for the hip surgery. That, however, would have meant Lincecum would have been tied to that team.
Lincecum took the gamble with the better payoff. He decided to continue to work on his own, get healthy and then invite any and all teams to come on down to Arizona for a showcase event a month into the regular season.
The benefits? Well, Lincecum can show he can still pitch, needing only a couple weeks of fine-tuning before being ready to pitch in the big leagues. Reports have circulated that his fastball is sitting on 91 mph.
Not fast enough? Not so fast. In his prime, Lincecum was throwing in the low 90s. He won his second NL Cy Young Award in 2009 with a fastball that averaged 92 mph. Lincecum was 4-1 with a 2.43 ERA in the 2010 postseason, including winning both World Series starts, with a fastball that averaged 91 mph.
Lincecum is as much about a deceptive delivery, command of the strike zone and competiveness as he is about overpowering hitters. And now he's controlling his own future.
There will be suitors. Nobody is going to bowl Lincecum over with an offer he can't resist, but something creative could happen.
It could be Lincecum agrees to a contract for this season, wanting to use the remainder of the campaign as an audition for a multiyear deal in the offseason through free agency. Or a team might offer him an attractive option for 2017 that would provide financial rewards for a successful '16. Depending on the interest Lincecum creates on Friday, it could even be a mutual option, giving Lincecum the chance to test the open market if he wanted.
The Giants, who in the offseason indicated they envisioned Lincecum as a reliever, not a starter, could even reconsider. He is, after all, not going to be asked to weather the challenges of a 162-game schedule. By the time a deal is done, and by the time Lincecum puts in the additional work to be Major League-ready, it could be the beginning of June. A third of the season will be done, and the wear and tear the rest of the way won't be as severe.
That worked for Roger Clemens in the final two years of his career. In 2006, he didn't re-sign with the Astros until May 31, and he wound up going 7-6 with a 2.30 ERA in 19 starts. And it was the first week of May the next year that Clemens signed with the Yankees for his final fling.
Both times, Clemens knew his body would better handle an abbreviated schedule. Both times, he wound up part of a postseason roster.
Lincecum, who will turn 32 on June 15, is 12 years and change younger than Clemens was in his last season in the Bronx. Unlike Clemens, who was seeking that last hurrah, Lincecum, health permitting, would like to think he is looking for a new beginning.
The next step on that journey will be taken on Friday in Scottsdale.
Tracy Ringolsby is a columnist for MLB.com. This story was not subject to the approval of Major League Baseball or its clubs.