Angels scratch Richards from Friday start
Righty exited Sunday's game due to dehydration and cramping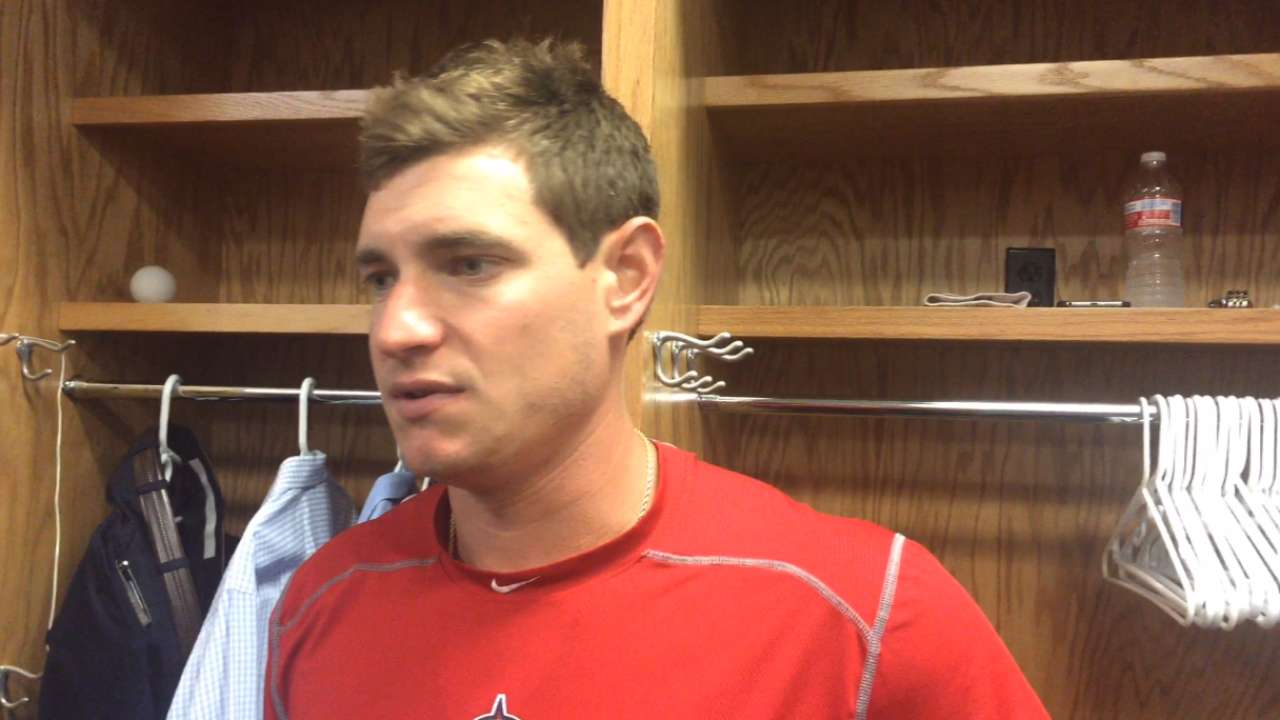 ANAHEIM -- The Angels have scratched their ace, Garrett Richards, from his scheduled Friday start against the Rays, a reaction to the dehydration he suffered in his prior outing and the general fatigue that followed it.
Long reliever Cory Rasmus will instead take the ball for the opener of a six-game homestand, opposite Chris Archer.
Richards exited Sunday's start against the Rangers at Globe Life Park after only 79 pitches because of what the team called dehydration and cramping, caused largely by a 33-pitch fourth inning. Richards played catch in the two days that followed, but he did not throw, as scheduled, on Wednesday, and also did not take part in his normal between-starts bullpen session.
"I'm still a little bit fatigued, body's a little tired," Richards said after the Angels' 7-3 win over the Brewers on Wednesday. "I'm just trying to bounce back. Everything just kind of doesn't feel as crisp right now. We're going to take it day by day."
The Angels' starting rotation has quickly become the team's greatest area of concern.
C.J. Wilson (left shoulder tendinitis) is still about a week away from throwing off the mound; Andrew Heaney (left forearm tightness) recently received a platelet-rich plasma injection that will keep him from playing catch at least until the middle of June; Tyler Skaggs (Tommy John surgery) is dealing with a bout of left biceps tendinitis that has shut down his throwing program for at least a week; and Matt Shoemaker (April ERA of 9.15) is in Triple-A.
Shoemaker, optioned on Sunday, can't be brought back before at least 10 days have passed since being sent out unless he's replacing a player who is headed to the disabled list.
"Our depth chart is certainly being tested with some guys banged up and some guys who have struggled," Angels manager Mike Scioscia said. "The most important depth chart you have in the organization is your starting-pitching depth chart. We've had enough to absorb some things, but you have to keep adapting and hopefully put yourself in a place to win games."
Rasmus can only go a maximum of four innings. Angels starters have been unable to complete six innings in seven straight games, forcing the relievers to absorb 26 1/3 innings during that span. But the Angels will be following an off-day on Thursday and will have another one on Monday.
Richards, the Angels' Opening Day starter, has a 2.34 ERA and has struck out 8.8 batters per nine innings through his first six starts.
Besides Mike Trout, he is probably the last player the Angels can afford to lose for a long stretch of time.
"I'm just trying to take it day by day," Richards said. "Stay on top of it, stay hydrated, try to bounce back. Everything just kind of doesn't feel crisp right now."
Alden Gonzalez has covered the Angels for MLB.com since 2012. Follow him on Twitter @Alden_Gonzalez and Facebook , and listen to his podcast. This story was not subject to the approval of Major League Baseball or its clubs.