Giants wouldn't promise Lincecum starter spot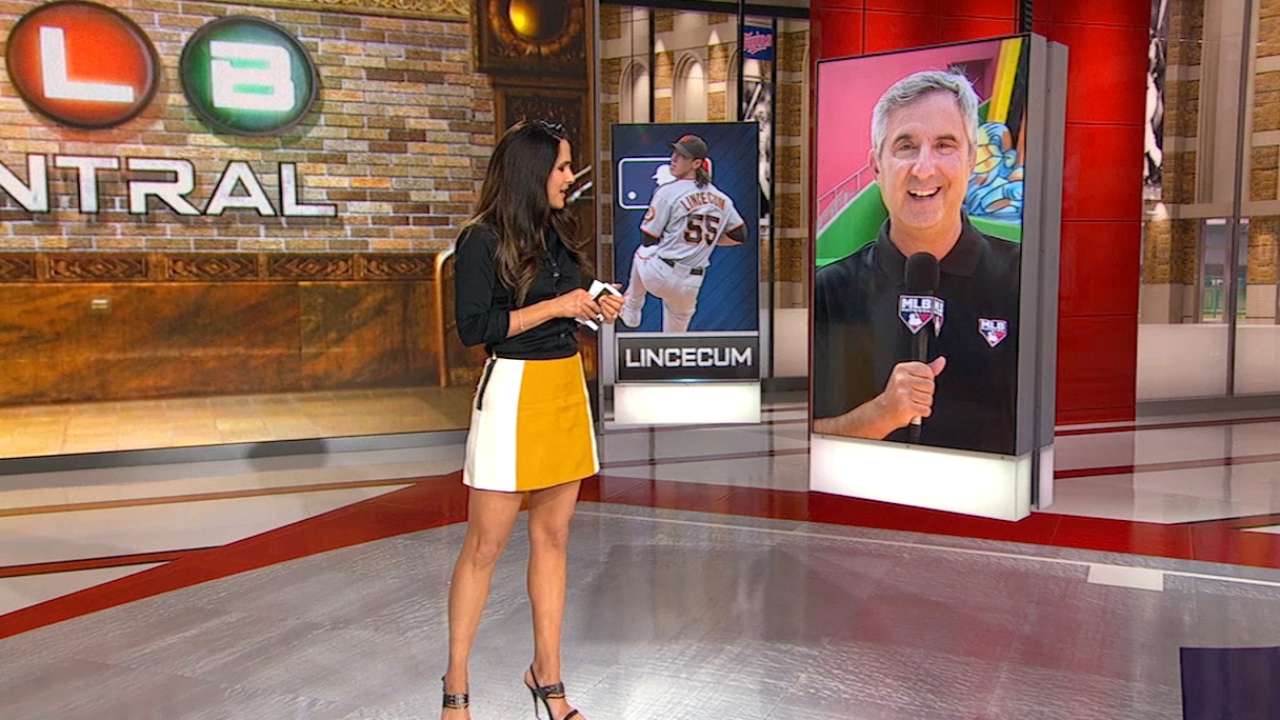 CINCINNATI -- Giants manager Bruce Bochy acknowledged the club's interest in re-signing Tim Lincecum, but he wouldn't commit to guaranteeing the popular right-hander a spot in the starting rotation, which the National League Cy Young Award winner is assumed to seek.
Lincecum will throw for interested teams Friday at Scottsdale Stadium, the Giants' Spring Training home. San Francisco will have a scout or representative present to watch Lincecum, who has spent his entire 10-year professional career with the Giants since they drafted him in the first round in 2006. Lincecum officially became a free agent last offseason after undergoing arthroscopic hip surgery in September.
Bochy said he didn't discuss potential roles on the pitching staff with Lincecum when the pitcher made a pair of clandestine visits to Scottsdale Stadium during training camp. But Bochy sensed what Lincecum wants.
"His preference is to start," Bochy said Wednesday. "Always has been. So I doubt that's changed."
Right-hander Chris Heston, the Giants' intended long reliever, is performing for Triple-A Sacramento. That, said Bochy, could accent San Francisco's interest in Lincecum, who handled long relief in spectacular fashion during the 2012 postseason. In 13 innings spanning five relief appearances, Lincecum surrendered one run and three hits while striking out 17 and walking two.
"We know Timmy. That is a role he would fit," Bochy said, then added, "I don't know about his interest in a role like that. That doesn't rule out any other role."
Bochy would not address the issue of Lincecum rejoining San Francisco's starting rotation. That's a delicate subject, since Lincecum conceivably would replace an accomplished veteran -- either Jake Peavy, who entered Wednesday's start at Cincinnati with an 8.61 ERA in five outings, or Matt Cain, who owns a 7.00 ERA after five games.
Bochy indicated the Giants would not make empty promises of creating a starting berth for Lincecum, who went 108-83 with a 3.61 ERA in 269 regular-season games (261 starts) for San Francisco from 2007-15. Lincecum garnished that record by becoming the first Giant to win the NL Cy Young Award twice (2008-09) and being selected four times to the NL All-Star squad.
"I think it's all about being honest with the player and that the player knows where both sides stand -- not just with Timmy, but with any player," Bochy said. "Especially when you talk about a player who's done what he's done with us. We would be honest and forthright with him."
Chris Haft has covered the Giants since 2005, and for MLB.com since 2007. Follow him on Twitter at @sfgiantsbeat and listen to his podcast. This story was not subject to the approval of Major League Baseball or its clubs.