Nationals activate Revere off DL, option den Dekker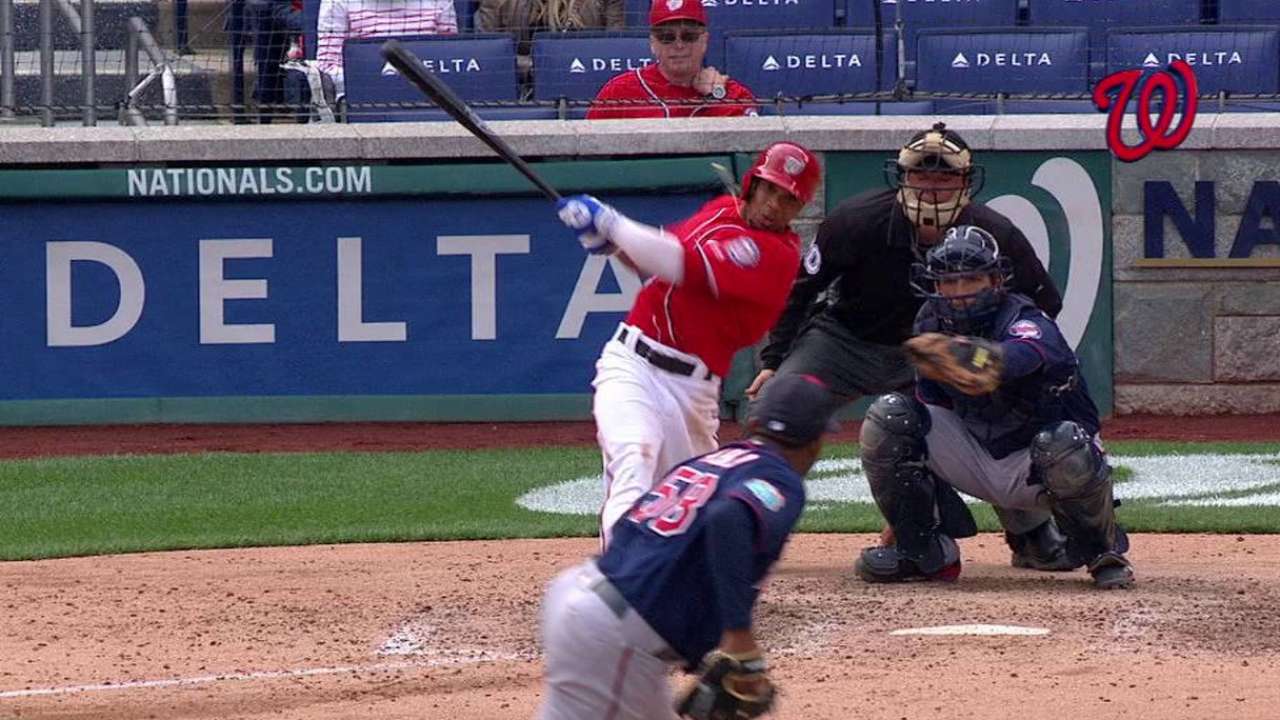 CHICAGO -- Ben Revere received a text from his agent, Barry Meister, on Friday morning that read: "Second Opening Day of the season."
Revere, who had been sidelined for a month after he suffered a strained right oblique four innings into the Opening Day game in Atlanta on April 4, was officially activated him from the disabled list prior to Friday afternoon's 8-6 loss to the Cubs. The Nationals optioned Matt den Dekker to Triple-A Syracuse. Revere, who went 0-for-5 Friday, returns to his role at the top of Washington's lineup, playing center field and ready to go all out.
"This is Day 1 -- well, Day 1 1/2," he said. "I told them I'm going all out. I don't care. I know there's no padding on that wall. But anything hit to the fence, I'm going right through it, right through the ivy."
Revere went 3-for-16 with a stolen base in five Minor League rehab games at Syracuse. He said that taking some at-bats there, where he saw a steady dose of offspeed pitches, and diving back to first base helped him feel ready to go. Revere rejoined the Nats on Thursday, but they waited a day to put him in the lineup in order to allow him to go through a full pregame and take batting practice.
Although Washington manager Dusty Baker said he will be sure to give Revere time off if his legs start to feel sore, he said he feels confident his center fielder will be back to 100 percent.
"Hey man, just go be Ben Revere," Baker said. "That's why we got you."
The Nats acquired Revere this past offseason from the Blue Jays in exchange for reliever Drew Storen with hopes that Revere could help ignite their offense. Revere ended Spring Training hoping to start fast to fit into his new team, but instead, he got injured and had to watch from the bench as Washington raced off to the best start in team history without him.
"Of course, it's always frustrating, but coming out of spring, hitting really well, everybody could see the lineup we had in spring, how well it did," Revere said. "But the excitement is missing a month of the season and your team's in first place, playing very well. … Hopefully, I can fire this team up, try to score some runs for them.
"My main thing is just: Hit the ball on the ground, get on first, steal second, score runs. That's all I'm going to do."
The Nationals will welcome Revere's return, especially considering they did not have a perfect replacement in the leadoff role. Michael Taylor primarily filled in, but he has struggled at the plate and is hitting just .186/.222/.304 in 25 games this season. He returns to his role as the fourth outfielder, but Baker has said he will still find playing time for him.
Jamal Collier covers the Nationals for MLB.com. Follow him on Twitter at @jamalcollier. This story was not subject to the approval of Major League Baseball or its clubs.