Locke, cancer-battling mom share strong bond
Pirates pitcher checks in with family twice before every game
PITTSBURGH -- Every day of the long, busy baseball season, Jeff Locke calls home twice. Once on his way to the ballpark to say hello, and again just before the game starts to say good night. Locke often speaks to his father, Alan, especially on the days he pitches. He always speaks to his mother, Pam.
"I always check in. Always," Locke said. "It helps put me at ease, just knowing everything's OK back home. Family's important to me."
• Shop for Pirates Mother's Day gear
When the Pirates play at night, he's typically busy from about 2 p.m. until after 10 p.m. His family knows his schedule. That's what worried Locke about the call that came on Sept. 13, 2014.
Locke heard from his sister, Corie, the previous day that something was wrong with Pam's stomach, and she had been taken in for tests. The next night, Locke was preparing to start against the Cubs at PNC Park. He went through his normal pregame routine, getting his body warmed up and loosening his left arm.
Before heading out to the field, Locke stopped at his locker to put on his shoes. He looked up, saw a missed call from his sister and quickly called back.
"She's like, 'Mom has cancer,'" Locke said. "That was right when we found out."
Pam had been diagnosed with ovarian cancer. Locke ran out of the clubhouse, still stunned, and got ready to pitch. He threw 5 1/3 innings in a loss. He spent the moments before his first pitch telling himself everything would be all right.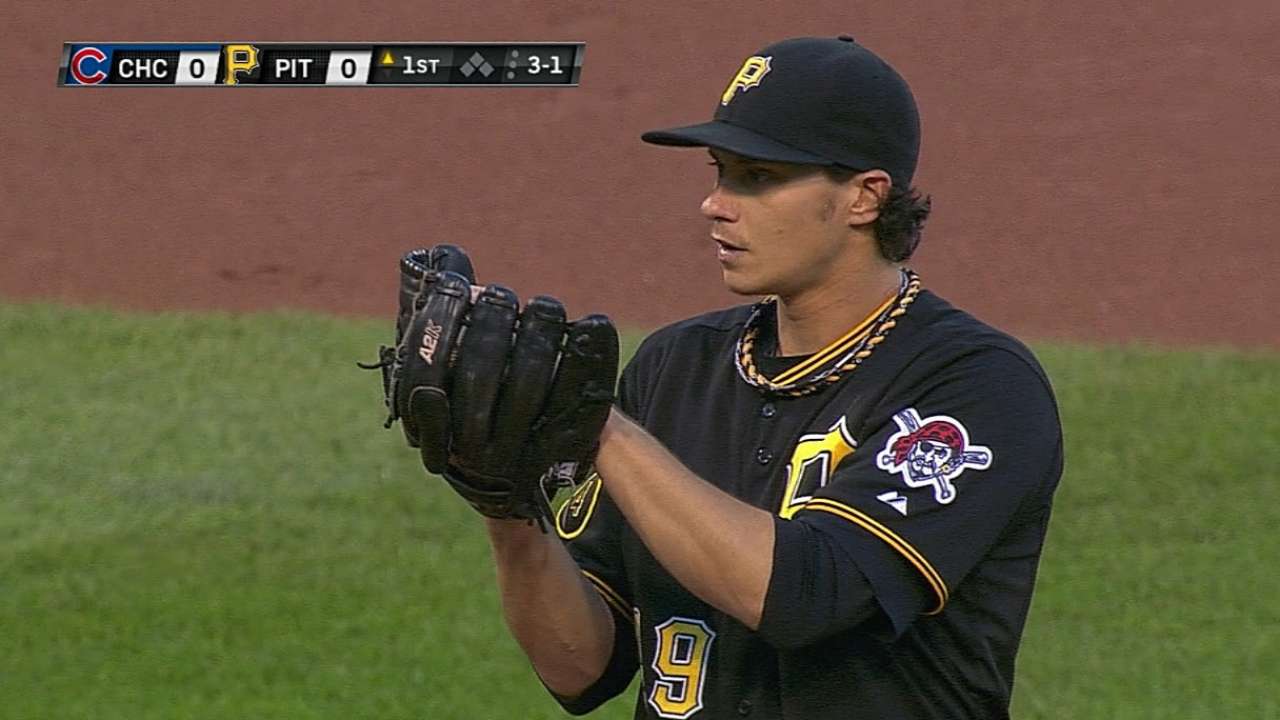 "I just remember being out on the mound, and there were so many times, just like, 'Is this really important?'" Locke said. "It is, but you stand back and think you always take care of your family first."
Locke is close with both of his parents. As a kid, he played catch with Alan every afternoon while Pam watched and made sure dinner was ready. Locke was born in 1987 and drafted by the Braves in 2006. His parents didn't miss a game during the years in between. They sacrificed time and money to drive him nearly three hours across state -- from North Conway, N.H., to Nashua -- for practices.
"Always so supportive," Locke said. "My parents never made a lot of money, but whatever I needed or wanted, they always wanted me to have that. That's something I'll never forget."
Pam worked "mother's hours" from home, she said, so she was always there when Locke got back from school. Alan worked for more than 40 years at a car dealership a few hundred yards away from their home, and he would get off early to be at Locke's high school games.
"I think Jeff always appreciated everything we've done for him," Pam said. "We ate a lot of macaroni growing up, and Jeff will admit it. Like I said to Jeff, 'As long as the bills are paid, we've got food on the table and gas in the car, you can play ball.'"
Grateful for all his parents did for him, Locke supported Pam throughout her battle with cancer. She had the last of her 18 chemotherapy treatments on April 26. She will undergo another test scan in a few weeks to determine if the cancer is gone or if it's moved somewhere else.
Locke called his mom before most of her treatments, some of them seven-hour sessions. If he didn't call, Pam said, she would get a text message: "Mom, good luck today. Thinking of you. Call me when you're done."
"It was hard on Jeff," Pam said. "I couldn't go and tell him. Everything we did, we did over the phone. Then he came home after the season and his mom had no hair. He was strong. He's a good boy."
Pam and Alan will watch all of Locke's starts at home. When Alan sits down to watch a game, Locke says, he rarely moves. Pam will pace back and forth, the way she always has.
"I still talk to the TV and stuff. I still get nervous when I see him pitch," she said, "and I probably always will."
With a break in her chemotherapy treatments, Pam went to Florida this spring to see Locke during Spring Training. As sick as she's been, Locke's parents haven't seen him pitch in person since 2014. They hope to change that soon.
"Hopefully this summer we'll be able to make a trip out to Pittsburgh for a couple days to see him pitch," Pam said.
Until then, she'll get two phone calls before every game. She'll end each one with the same words she wanted to say.
"I love you, Jeff."
Adam Berry has covered the Pirates for MLB.com since 2015. Follow him on Twitter at @adamdberry. This story was not subject to the approval of Major League Baseball or its clubs.