Wallace's approach finally translates to production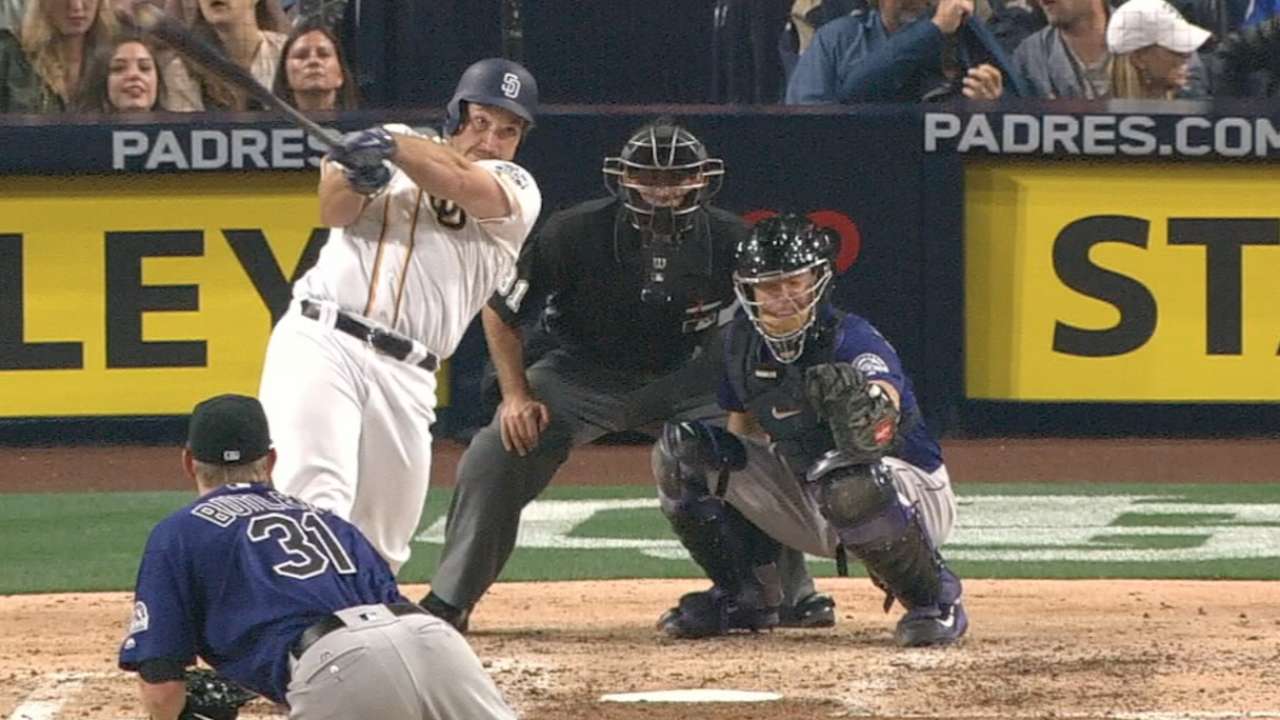 SAN DIEGO -- Padres manager Andy Green has long spoken about his desire to find ways to get Brett Wallace's potent lefty bat into the lineup against right-handed pitching.
During Tuesday night's 6-3 victory over the Rockies at Petco Park, it was easy to see why.
Wallace homered and doubled in the go-ahead run, as the Padres rallied for a victory with six unanswered runs. For Wallace, it was vindication for a quality stretch at the plate that simply wasn't bearing many positive results.
"I've put together some good at-bats, and I've felt good at the plate the past week and a half or so," Wallace said. "But at the end of the day, you want to have an impact on the game for the team. ... Being able to contribute to that felt good."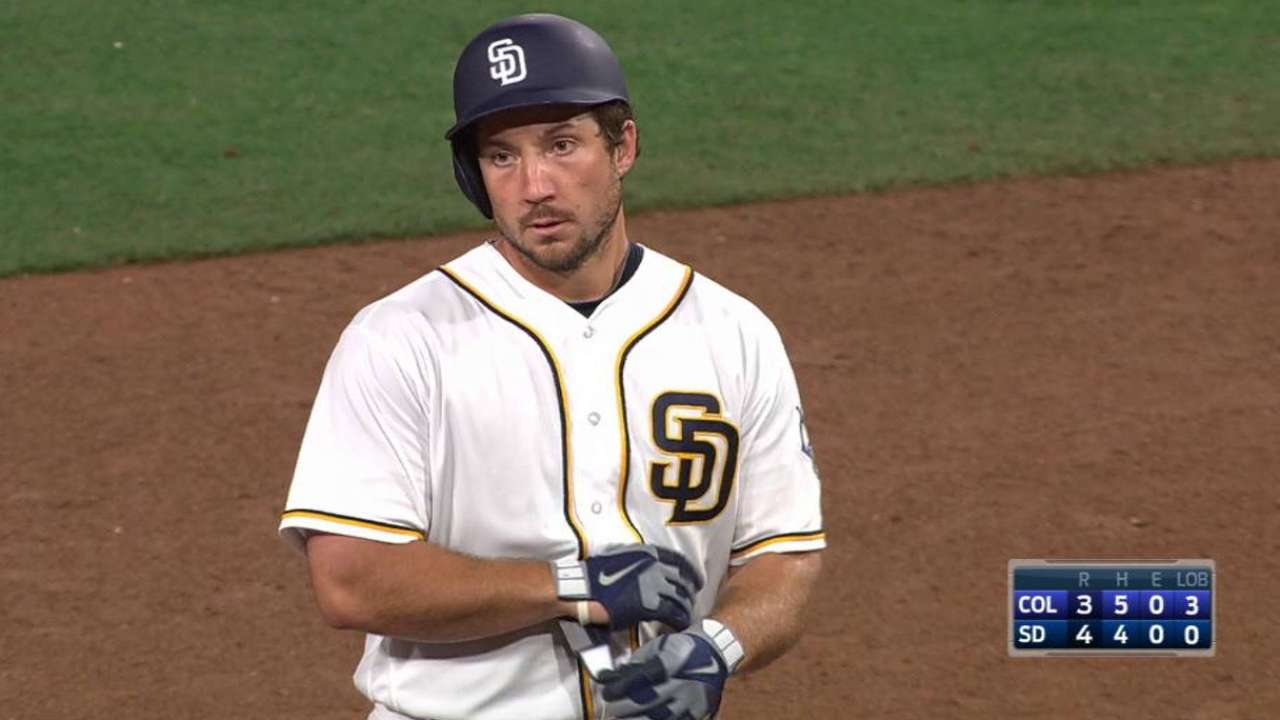 For the most part, Wallace has served as a pinch-hitter this season -- an extremely effective one, as he's gone 3-for-5 with three walks in those situations.
But in seven starts before Tuesday, Wallace had just one hit in 19 at-bats. He doubled that hit total with an outburst that Green saw coming.
"His at-bats have been so good for so long, and there's nothing to show for it," said Green. "Choosing to swing at the right pitch, and the intent he swings with, the aggression of the swing. Everything's been right for some time, but there's been no results."
Those results came, starting in the fourth inning after Matt Kemp put the Padres on the scoreboard with a solo homer. Wallace followed Kemp by taking an 0-1 fastball out to the opposite field.
"After something like that, my mindset is that I'm going to be aggressive, too," Wallace said. "I don't want to give the pitcher another chance to catch his breath. I want to stay on him, and I want to be aggressive. I got a pitch out over the plate and put a good swing on it."
By no means is Wallace an everyday third baseman, but he'll get time there at least until Yangervis Solarte returns from the disabled list. With Wil Myers at first base, Wallace's starts figure to be sporadic.
But nights like Tuesday reinforce Green's desire to find a place for Wallace somewhere on his lineup card.
"He absolutely annihilated that ball out to left-center, and then he had a big double, too," Green said. "He's had great at-bats, and hitting behind Matt is not an easy thing. He did that well today."
AJ Cassavell covers the Padres for MLB.com. Follow him on Twitter @ajcassavell. This story was not subject to the approval of Major League Baseball or its clubs.