Smith makes clean debut with Red Sox
Righty tosses perfect inning on 9 pitches in return from DL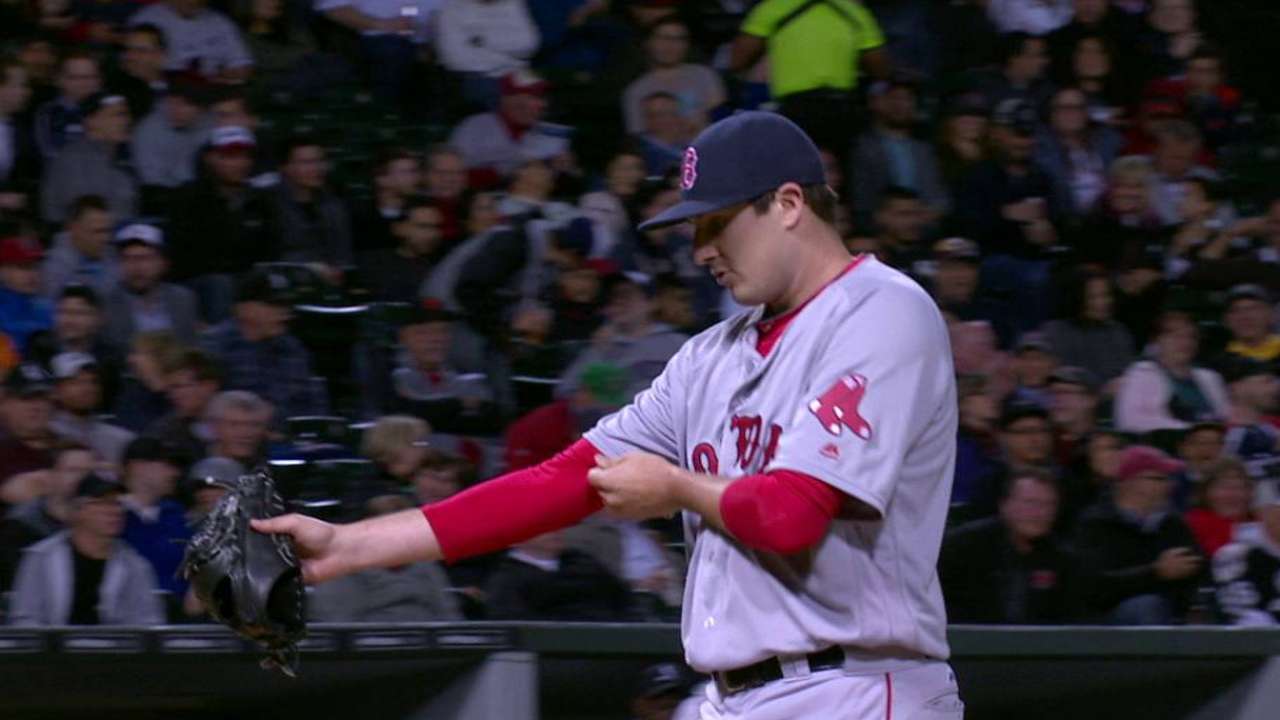 CHICAGO -- In a mostly forgettable 4-1 loss for the Red Sox on Tuesday night, there was a significant occurrence on the mound.
Righty reliever Carson Smith, expected to be a key contributor this season, at last made his debut for his new team, and it was a good one.
Sidelined for the first month of the season with a flexor mass strain in his right elbow, Smith quelled any concerns the injury is lingering.
The sidewinder needed just nine pitches to retire all three White Sox hitters he faced in the bottom of the seventh.
After inducing Jerry Sands and Dioner Navarro into groundouts, Smith got Austin Jackson to strike out looking.
These are the type of performances the Red Sox envisioned when they traded lefty starter Wade Miley to the Mariners for Smith and Roenis Elias back in December.
"That's what I'm working for every time," Smith said. "Obviously, once I let go of the ball there's not that much I can do about it, so I was fortunate enough today my defense made plays behind me, and then punched a guy out to end it."
Smith's precise role is yet to be determined, but he will pitch his share of times with the game on the line.
In Tuesday's outing, Smith came on with his team trailing, 2-1.
There will be plenty of times that manager John Farrell brings Smith into the middle of an inning to get a key strikeout or double play. And others in which he'll fill in for ace relievers Craig Kimbrel, Koji Uehara or Junichi Tazawa when they need rest.
"Clean," Farrell said of Smith's outing. "Good action to his stuff. Good sinker. Slider we've seen across the field with the final strikeout to Jackson. Good to see him back and active with us."
In a strong rookie season for the Mariners last year, Smith struck out 92 batters over 70 innings.
Considering how effective Boston's bullpen was without Smith in April, his arrival should make that unit even more devastating for opponents.
Smith was just pleased to no longer have to watch the Red Sox on television.
"It's great to be back," Smith said. "I've wanted to be here for the last month, and just to go out there and get one out of the way, it was good."
Ian Browne has covered the Red Sox for MLB.com since 2002. This story was not subject to the approval of Major League Baseball or its clubs.