MLB.com Columnist
Alyson Footer
Cubbie comeback: Kalish returns to Majors
Oft-injured outfielder gets first big league at-bat since 2014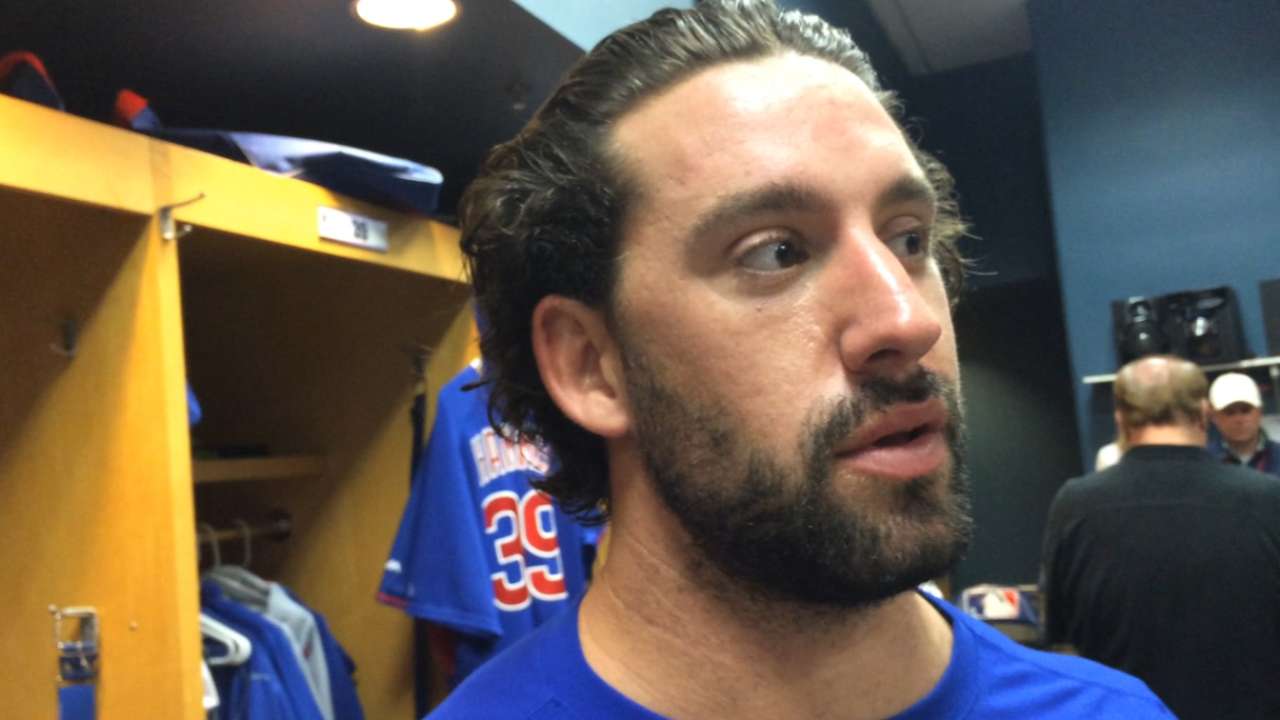 PITTSBURGH -- Ryan Kalish's harmless flyout in the eighth inning on Tuesday may not have affected the outcome of the game the Cubs won, 7-1, or drawn any attention beyond one line in a box score, but it meant something -- a whole lot of something -- to the man who hit it.
It was Kalish's first Major League plate appearance since Sept. 27, 2014. Between that game and Tuesday's Cubs-Pirates matchup at PNC Park, he went through a long and arduous rehab process following two major knee surgeries that would keep him out of the game for a full year.
Kalish began this year without a job, but the Cubs took a flyer on him and signed him in March. After a nice showing at Triple-A Iowa, he was called up by the Cubs on Tuesday when they placed Matt Szczur on the disabled list, and a few hours later, there he was in the batter's box at PNC Park, pinch-hitting for Jake Arrieta.
"It was cool just being up there [at the plate]," Kalish said. "Even getting out was fine. Obviously you want to get a hit, but just to even be in the box ... it was nice. I actually felt really comfortable, not too jittery."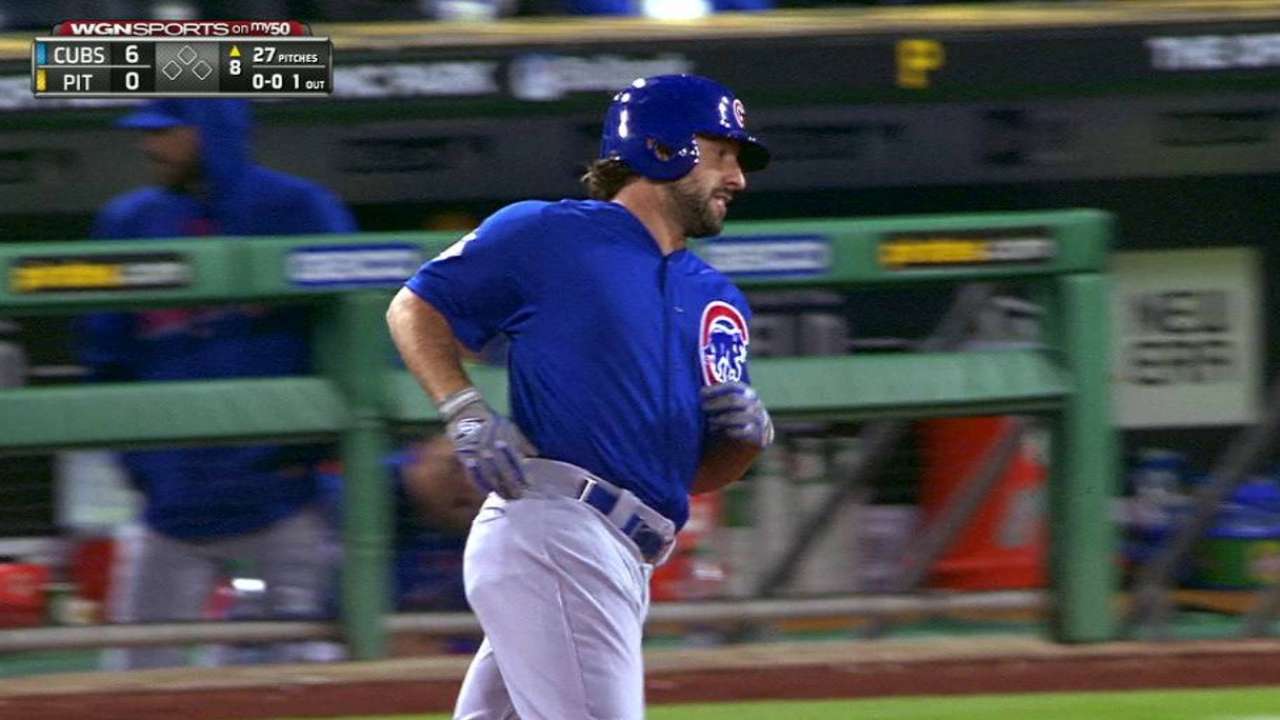 The 28-year-old Kalish spent most of his prime years, in baseball terms, simply trying to get past injuries. Originally drafted by the Red Sox in 2006, Kalish debuted for Boston in 2010, playing in 53 games. That was his last relatively healthy season. Over the next five years, Kalish underwent multiple procedures to his neck and shoulders, including a cervical fusion neck surgery in 2013.
The procedures completely derailed his 2011 and '13 seasons, and his comeback in 2014 with the Cubs lasted 57 games and 121 at-bats. Kalish's return to the big leagues this year, this early in the season, wasn't expected, but given his numbers at Triple-A -- .368 with four doubles and two triples over 20 games -- and his long-standing relationship with Cubs president of baseball operations Theo Epstein, who originally drafted him in 2006, the timing worked out perfectly.
"I've always had a warm spot for Ryan," Epstein said. "He just goes about it the right way. He's a great kid and has been through a ton of adversity with injuries. To see him get a break and get back up here is great. He certainly earned it."
Kalish had just finished a stint in the Puerto Rican Winter League earlier this year when he started shopping around for potential jobs. A few teams expressed varying levels of interest, but the Cubs were the most willing to take a look at him to see if there was a fit.
In early March, Kalish worked out at the Cubs' spring facility in Arizona and was impressive enough for Epstein to offer him a Minor League contract.
"It's the best we've seen him in years," Epstein said. "He's not as restricted in his neck and shoulders, the ball was coming off the bat well, he was running well, throwing well. We offered him a job in the upper Minors. He took it and it's great to see him back up here now."
Through all the injuries and surgeries and rehabs, Kalish never thought about giving up and leaving the game. While he can't predict the future, he's confident he can string together more healthy seasons. And if he does, he'll have the Cubs to thank for sticking with him.
"He's very talented, and right now, he's swinging the bat extremely well," manager Joe Maddon said. "I watched him in [batting practice] and the reports from down below also were that he was swinging the bat very well there, too. He's ready to contribute."
Kalish would agree.
"Personally I always felt like if I could stay healthy, I could have a shot to get back and do something," he said. "That was more what kept me going. I feel like I can play. In my short time in Triple-A this year, I had some success. I've never been able to keep it going. Hopefully, that's what I'm going to do now."
Alyson Footer is a national correspondent for MLB.com. Follow her on Twitter @alysonfooter. This story was not subject to the approval of Major League Baseball or its clubs.