Corbin optimistic after tough loss to Marlins
Starter allows three runs on five hits in 5 1/3 innings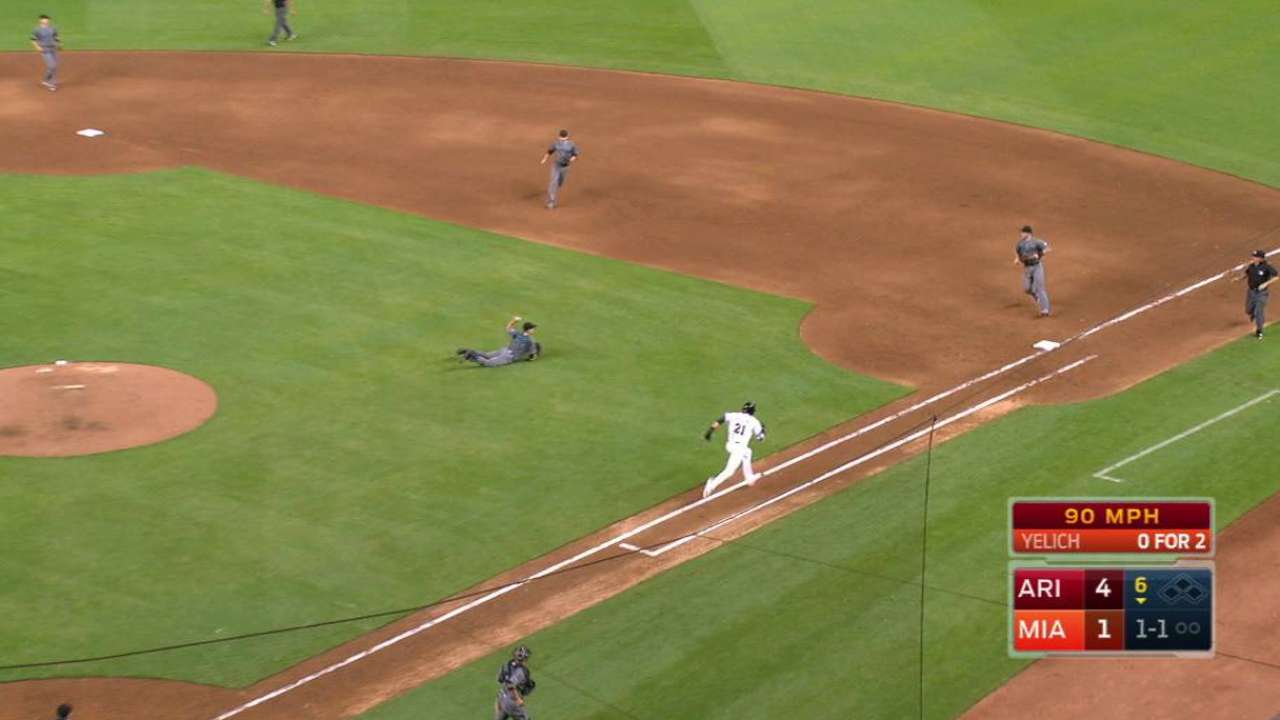 MIAMI -- The wins haven't been coming as often as he'd like, so when the D-backs couldn't hold a three-run lead over the Marlins in a 7-4 series-opening loss on Tuesday, it was especially tough for starter Patrick Corbin.
The lefty was afforded the lead with two runs each in the second and sixth innings. But he couldn't finish the bottom of the sixth, retiring only one batter in the inning before walking Giancarlo Stanton and then giving up a home run to Marcell Ozuna, ending his night.
His day was done after 98 pitches. Corbin, who is 1-3, went 5 1/3 innings allowing three runs on five hits. He walked one and struck out four in the no-decision.
Not a bad outing. Probably good enough to win, considering the D-backs' bullpen, but it wasn't meant to be for Corbin on this night.
"I [still] felt pretty good," Corbin said. "I walked Stanton there and first pitch [to Ozuna], just left it up. I was trying to go down and away to get a double play.
"But [overall], I felt better today, this outing. I felt pretty good with all my pitches. I was just trying to keep the ball down. I brought my changeup back a little more today and got some outs with that."
But he didn't get the win, and that's what hurts.
"That last pitch really hurts; when you go up by three, and then we let them back in the game," Corbin said. "So I've just got to do a better job, keep the ball down and try to make better pitches."
There was a 10-pitch at-bat with Marlins leadoff hitter J.T. Realmuto in the fifth inning that helped run up his pitch count.
"He was fighting off some good pitches," Corbin said. "I threw him a couple of changeups there with a full count, and he fouled them off. And [I threw] a couple of fastballs away and eventually got him with a fastball inside that he had a pretty good swing on. But at that time, it was a 2-1 ballgame, and I wanted to make sure that run didn't score.
"They made me work a little bit harder. It was a smaller zone tonight, so I threw more pitches than I would like at that part in the game."
Although he said he still felt like he had something left in the tank, Corbin didn't question manager Chip Hale's decision to go to the bullpen.
"The bullpen's been good all year," Corbin said. "More times than not, they're going to get out of that situation. I was at 98 pitches. So no problem bringing in [Andrew] Chafin, he's been great for us all season. I have to do a better job keeping that three-run leading going out there in the sixth."
Glenn Sattell is a contributor for MLB.com based in Miami and covered the D-backs on Tuesday. This story was not subject to the approval of Major League Baseball or its clubs.