Meyer struggles in 1st start, sent to Triple-A
HOUSTON -- Through two innings, right-hander Alex Meyer looked on track to have a solid outing in his first Major League start, as he was using his 96-mph fastball and mid-80s curveball to strike out four hitters through two scoreless frames.
But it all unraveled in the third. Meyer couldn't make out of the inning, allowing three runs on two hits, two walks and a wild pitch. It was enough that the Twins decided to option him to Triple-A Rochester after their 6-4 loss to the Astros, calling up reliever J.R. Graham as a placeholder until right-hander Ervin Santana is activated from the 15-day disabled list to start on Saturday.
"I was just getting behind," Meyer said. "I wasn't throwing my curveball for a strike in that third inning to get back into counts. Guys were able to sit on fastballs. You can't fall behind."
Meyer's knuckle-curve was on during the first two innings, as all four of his strikeouts came on the pitch. But the third inning started poorly, as he served up a solo homer to Jason Castro on a first-pitch fastball that was only confirmed after a review that lasted roughly three minutes. After the review, Meyer lost his rhythm, issuing back-to-back walks with nobody out.
After running the count full, Carlos Correa made Meyer pay by lacing an RBI double down the left-field line on a 94-mph fastball. Another run scored on a curveball in the dirt that got by Kurt Suzuki for a wild pitch.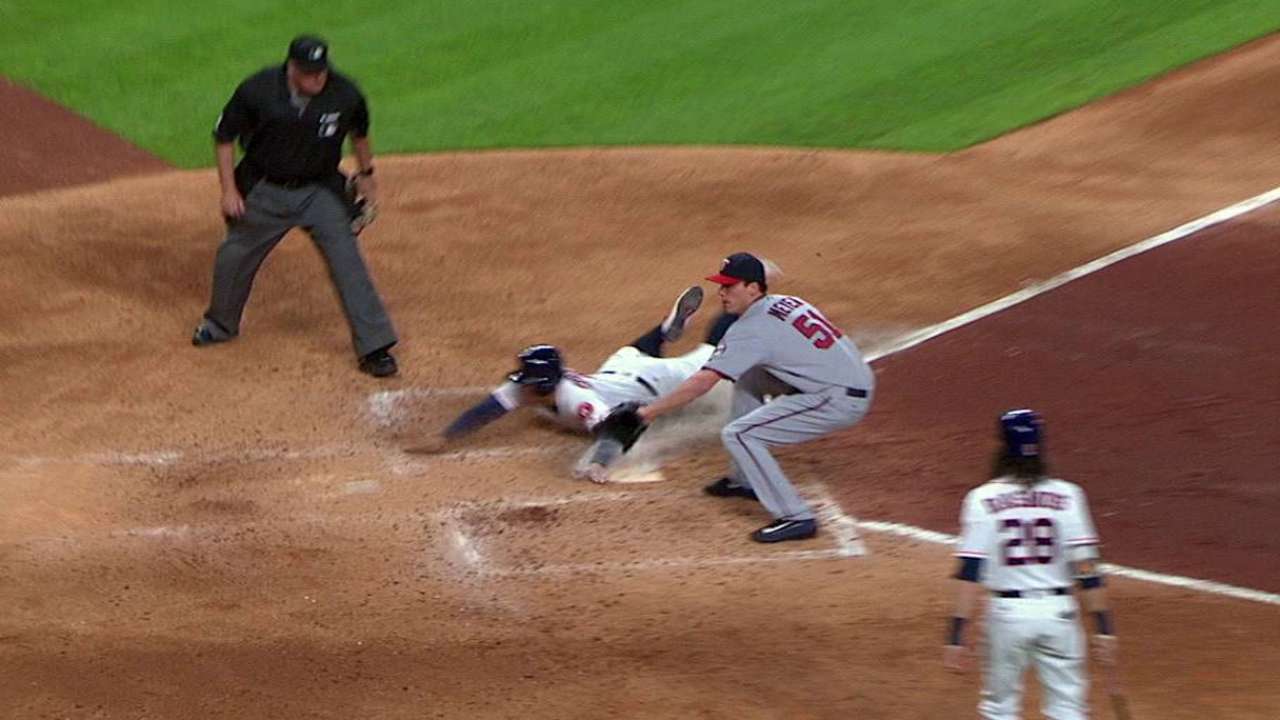 Of Meyer's seven curveballs that inning, only one went for a strike, allowing Astros hitters to wait on his fastball.
"I think it was just me trying to do too much," Meyer said. "It was there, and then I lost it. I felt really good with it in the bullpen and the first two innings. You have to be able to make a better adjustment. I give up a leadoff home run and then I walk a guy, so I was probably pressing just a little bit. I still thought the fastball was coming out well, but the biggest thing was not throwing the curveball for strikes."
After the wild pitch, Meyer was able to get Colby Rasmus to pop up to second base and Tyler White to fly out to shallow left, but manager Paul Molitor decided to pull him for long reliever Tommy Milone after he'd thrown 64 pitches, including 28 pitches in the third inning. Milone got out of the jam but gave up three runs over 3 1/3 innings in his first relief appearance of the season.
"The first two innings were good and the fastball played, but I think for Alex, he got the leadoff homer there in the third and lost his command a little bit with the walks and the double down the line and wild pitch," Molitor said. "He did a [good] job of minimizing in terms of getting the next couple hitters, but I thought with his pitch count, Tommy gave me the best chance to get out of that inning."
Rhett Bollinger has covered the Twins for MLB.com since 2011. Read his blog, Bollinger Beat, follow him on Twitter @RhettBollinger and listen to his podcast. This story was not subject to the approval of Major League Baseball or its clubs.