Blue Jays' offensive frustrations go up in Smoak
First baseman 1st in club history with tying HR in 9th, walk-off in 10th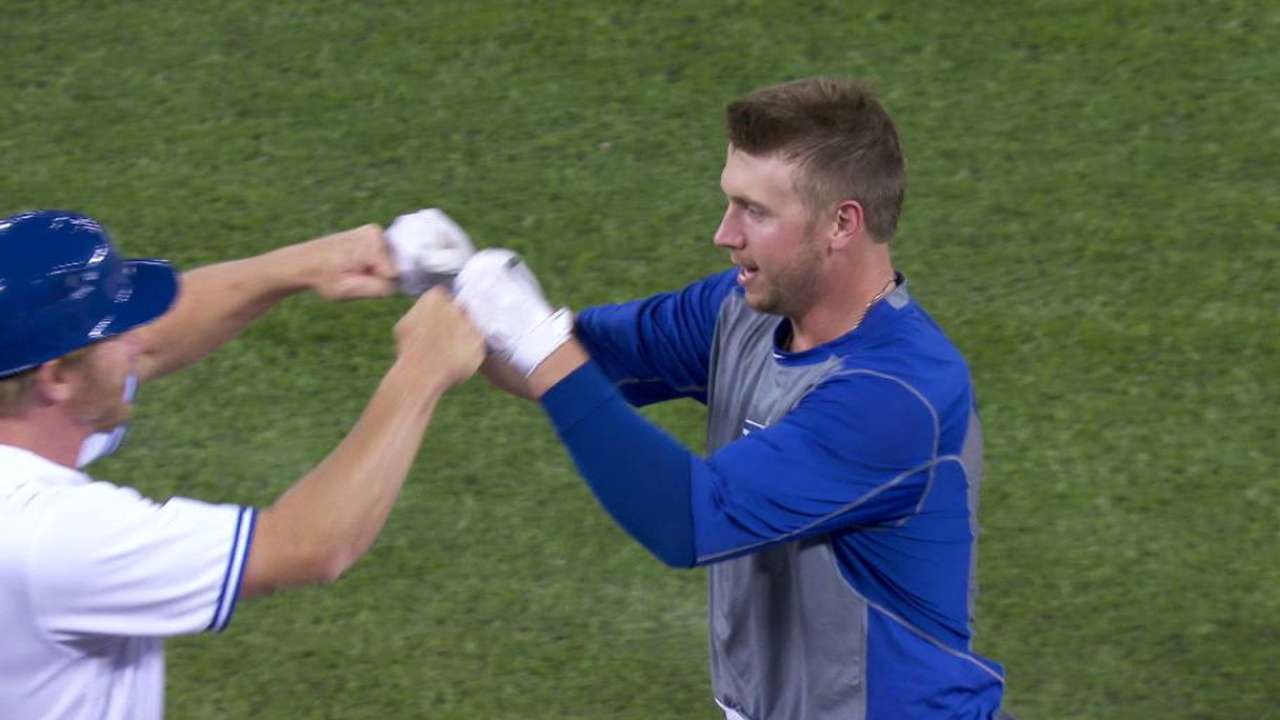 TORONTO -- Justin Smoak did it all on his own Tuesday night, erasing the Blue Jays' recent offensive frustrations.
Smoak became the first player in franchise history to hit a game-tying home run in the ninth and a walk-off homer in extra innings. His remarkable performance single-handedly propelled the Blue Jays to a 3-1 victory over the Rangers on Tuesday night at Rogers Centre.
The two-run shot in the 10th inning off right-hander Phil Klein was the first walk-off homer of Smoak's career. It also marked his fourth multi-homer game and gave the Blue Jays their first extra-inning win of the season.
"For me, honestly, just trying to get the ball in the air," Smoak said. "There's not too many hits on the ground anymore these days with the shift. So I'm just trying to get the ball in the air, and I was able to get some pitches out over the plate today to hit it out to left field."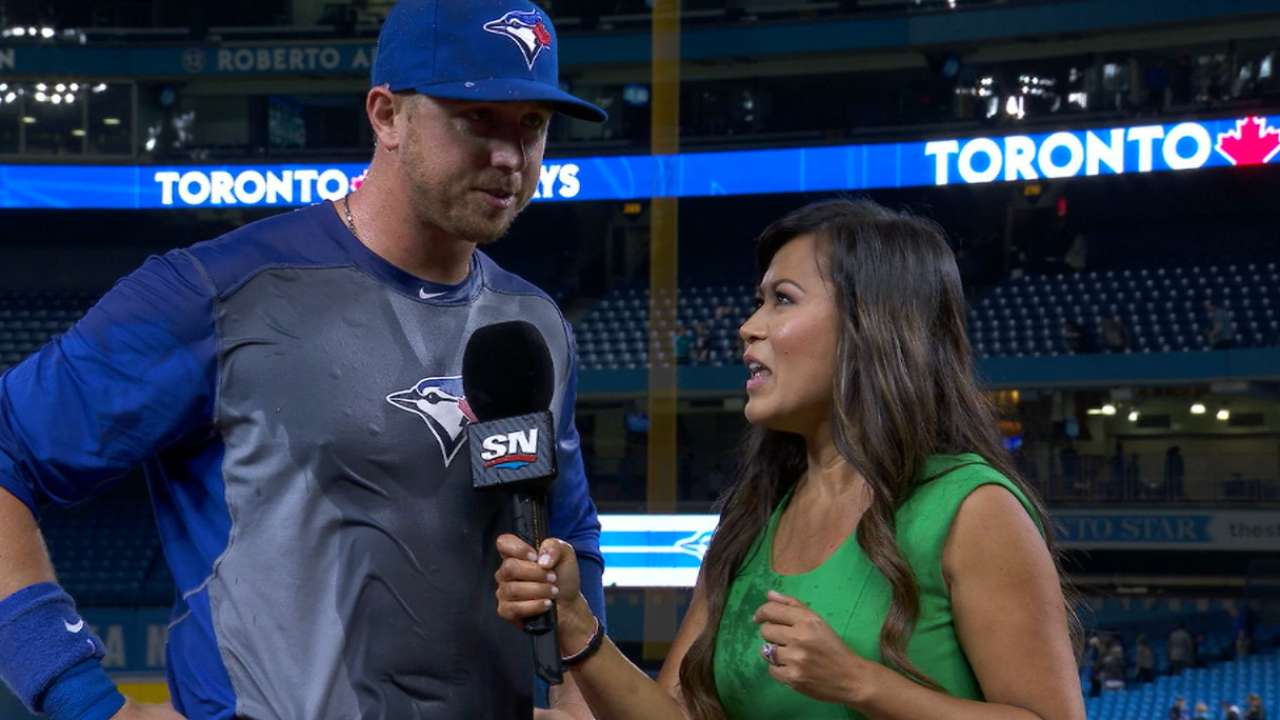 According to the Elias Sports Bureau, Smoak was the first player to hit a game-tying homer in the ninth and a walk-off homer in extra innings since White Sox catcher Tyler Flowers did it on Sept. 8, 2014 vs. Oakland. A total of nine people have accomplished the feat since 2000, including: Paul Goldschmidt (Aug. 13, 2013), Raul Ibanez (Oct. 11, 2012), Brian McCann (May 17, 2011), Adrian Beltre (Aug. 20, 2004), Joe Crede (Aug. 27, 2002), Aaron Boone (June 14, 2002) and Ed Sprague (April 11, 2000).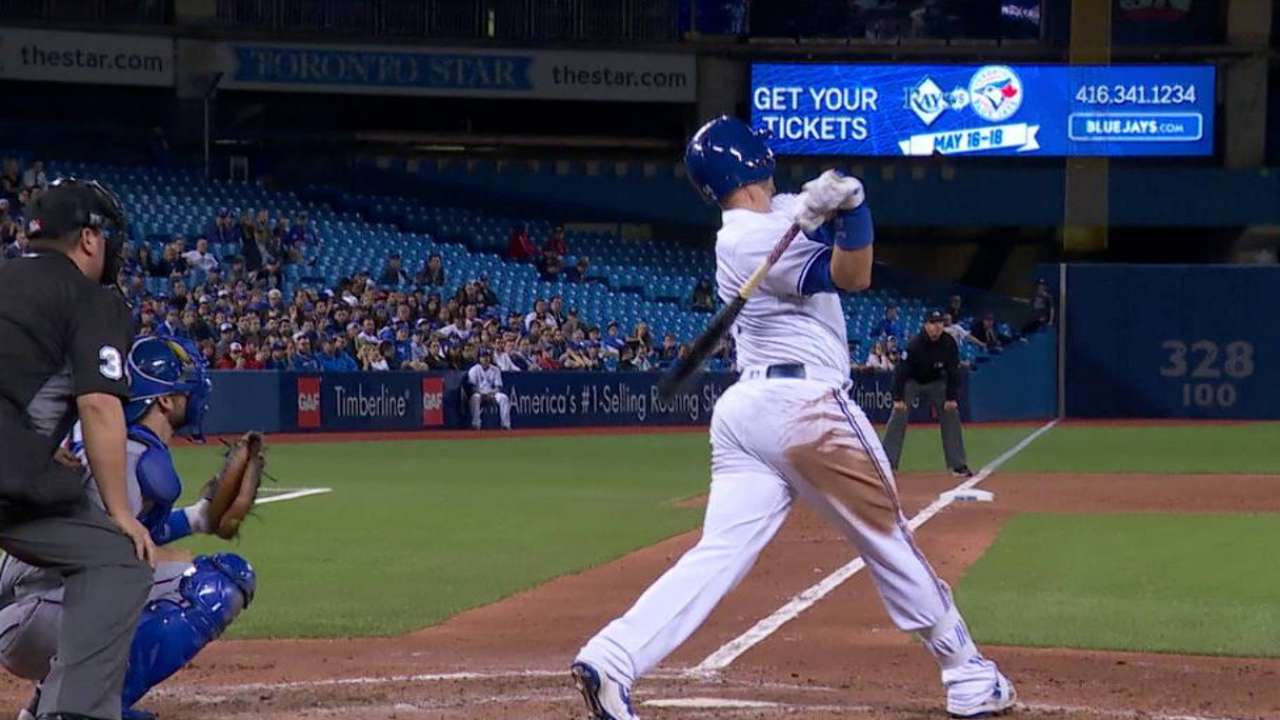 What made Smoak's performance even more impressive was that he did not have a single home run on the season prior to Tuesday night. He is known for his power, with 94 career home runs, but that stroke had been missing in action until the outburst against Texas.
From a Blue Jays' perspective, the timing could not have been any better. Toronto entered the bottom of the ninth having scored 21 runs over its previous eight games and the club was batting .136 (6-for-44) with runners in scoring position over that same span. Runs have come at a premium for a team that was supposed to own the league's best offense.
"That was a lot of fun, we needed it," said Blue Jays starter Marco Estrada, who allowed one run over six innings. "We just haven't been putting up big hits and having two of them in one game, it was incredible to watch. It was something we really needed."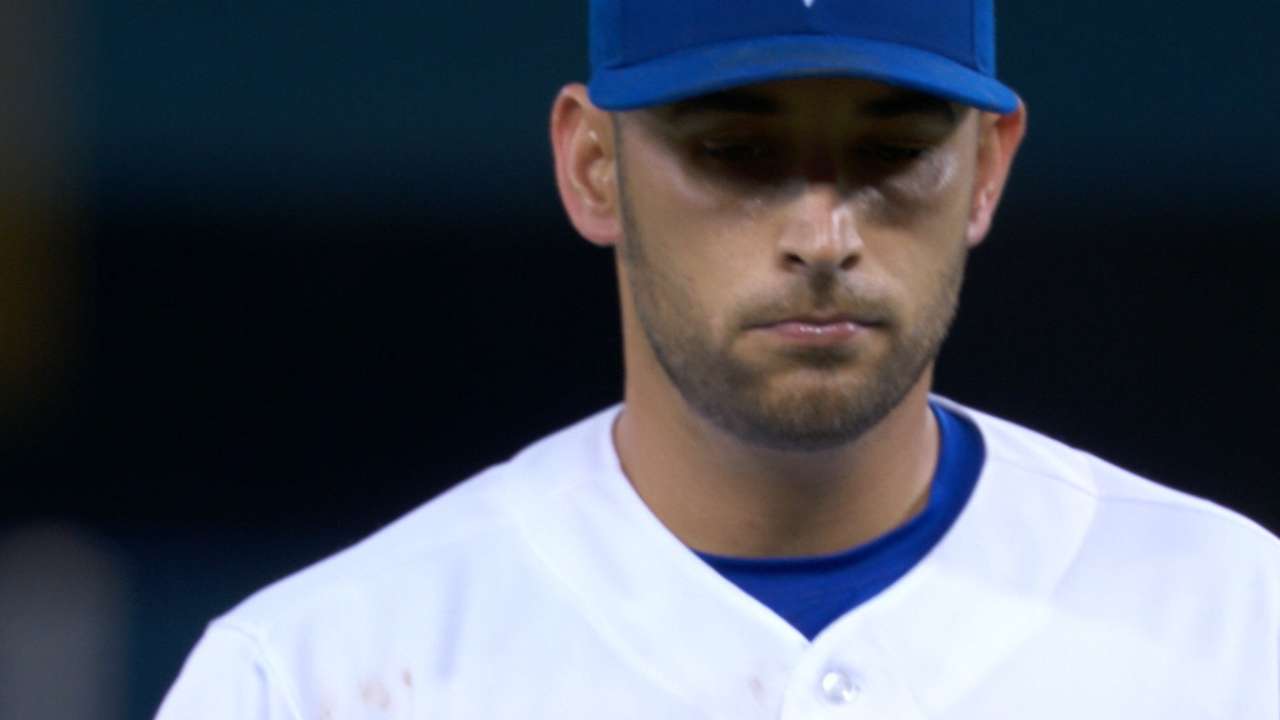 Toronto was three outs away from being shut out for the second time this season when Smoak stepped to the plate against Rangers closer Shawn Tolleson. With the count 1-2, Smoak got a 94-mph out over the plate and sent it the opposite field to tie the game. The Blue Jays went on to load the bases later in the frame, but could not find a way to close things out.
That changed in the following inning when Smoak got yet another chance. This time he stepped into the batter's box with a runner on and one out. Smoak didn't waste any time either, by sending the first pitch from Klein over the wall in left for yet another opposite-field shot and Toronto's first walk-off victory of the season.
"I think it's just a matter of time," Smoak said of his 13-15 team turning things around. "Everybody in this clubhouse knows how good we are, offensively. We're not panicked about anything, we just have to get it done. If we can win games while we're going through this, when we get hot, it will be even better."
Gregor Chisholm has covered the Blue Jays for MLB.com since 2011. Follow him on Twitter @gregorMLB and Facebook, and listen to his podcast. This story was not subject to the approval of Major League Baseball or its clubs.