Jake the great: Amazing run for Arrieta
Cubs have won ace's last 19 starts, a franchise record
PITTSBURGH -- Right-hander Jake Arrieta's incredible run continued on Tuesday night at PNC Park as the Cubs' ace upped his record to 6-0 with a masterful seven shutout innings of two-hit baseball in a 7-1 win over the Pirates.
The Cubs have won Arrieta's last 19 starts, a franchise record. He is the first Cubs pitcher to win his first six starts in a season since 1908, when Mordecai "Three Finger" Brown won his first 11 starts to begin the campaign. Brown finished that season with a 29-9 record and 1.47 ERA.
Of course, the game was quite a bit different back then. Nevertheless, Arrieta is on some kind of run, having won three straight NL Pitcher of the Month awards going back to last August. But he does not spend time dwelling on what he has accomplished when there is so much left to do.
"I think the turnover is so fast," Arrieta said. "I have to come out tommorow and get ready for my next start back at Wrigley Field, so you try and enjoy it, but it's short lived because of the goals that we have here. We play so many games, so it's smart to turn the page as quick as possible and get on to the next work day."
He has tormented the Pirates in particular, having posted a 5-1 record with a 0.52 ERA and 49 strikeouts in 52 innings against the Bucs since the start of the 2015 season, including his 11-strikeout Wild Card Game shutout. And he has thrown 23 consecutive scoreless innings against Pittsburgh.
• Pirates on list of clubs who can't solve Arrieta
On Tuesday, the Pirates were able to mount one modest threat against Arrieta when he walked the first two batters in the first inning, but they could not get a hit to push a run across.
"You've got to get things done," Pirates manager Clint Hurdle said. "Outside of the first two hitters, he was able to lock back in and put the ball where he wanted to the rest of the game."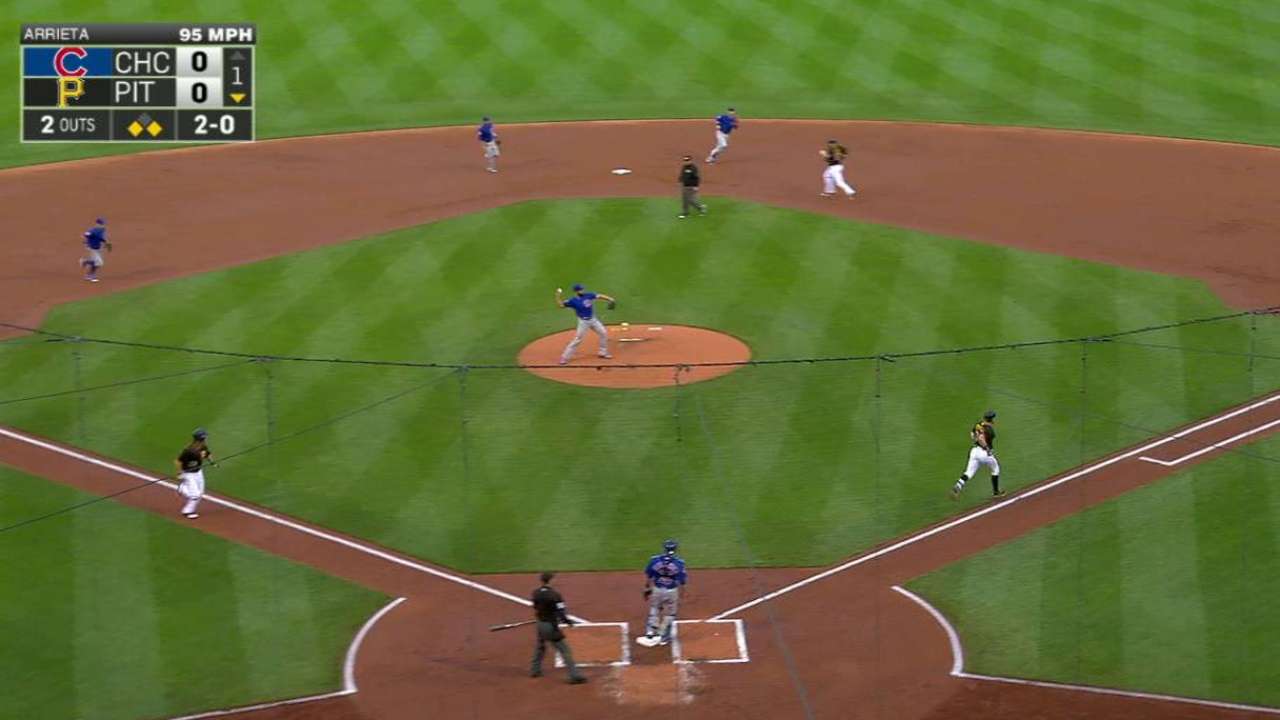 Sean Rodriguez singled off Arrieta in the second inning, but Arrieta then retired 15 batters in a row until Francisco Cervelli singled in the seventh.
"They've got some different pieces in their lineup this year," Arrieta said. "Still a similar attack that they've had in the past, aggressive hitters, quality hitters from top to bottom. You've just got to make pitches. Fastball command was shaky, but I was able to get my sinker in on left-handed hitters quite a bit tonight, so that helped me with some early outs and obviously the good hard slider at the bottom of the strike zone."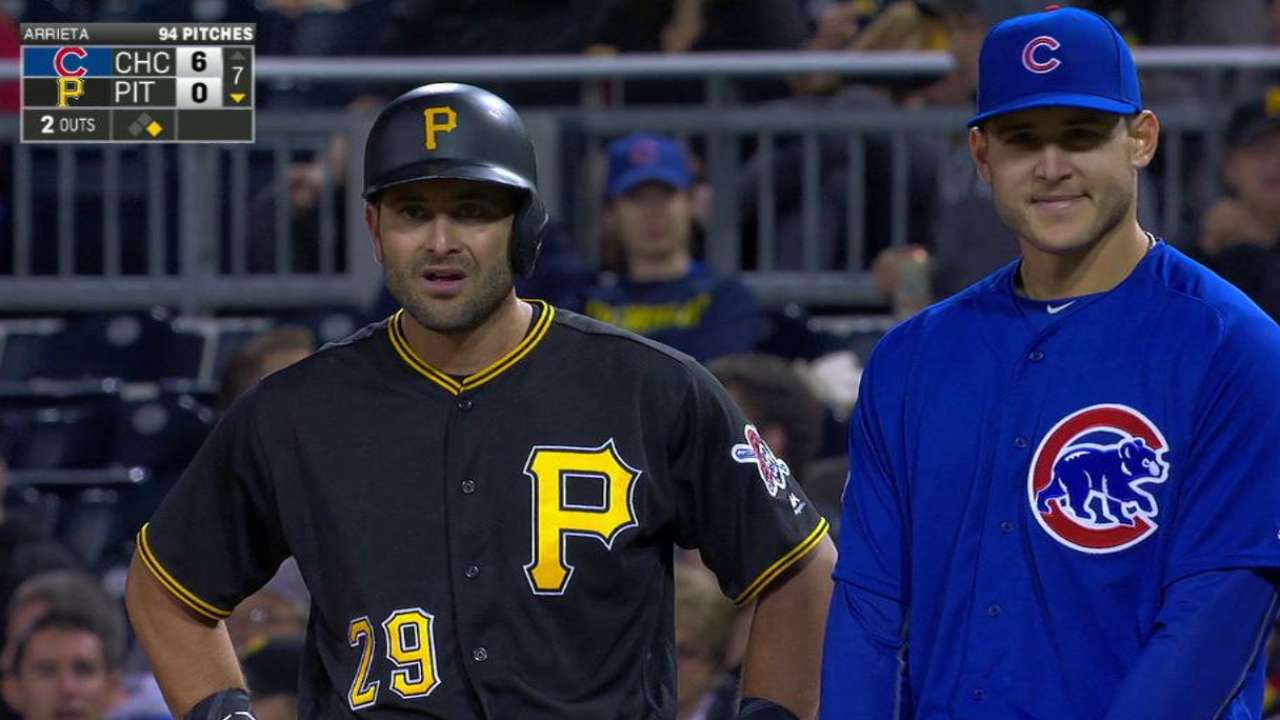 Arrieta is now 22-1 with a 0.85 ERA in 26 starts since his run of excellence began last June.
"It's rare that you're around somebody that's pitched as well as he has for that extended period of time," Cubs manager Joe Maddon said. "But I think he's doing a great job of handling the whole thing. He's the same guy. There's no false sense of humility, I think he's a very confident person and I like that. His work ethic is impeccable. Honestly, he's going to continue along this path."
The Cubs, now a National League-best 19-6, are up five games on the second-place Pirates and go for a sweep of the Bucs and win No. 20 on Wednesday afternoon behind left-hander Jon Lester (2-1, 1.83 ERA).
George Von Benko is a contributor to MLB.com based in Pittsburgh. This story was not subject to the approval of Major League Baseball or its clubs.