Giants slip past Reds with eventful 8th
Tomlinson's infield RBI single comes after Belt thrown out at second
CINCINNATI -- The Giants' go-ahead rally in Tuesday night's 3-1 victory over the Reds featured more ingredients than Cincinnati-style chili (a mix of questionable nutritional value featuring spaghetti, meat paste and shredded cheese, to which beans and onions are often added).
The Giants' uprising ended with the indelible image of Jeff Samardzija snapping his bat over his left thigh after he struck out with runners on second and third.
"That thing looked like a twig," Giants manager Bruce Bochy said. "He looked like Herman Munster."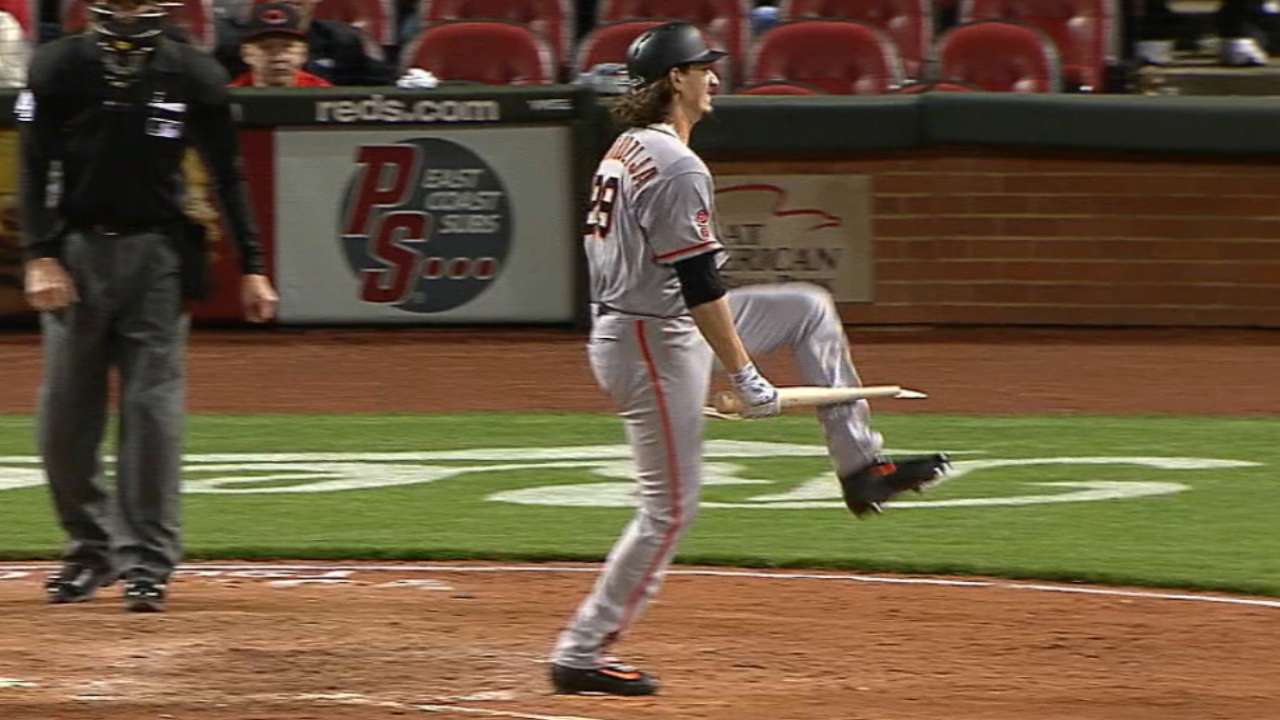 There was irony, with Brandon Belt providing the inning's most solid hit yet being thrown at second base, and Kelby Tomlinson tapping a meek dribbler for an infield single that scored the go-ahead run.
"In that situation, it's best to just get the ball in play and give yourself an opportunity," Tomlinson said after the Giants' third consecutive victory.
Events turned in San Francisco's favor with one out in the eighth and the score tied, 1-1. With Caleb Cotham pitching for Cincinnati, Hunter Pence walked and went to third base on Belt's line drive to left field. Seeing Reds left fielder Adam Duvall throw to third base, Belt dashed for second and was thrown out. A replay review changed nothing. Belt had run himself into the second out, which seemed to halt the Giants' momentum.
"I was probably a little bit overaggressive, but that's just the way I play," Belt said.
Cotham intentionally walked Brandon Crawford to face Tomlinson, who dropped a deft bunt single in the second inning. This time, he delivered an inadvertent swinging bunt -- a dribbler toward shortstop that bounced past the mound. Tomlinson didn't even draw a throw as Pence scored.
"I kind of got fortunate that it went to where they weren't, but that's part of the game," Tomlinson said. "Sometimes you hit it where they are and soetimes you don't."
Gregor Blanco's single to right field padded the Giants' lead by scoring Crawford. Up came Samardzija, who's part of the pitching staff that entered Tuesday tied for the National League lead in extra-base hits and RBIs. The All-America wide receiver during his collegiate days at Notre Dame displayed gridiron-style fury when he almost reflexively snapped his bat after fanning.
"It is what it is. It's stupid," Samardzija said, displaying his ability to mock himself. "No premeditation for anything, man. Go with what you feel."
After that unusual yet fruitful rally, the Giants could feel good.
Chris Haft has covered the Giants since 2005, and for MLB.com since 2007. Follow him on Twitter at @sfgiantsbeat and listen to his podcast. This story was not subject to the approval of Major League Baseball or its clubs.