Pirates on list of clubs who can't solve Arrieta
Pittsburgh notches just two hits over seven innings against Cubs' ace
PITTSBURGH -- Matt Joyce had hit against Jake Arrieta before Tuesday night. Joyce had hit Arrieta well, in fact, with seven hits in 14 at-bats. That was years ago, when Joyce played for the Rays and Arrieta was a struggling starter for the Orioles.
"He's facing a different guy now," Arrieta said. "It's a little different story."
Arrieta once again proved that he's different -- from his former self and, really, from any other pitcher in baseball -- as he shut out the Pirates for seven innings in the Cubs' 7-1 win at PNC Park. It was a familiar scene for the Bucs, who were shut out by Arrieta on their home field in last year's NL Wild Card Game.
Arrieta is 5-1 with a 0.52 ERA and 49 strikeouts in 52 innings against the Pirates since the start of the 2015 season, including his 11-strikeout Wild Card Game shutout. He has thrown 23 consecutive scoreless innings against the Bucs.
The Pirates managed two hits, both singles, off the reigning NL Cy Young Award winner. He didn't walk anybody after the first inning, locating all of his pitches with pinpoint accuracy that left an impression on Pirates manager Clint Hurdle.
"It's the complete package, man. He's on top of his game," Hurdle said. "When the catcher's mitt is put up, watch how many misses he had. I don't think you're going to find a lot."
The Pirates' only chance was also their first one. Arrieta walked Pittsburgh's first two hitters, John Jaso and Andrew McCutchen. But he was unfazed.
David Freese struck out, Joyce left runners on the corners with a fielder's choice groundout and Francisco Cervelli tapped a comebacker. That quickly, Arrieta was out of the inning and on his way to another dominant performance.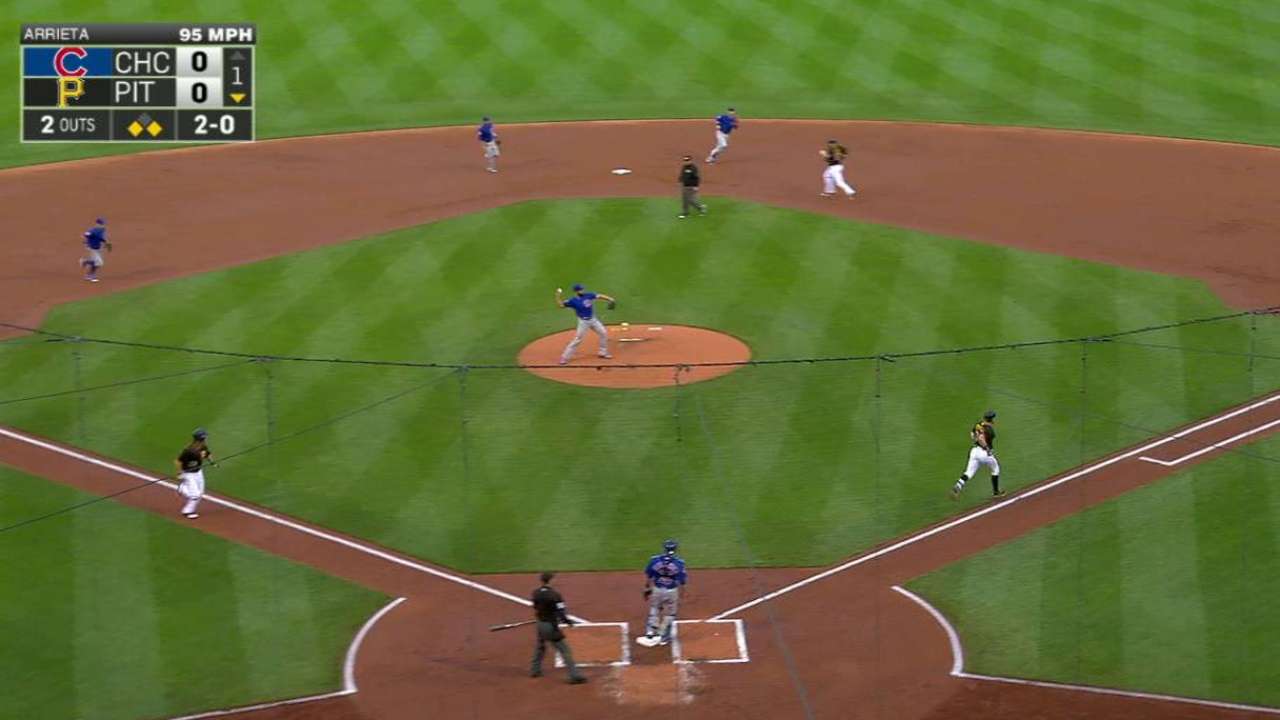 "You've got to get things done," Hurdle said. "Outside of the first two hitters, he was able to lock back in and put the ball where he wanted to the rest of the game."
Sean Rodriguez singled with one out in the second inning, then Arrieta induced a double play, the first of 15 batters retired in order. All the Pirates could do was tip their proverbial caps.
"I didn't see anybody try to do too much out there or anything like that," Jaso said. "Just stay within yourself. Keep having good ABs. It doesn't matter who's on the mound. Over the course of the season, the long haul, you'll find your success rate is better."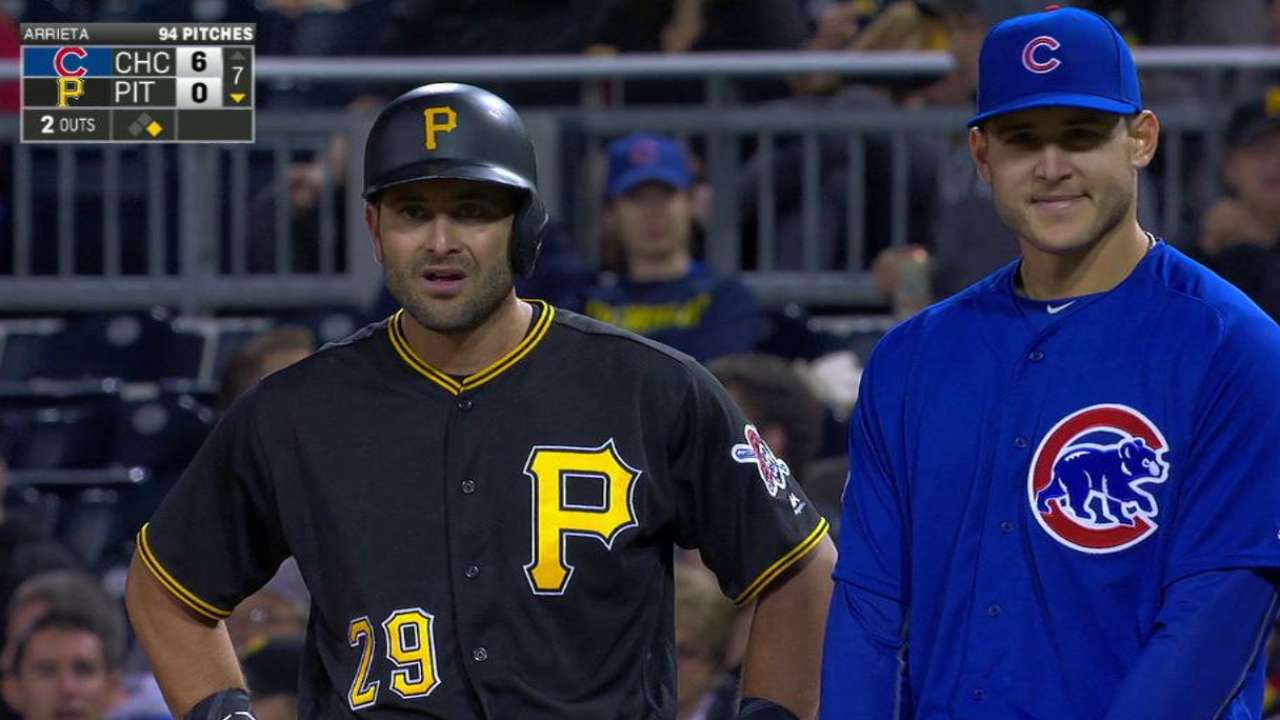 For most opponents, including the Pirates, that hasn't been the case with Arrieta. The Cubs have won each of his last 19 starts. He's 22-1 with a 0.85 ERA in his last 26 starts, dating back to June 21 of last year.
What makes Arrieta so hard to beat? What makes him different?
"You know, he probably has similar stuff," Joyce said, thinking back to their time in the American League East. "But from what I can tell facing him, he didn't make any mistakes."
Adam Berry has covered the Pirates for MLB.com since 2015. Follow him on Twitter at @adamdberry. This story was not subject to the approval of Major League Baseball or its clubs.