Heat exhaustion: Verlander toils in first inning
Tigers starter throws 38 pitches in opening frame, allowing 3 runs, while relying heavily on fastball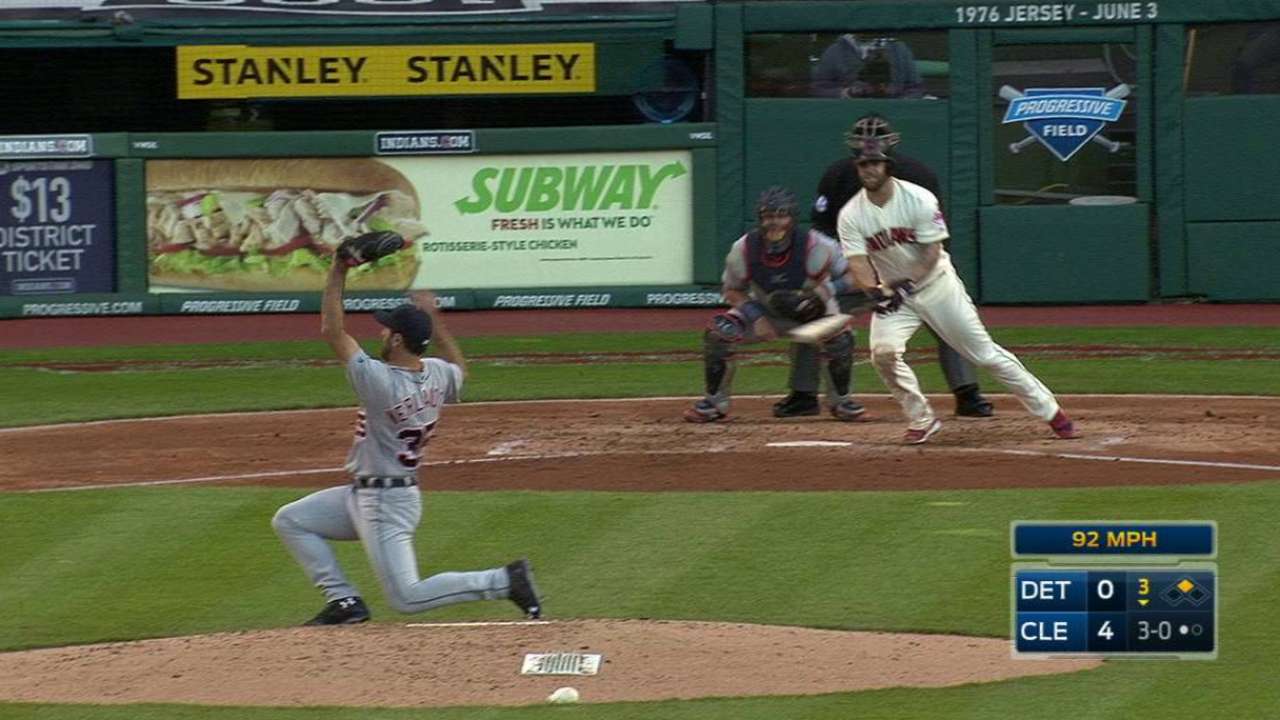 CLEVELAND -- Replay allowed the Indians to take a run off the board from the Tigers in the top of the first inning Tuesday night. Justin Verlander could only wish replaying his matchups in the bottom half could be as productive.
For the Tigers, the opening inning was the decisive one in Tuesday's 7-3 loss. For Verlander, the opening inning has been counterproductive so far this year.
As he searches for tweaks to turn his season around (he's now 2-3 with a 6.49 ERA), first-inning pitches are at the top of his list. He had 38 of them Tuesday, and they shaped the rest of his outing, during which he allowed seven runs on eight hits over five innings.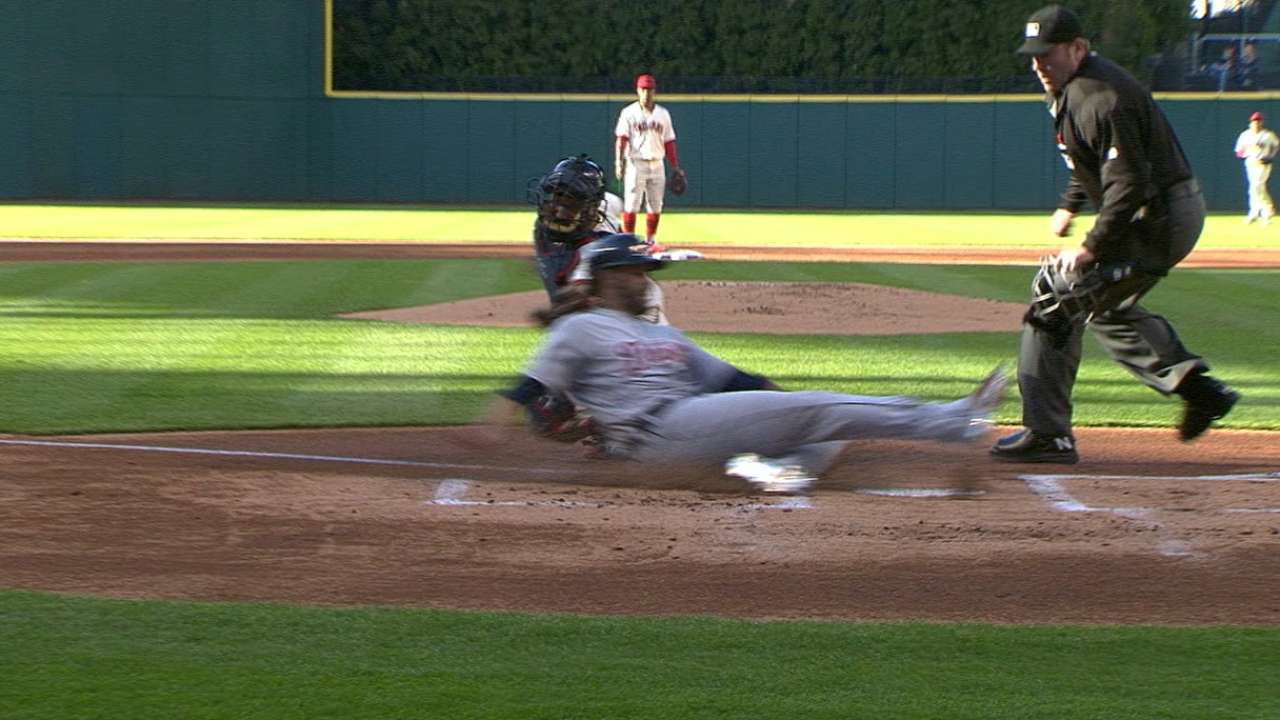 "I had to go to the gas pedal a little early in the game, and I think that's something I need to work on," Verlander said. "I think my offspeed stuff early in games, I'm throwing it for balls and falling behind guys. So that's kind of put me in a situation where I need to attack early in the game with the fastball, because I'm not throwing my offspeed stuff for strikes."
Twenty-eight of Verlander's first-inning pitches were fastballs, 12 in a row at one point. By the time Mike Napoli stepped to the plate with two on and two out, Verlander was throwing 94-95 mph, as hard as he threw all game. It wasn't velocity that doomed him, but location.
I'm going to dominate soon! I'm close. Doubt me if you want... We'll see. #gotigers

— Justin Verlander (@JustinVerlander) May 4, 2016
Verlander struck out Napoli three times in as many at-bats two starts earlier in Detroit, all on fastballs. Twice, Napoli chased fastballs up and out of the zone, one almost head-high. So Verlander had reason to believe he could get Napoli on that pitch again. He also had reason not to trust anything else, the way he was struggling to command.
Each of Verlander's first four fastballs were 94-95 mph on velocity and up on location. Napoli took the first two, fouled off the 2-0 and whiffed on the 2-1.
A pitch away from escaping the threat scoreless, Verlander went back to the high fastball. It crept down just enough for Napoli to connect, sending a drive over Anthony Gose's head in center field for a two-run double.
"It's easy to kick yourself in the butt after the fact. I think there's a bunch of other ways I could've attacked him there," Verlander said. "Obviously first inning, that's a huge turning point already. And then, I ended up not only giving up a couple runs on that, but then throwing another 20 pitches after that. That's one of the at-bats that I really look back in this game and wish I had done something different."
Yan Gomes' ensuing RBI single completed the second three-run opening inning Verlander has allowed this season. Eight of the 25 runs Verlander has allowed this year have come in the first.
He believes his pitches are improving. And while he doesn't look back on past years too often, he compared this season so far to 2009, when he posted a 9.00 ERA in his first four starts before giving up eight runs in his next nine outings combined.
He has a ways to go for that, but he knows where to start. His opening innings might not be efficient lately, but his closing statement was to the point.
"Bottom line, I need to pitch better," he said. "And I'm going to."
Jason Beck has covered the Tigers for MLB.com since 2002. Read Beck's Blog, follow him on Twitter @beckjason and listen to his podcast. This story was not subject to the approval of Major League Baseball or its clubs.