MLB.com Columnist
Phil Rogers
White Sox season too magical to keep Danks
Struggling lefty DFA'd; he was responsible for half of club's losses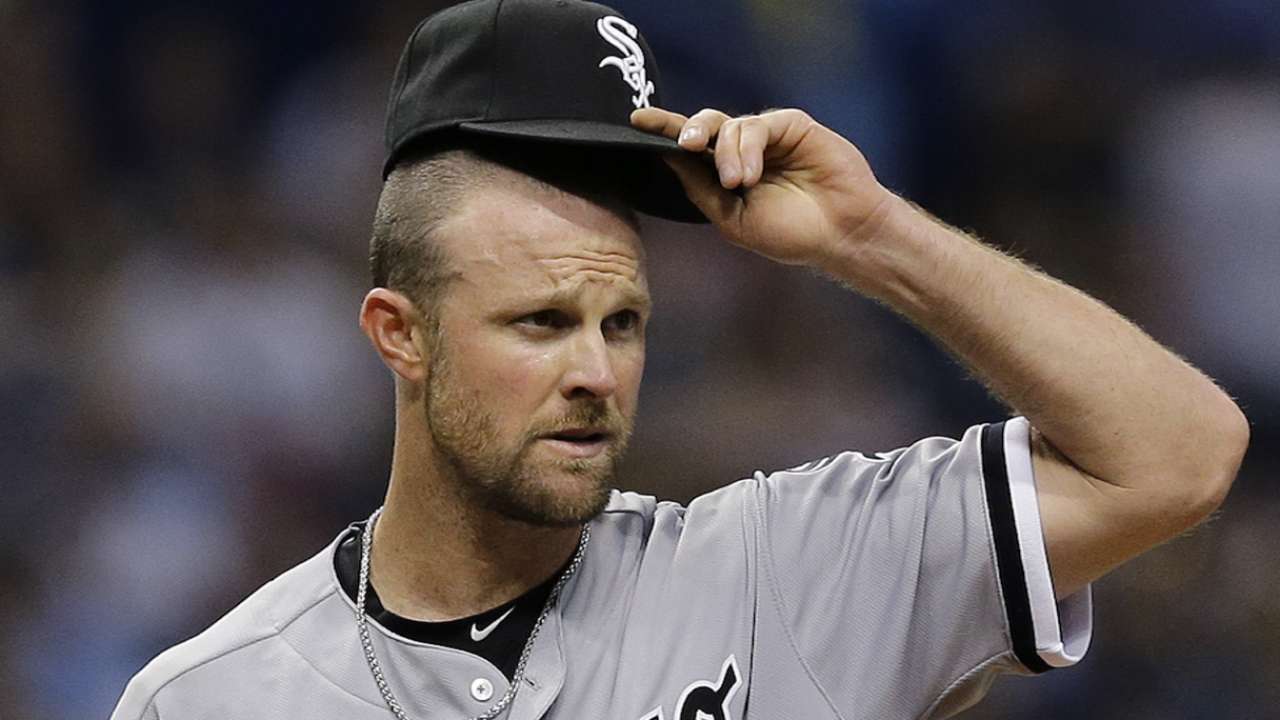 CHICAGO -- Paul Konerko seldom let you know anything was bothering him, but there was a day during the 2012 season when it was impossible to miss how badly he was hurting. That was the day the White Sox put John Danks on the disabled list with shoulder issues.
I asked Konerko if he thought Danks would be able to come back quickly. He said I was missing the point.
"I just want John to come back and be John,'' Konerko said. "I don't care how long it takes, even if he misses the rest of this year. I really want John to be John. That's all I care about.''
Konerko was no dummy.
Almost four years later, the White Sox are cutting ties with Danks. He would go on to need shoulder surgery later in '12, after trying for two months to fix his injury through rest and rehab, and while he has made 88 starts post-surgery, he never has been his old self, not on the mound, anyway.
Danks accumulated a 4.38 ERA, including a 7.25 mark this season, and Chicago had gone 32-56 in his starts. That's why the White Sox announced on Tuesday he'll be designated for assignment as a procedural precursor to his release.
It was a tough move for general manager Rick Hahn to take to chairman Jerry Reinsdorf to approve, as it will cost the team about $13 million. But it's a good move, the right one for all involved.
Still, while it may have been inevitable, it wasn't expected this early, not on May 3.
Hahn's decisiveness speaks loudly to the new realities of the American League landscape. The White Sox are 19-8 after winning the first game of their home series against the Red Sox, 4-1, on Tuesday, but they expect to need every victory they can get to reach the postseason in a league where Hahn says the competition is "no joke.''
Heading into Tuesday games, Baseball Prospectus projected that the surprising White Sox will lead the AL in wins with 88. That would be the lowest total to lead the league in a full season since 1945, when the Tigers finished first at 88-65.
"You can make a case that in our division the range of [records] at the end of the season could be from 78 at the bottom to 86, 87 at the top,'' Hahn told me last week. "It's going to be very hard for anybody to run away with it. If a team does pull away, it's going to be because they competed, focused for sixth months. So we have to keep the approach that we've had so far.''
Chicago was 0-4 in Danks' starts and 18-4 behind everyone else entering Tuesday's game against Boston. Hahn wouldn't have been able to live with himself if they lost the next two or three of Danks' starts and wound up missing the postseason by a win or two.
They're poised to make this a magical summer on the South Side, and at some point, that will mean 2015 first-rounder Carson Fulmer, the ace of Vanderbilt's 2014 championship team, taking his turn in the rotation. The White Sox are very excited about having a rotation that includes Chris Sale, Jose Quintana, Carlos Rodon and Fulmer, with the 4-0 Mat Latos a pleasant surprise.
Fulmer didn't get off to a great start at Double-A Birmingham, so you probably shouldn't look for him until mid-season. Chicago will use Danks' spot as something of a way station until then, but don't look for any major additions.
That includes a reunion with Mark Buehrle, although this option would be so much fun it shouldn't be dismissed entirely. It's a long season, you know.
Danks is a former first-round pick of the Rangers. The White Sox acquired him in a trade for Brandon McCarthy, and he showed his talent in a three-season run from 2008-10, when he was 40-31 with a 3.61 ERA.
Danks was brilliant in the 2008 tiebreaker game against the Twins, which Jim Thome turned into a 1-0 victory with a solo homer in the seventh inning. His career started going downward in 2011, his age-26 season, but the White Sox ignored that regression to give him a five-year, $65-million deal at the same time they let Buehrle leave as a free agent without bidding to keep him.
Danks never really got a fair shot to live up to the expectations that came with that contract extension. He was pitching without his fastball, and that usually doesn't work, at least not for long.
But there was never a time when Danks pitched without giving his best. In the end, that's the legacy he'll leave.
Phil Rogers is a national columnist for MLB.com. This story was not subject to the approval of Major League Baseball or its clubs.