White Sox soar out of tough first month
Hahn thrilled by clubhouse energy in addition to W-L record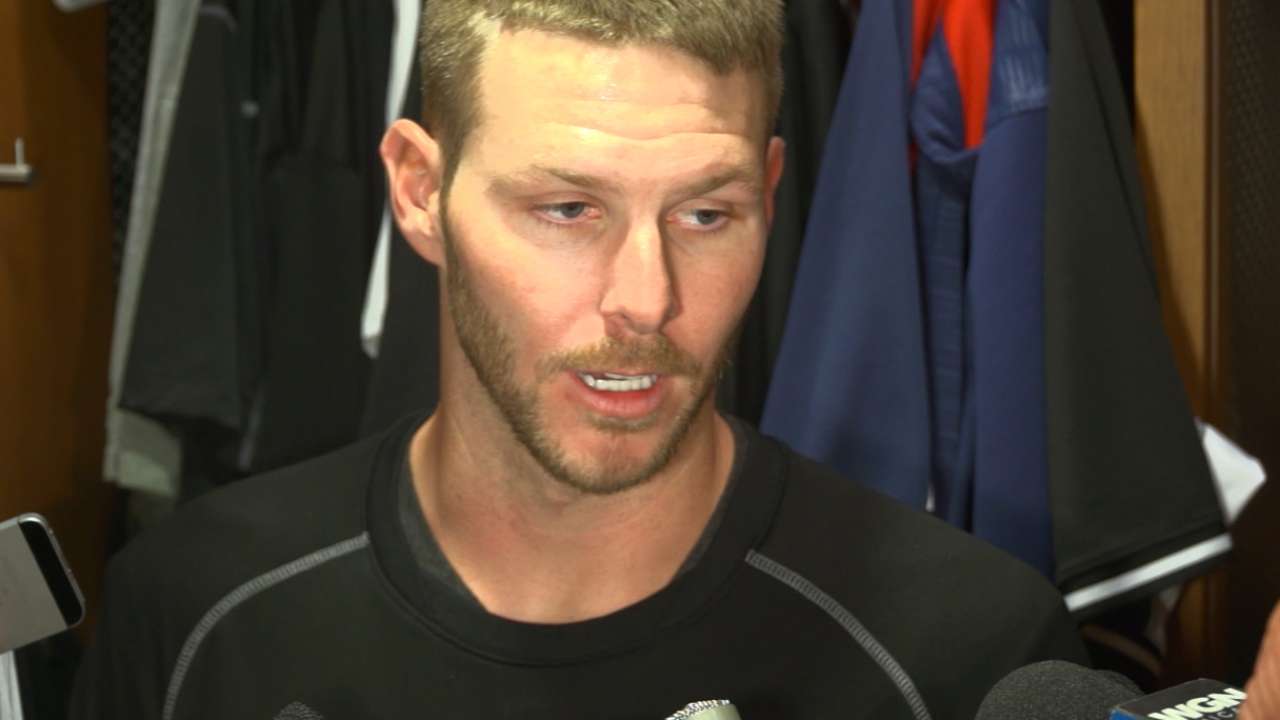 CHICAGO -- The 18-8 White Sox record moving into the present homestand speaks as enough of a testament to the South Siders' impressive 2016 start.
Factor in one scheduled off-day during the entire month of April for the White Sox, not to mention 19 games in 19 days prior to Monday's break, and their accomplishment stands out even more.
"We had to play the AL West champs, the AL East champs, we had to go play at places that were traditionally very difficult for us to win, Toronto, Baltimore, Tampa, Oakland," White Sox general manager Rick Hahn said. "And these guys came through every day with a focus on winning, high energy, battling late in an at-bat and battling late in games and coming back.
"I'm putting aside the won-loss record, which we're thrilled with. We're all extremely impressed with the players in that clubhouse. They picked each other up. There were a number of occasions where guys had aches and pains without many April off-days, and other guys filled in and got the job done. So, absolutely thrilled with the way the team has responded to what frankly was a very difficult stretch, and one that we will benefit for in the dog days when these off-days catch up in July and August."
Chris Sale, who has started the season with a 6-0 record, points to the energy among this group as a major difference from the 2015 campaign.
"Just energy. And the positivity," Sale said. "We come to the ballpark expecting to win every day. If we don't, we leave here expecting to win the next day. That's the biggest thing.
"Winning isn't what happens, it's what needs to happen. Everyone in here has bought into collectively doing that and not individually going out there and winning games but winning it as a group and coming in ready to play every day."
Garcia, Avila getting closer
Alex Avila is getting closer to a Minor League rehab assignment, manager Robin Ventura indicated on Tuesday, to test the strained hamstring that put the catcher on the disabled list April 24.
Avisail Garcia, who suffered a right mid-hamstring strain on the last play of Friday night's loss, was out of the lineup for a third straight game. But Ventura said Garcia was nearing a return.
"Avi today is feeling better, but I would like to see him run around and do stuff here before we put him in a game," Ventura said. "For him to test it today and see how he's feeling, I mean if there's a chance for him to get in tonight, that's a possibility. But he would get worked on a lot before he gets in."
Scott Merkin has covered the White Sox for MLB.com since 2003. Read his blog, Merk's Works, follow him on Twitter @scottmerkin, on Facebook and listen to his podcast. This story was not subject to the approval of Major League Baseball or its clubs.