White's mother always a positive voice
HOUSTON -- Whether he goes 0-for-4 with three strikeouts or hits a pair of home runs, Astros rookie first baseman Tyler White can always count on his mother, Heather, to tell him how great he did. That was true growing up, and it's still true today.
As the son of a high school baseball coach, Tyler spent countless hours with his father on and off the field driving to and from games. His father pushed him to be the best, and the moment Tyler -- a 33rd-round Draft choice who beat the odds -- called his parents in March to tell them he had made the Major Leagues, emotions overflowed. As Tyler hugged his parents, Heather White wiped away tears. Baseball has been her life, too.
Astros Mother's Day Collection
"She's been there, been behind me my whole career," Tyler said. "She knows the game. My dad was a coach, and she's always been around the game before me, when my dad was playing and my dad was coaching. She's more of the moral supporter, and not really the coach -- the supporter of the group. She's been a huge influence."
Heather played softball in high school, so her knowledge of the game of baseball is strong, especially when you consider she's been married for 26 years to a high school baseball coach. Brian White was the head coach at Chase High School in Forest City, N.C., while Tyler was playing, and Brian is now an assistant coach there. Heather is a hairdresser and a baseball mom through and through.
"I was always trying to keep him confident and tell him it was OK," Heather said. "If he didn't have a good game, I was always trying to keep him confident and tell him, 'We were going to get them the next game.' Just try to keep him encouraged and cheerful. I always told him I was his loudest fan. Of course, we went to all [of the games] we could when Blair wasn't playing."
When Tyler was younger, his father was the one who drove him from town to town to make sure he was playing against the best competition. His mother was doing the same with his sister, Blair, who was a softball player herself. She's a pharmaceutical student now.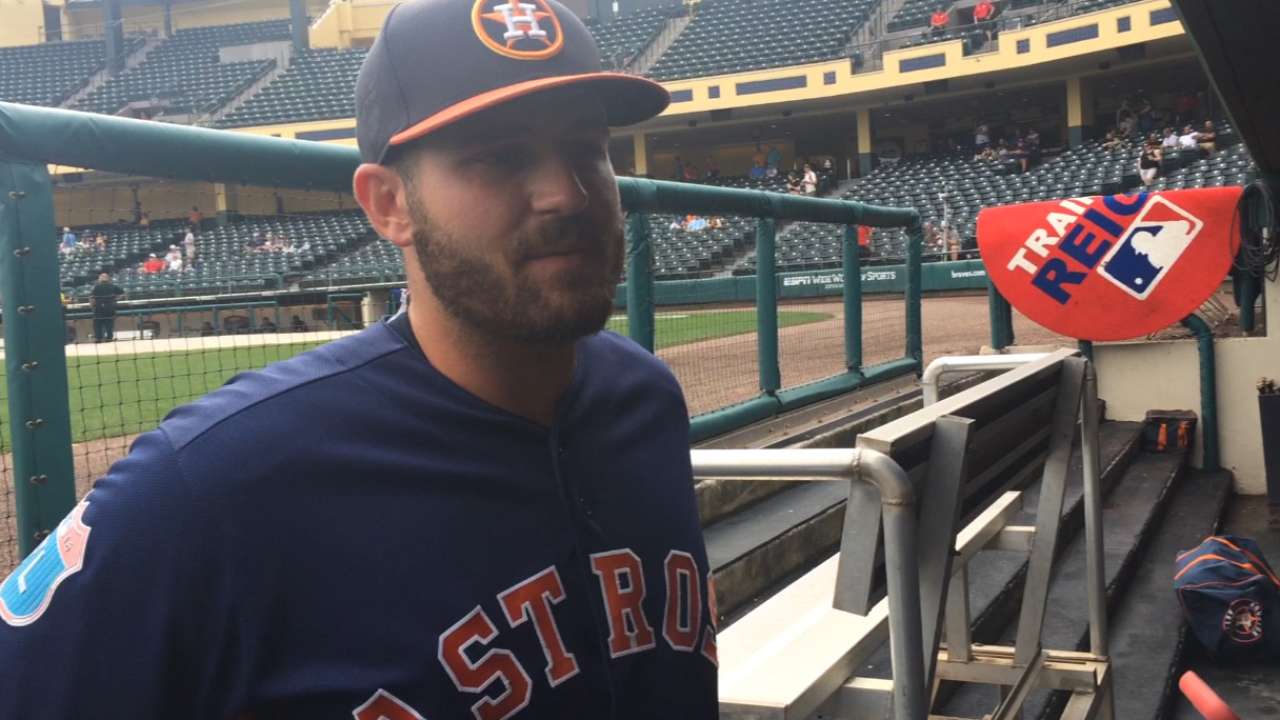 "I tried for our relationship not to be about baseball," Heather said. "I support the baseball 100 percent, but I want him to be able to talk to me about everything else, where our relationship is not just about baseball, but being there for him no matter what he needs every day. It might just be a text, but we definitely talk to him every day and make sure he's OK."
And when Tyler's dad would get on his son's case -- as dads who are coaches are wont to do -- it was mom who provided a soft touch.
"The two together were great," Tyler said. "He pushed me, and she was the one who said, 'You did a good job tonight,' whether it was great or not. She knew what to say, she knew when I knew I didn't do well. She knew what to say to make it better."
Brian McTaggart has covered the Astros since 2004, and for MLB.com since 2009. Follow @brianmctaggart on Twitter and listen to his podcast. This story was not subject to the approval of Major League Baseball or its clubs.