MLB.com Columnist
Alyson Footer
Cutch recounts feel-good moment with fans
Pirates center fielder receives Esurance Award for interaction with McCreary family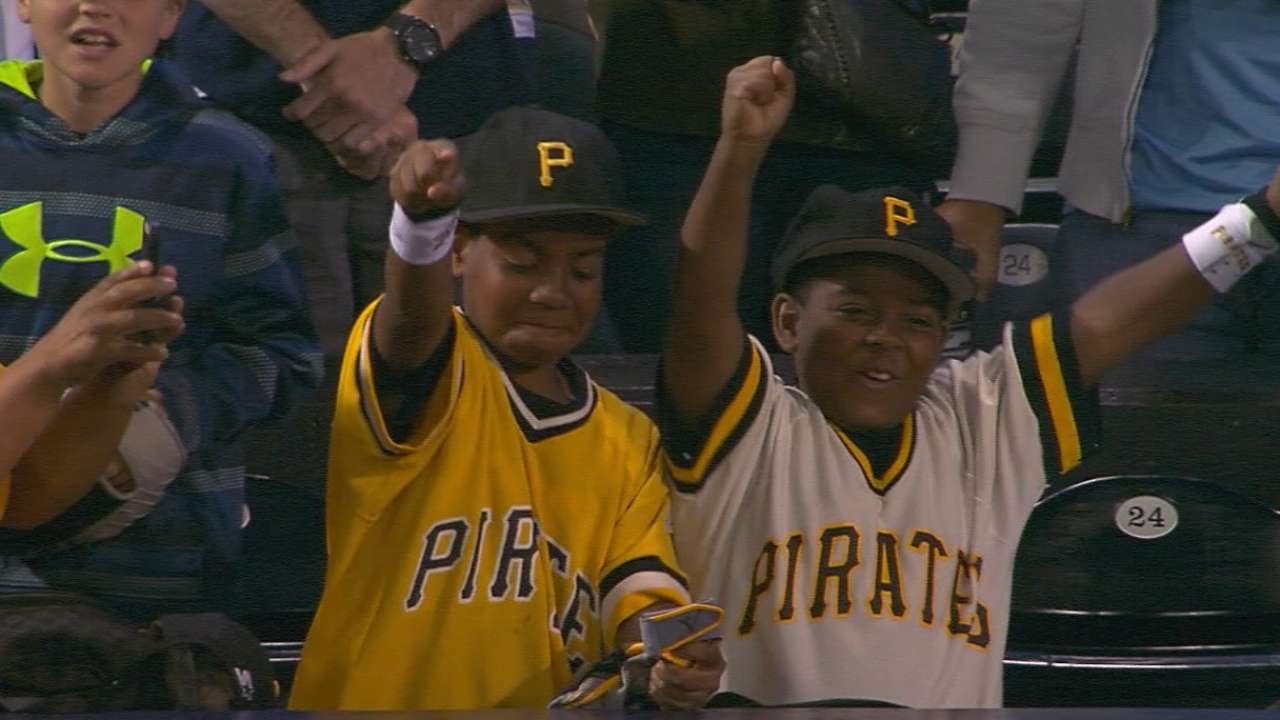 PITTSBURGH -- In today's world of viral videos, what might be an otherwise innocuous moment noticed by a few observers can, for better or for worse, turn into much more.
Such was the case for Andrew McCutchen and four very loyal Pirates fans, who last summer in San Diego unknowingly became part of one of the most heart-warming stories of the season. A simple exchange between the star Pirates outfielder and the McCreary family, arguably his most loyal West Coast fans, was caught on camera, swept through social media on a digital tidal wave and became one of those feel-good moments that fans from coast to coast couldn't seem to get enough of.
• Cast your Esurance All-Star ballot for McCutchen and other #ASGWorthy players
All because of a couple of batting gloves, a fist bump and one very emphatic "I love you man" exclamation by an overwhelmed 12-year-old.
"It was the least I could do -- just show my appreciation," McCutchen said. "I didn't think much of it. It's awesome just to be able to interact with the fans."
• McCutchen gives his batting gloves to adorable fans
The moment happened less than a minute after the Pirates secured a 5-2 win over the Padres last May 30 at Petco Park. Having noticed the McCreary foursome decked out in Pirates gear and waving their Jolly Roger flag, McCutchen raced back to the outfield wall and handed his batting gloves to the two kids who had been loudly cheering him throughout the game.
The cameras caught a joyous 12-year-old Christopher McCreary and his 8-year-old brother, Elijah, overcome with joy. Christopher pointed at McCutchen and yelled, "I love you man, I love you." And just like that, GIF-able history was born.
The exchange was shared thousands of times on a host of social media platforms. At the end of the season, McCutchen was honored for it by capturing the Esurance MLB Award for Best Player-Fan Interaction.
.@TheCUTCH22 accepts the 2015 Esurance @MLB Award for Best Fan Interaction. #Gibby pic.twitter.com/1eVvB02n0Z

— Pittsburgh Pirates (@Pirates) May 3, 2016
McCutchen smiled as he recounted that moment that happened nearly a year ago in San Diego. He said he didn't notice the McCreary family until closer to the end of the game, but once he spotted them, they stayed in his sightline. It was kind of hard not to see them, given the Pirates hats and jerseys they were outfitted in and the oversized black flag carrying the Pirates logo they were waving.
Once the game was over and Padres fans grew quieter, the few rooting for the Pirates stood out.
"We were all the way on the West Coast, in San Diego, and they were decked out in Pirates gear, they had their flag out," McCutchen recalled. "To be cheering as loud as they could, it was four against, what, thousands? For them to be able to do that, it just shows what type of fans they are, how dedicated they are to being a fan of the Pittsburgh Pirates."
Christopher McCreary's impromptu "I love you man" made the entire moment even that much sweeter.
"That's awesome," McCutchen said. "It's something you don't see every day.
"It's something I could watch forever, that if I have kids someday, I can show my kids. Not to brag, but just to show that it is cool just to be able to acknowledge."
McCutchen, who won the prestigious Roberto Clemente Award for community service in 2015, has long been known for regularly interacting with fans, especially kids. He also understands how meaningful a small gesture, something that requires minimal time and effort, can be for a young person.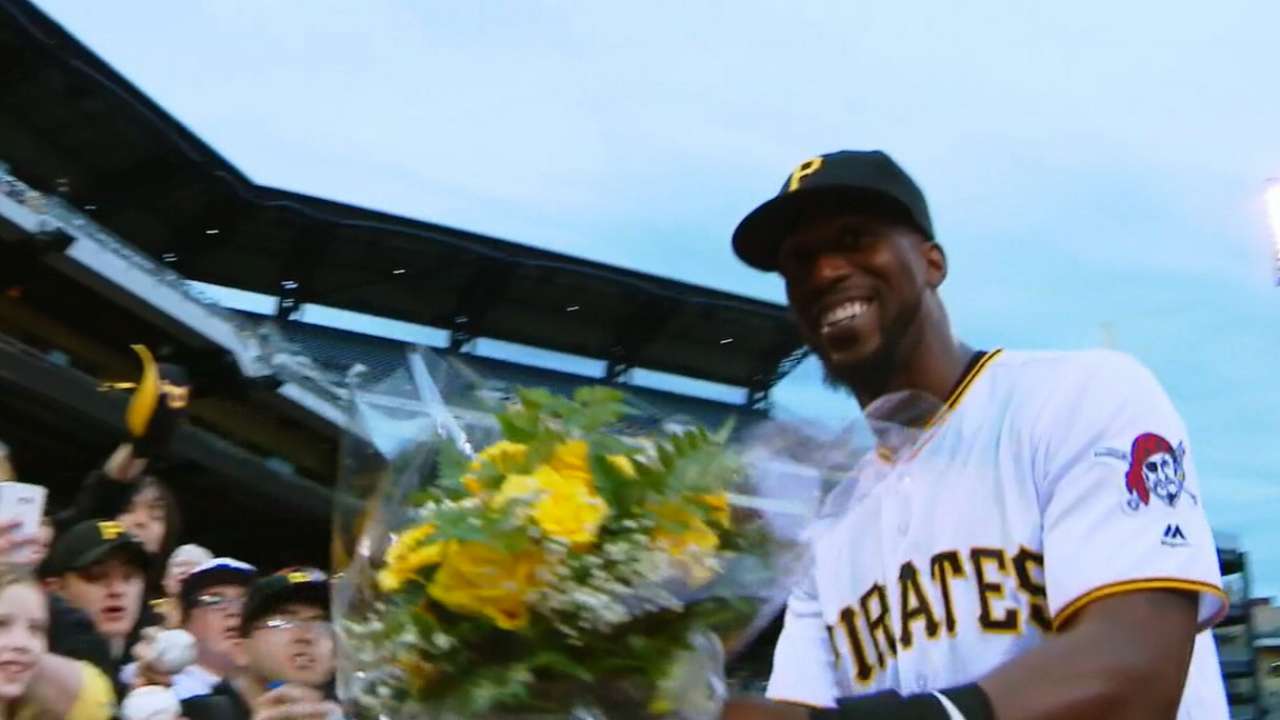 "That's something that can stay with those kids for their whole lives," McCutchen said. "You just never know. That's just a simple gesture, giving a kid batting gloves. It's something that can last forever."
McCutchen's gift was one of three finalists for the Best Player-Fan Interaction Award, beating a special selfie with Nationals outfielder Bryce Harper and a fan's up-close-and-personal moment with Mets manager Terry Collins.
The Esurance MLB Awards annually honor Major League Baseball's greatest achievements as part of an industry-wide balloting process that includes five components, each of which accounts for 20 percent of the overall vote: media, front-office personnel, retired MLB players, fans at MLB.com and Society for American Baseball Research (SABR) voters.
Individual awards were presented for 24 separate categories, including Best Major Leaguer, Everyday Player, Bounceback Player, Social Media Personality and Postseason Performer. Winners were also recognized for the year's Best Offensive Play, Defensive Play, Moment, Single-Game Performance, Social Media Post, Celebrity Fan and Fan Catch.
Alyson Footer is a national correspondent for MLB.com. Follow her on Twitter @alysonfooter. This story was not subject to the approval of Major League Baseball or its clubs.