Brewers' plan for Braun's back working well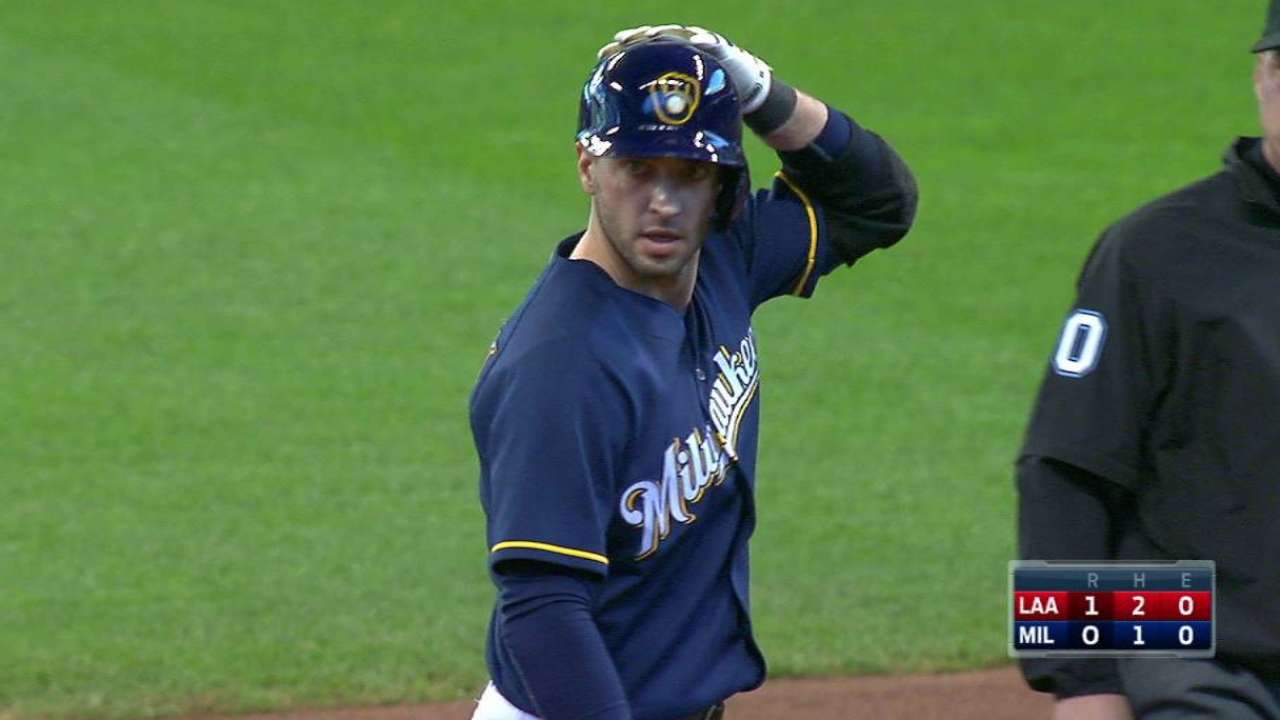 MILWAUKEE -- So far, so good for the Brewers and left fielder Ryan Braun, who have been feeling their way through a personalized schedule designed to maximize Braun's production in his first season following back surgery.
Braun took a day off Tuesday, when the Brewers hosted the Angels at Miller Park. It was part maintenance, part reaction to a number of "aches and pains" that manager Craig Counsell declined to enumerate, and all part of a larger effort to maintain the 32-year-old's hot start. Braun was coming off back-to-back three-hit games, and he ranked among the top 10 National League hitters in batting average (.372), OPS (1.048) and RBIs (21 in 24 games).
"I hope he has back surgery every winter, if this is the result," Counsell quipped. "He probably doesn't want that, but certainly his back is not limiting him on the field. That's really encouraging for us.
"Will we have to monitor the volume of playing time at times? Yeah. That's the smart thing to do. I think of it like we have to get him rest to get him hot."
On Monday, Counsell removed Braun as part of a late-inning double switch in an 8-5 win over the Angels to get the slugger rest. After the game, Counsell hinted that Braun would begin Tuesday's game on the bench.
"I was pointing toward today to be an off-day anyways," Counsell said. "It's nothing more than that."
Braun is bidding to build on a mostly healthy 2015 season in which he batted .285 with 25 home runs, 84 RBIs and 24 stolen bases in 140 games. According to research from MLB.com statistical analyst Mike Petriello, Braun ranks 16th of the 142 hitters with at least 500 plate appearances over the past calendar year in terms of weighted runs created plus, a metric that adjusts for league and ballpark factors to measure offensive performance.
"For the most part, I feel pretty good," Braun said. "I know that I'll have to take an occasional day off at least until it warms up, as I continue to build volume on the back," Braun said. "Overall, I feel OK."
In other medical matters:
• Scooter Gennett is making better than expected progress in his comeback from a right oblique strain. Gennett is eligible to return from the 15-day disabled list beginning May 10.
"He's been moving forward pretty aggressively on a daily basis now," Counsell said. "We're looking good there for a pretty short DL stay there. ... He's taking big steps every day because he's pain-free now."
The Brewers are several days away from determining whether Gennett will be able to return directly to the Major League team or require a Minor League rehabilitation stint.
• A late scratch from Monday's lineup because of tightness behind his right shoulder, right fielder Domingo Santana was back atop the lineup on Tuesday.
"He came in and said he was feeling better. That was good enough, really," Counsell said. "I think it was just a one-day event. It might pop up again, because that's what happens in baseball, because you don't get extended time off."
Adam McCalvy has covered the Brewers for MLB.com since 2001. Follow him on Twitter @AdamMcCalvy, like him on Facebook and listen to his podcast. This story was not subject to the approval of Major League Baseball or its clubs.