Rockies' pitching prospects are on a tear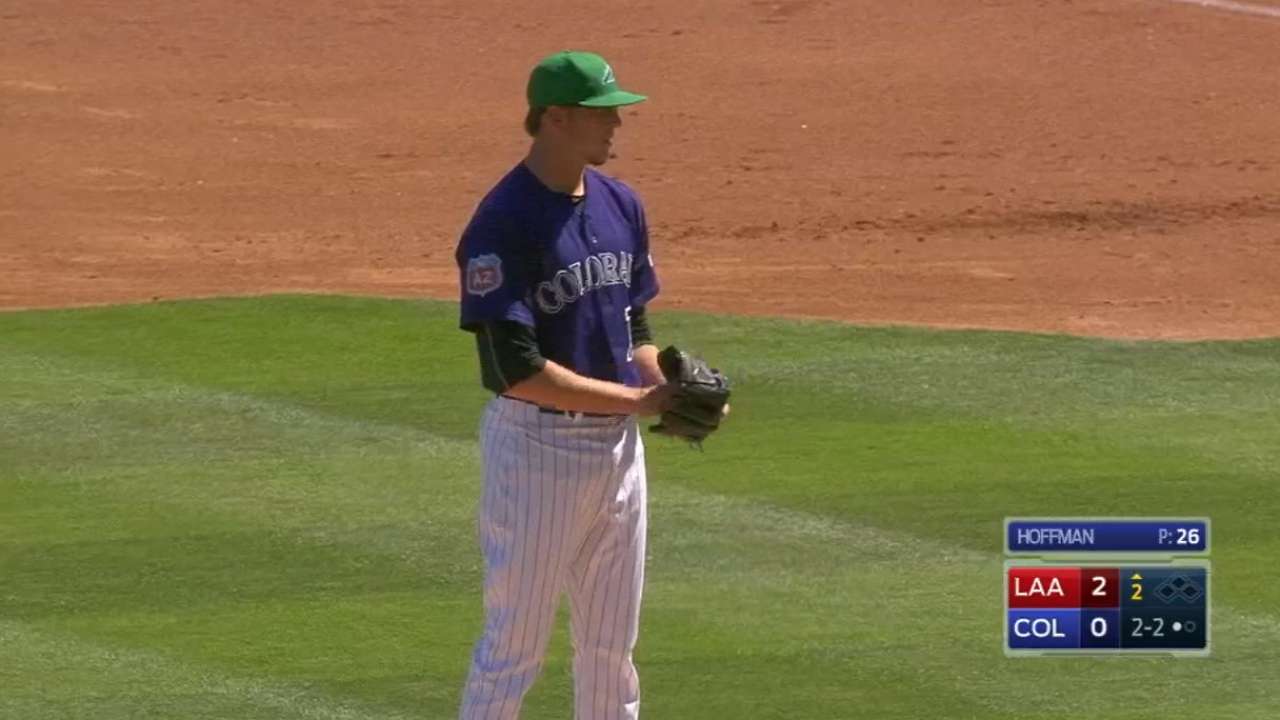 SAN DIEGO -- Rockies director of pitching operations Mark Wiley has spent the season's early weeks scouting Major League pitchers, just in case any of them fall the Rockies' way. But when not at the ballpark, he has some pleasurable viewing habits -- watching video of a deep set of Rockies prospects.
It's must-see action. Triple-A Albuquerque right-hander Jeff Hoffman and Double-A Hartford left-handers Kyle Freeland and Harrison Musgrave, and Hartford righties Antonio Senzatela and German Marquez -- all of whom went to Major League Spring Training -- have a combined 1.55 ERA with 76 strikeouts against 27 walks, and 82 hits against in 116 1/3 innings.
It's easy for folks to say they've heard about prospects before, but never has there been this depth of prospects, with recent high picks Jon Gray and Eddie Butler completing their development in the Majors. Not that he needs confirmation, but Wiley hears it from the outside.
"We have guys," said Wiley, who joined the Major League club in San Diego. "Other teams know we have guys. Everybody knows it. Everybody has scouts and they're getting those guys pitching against their Minor League affiliates. We did it, when the Mets had Noah Syndergaard and those guys. Our scouts would say, 'Mark, I want you to see this guy.'"
Wiley said a Rockies club that uses many pitchers could get help from any or all of them, as well as some relievers, if opportunities open. Because Hoffman, part of the Troy Tulowitzki trade with the Blue Jays, returned from Tommy John surgery last year and Freeland, who was selected by the Rockies one spot before Hoffman in 2014, Wiley said the Rockies will watch their innings count in much the way they watched an inexperienced Gray's last year, but it's not an overwhelming issue.
Here are Wiley's observations on the prospects:
Hoffman, Rockies' No. 4 prospect: "We're working on him staying taller and being able to land his curveball, which is a plus pitch. His last game, he had pretty much everything locked in pretty well. It's a learning process, but I couldn't be more pleased with how he's doing for his first time in Triple-A."
Freeland, No. 7 prospect: "We couldn't ask for more from him on the way he's going about his business, working on his changeup. We want consistent arm speed, and we want it in the zone even when behind in the counts. He's working on things and pitching well at the same time."
Senzatela, No. 11 prospect: "He was pretty dominant. Last year the biggest difference was he started landing the slider consistently. We were working with him on breaking balls, and didn't know which one it was going to be. But the curveball has become a strike-type pitch and the slider has become a finish-type breaking ball."
The Rockies put Senzatela on the disabled list with right shoulder soreness but it's not seen as serious. He threw a 25-pitch bullpen session Tuesday.
Marquez, No. 13 prospect: "He has tremendous spin rate on balls. It's his hand speed, what I call it, that creates spin. Guys that do that often don't look like they're throwing that hard, yet they have power. In my view, the ball doesn't drop in velocity from the hand to the glove as much as other guys.
Musgrave, No. 28 prospect: "He's a different kind of guy -- ice in his veins. He will come in when he makes a bad pitch and tell you, 'That wasn't very good.' But he'll say it like he's not even in the game. I always say for Major League pitchers, if I can go to the mound and talk to them like I'm talking to them in their living room, they're relaxed. They're comfortable, not overreacting or letting emotions get carried away."
Worth noting
• Lefty starter Jorge De La Rosa (left groin strain) threw a bullpen Tuesday in Scottsdale, Ariz. Rockies manager Walt Weiss said he may need an injury rehab start or two.
• Righty reliever Miguel Castro (right shoulder inflammation) also threw a bullpen Tuesday that went well but, Weiss said, "We're taking it slow. We're going to be cautious with him."
Thomas Harding has covered the Rockies since 2000, and for MLB.com since 2002. Follow him on Twitter @harding_at_mlb, listen to podcasts and like his Facebook page. This story was not subject to the approval of Major League Baseball or its clubs.