Rally gives Royals much-needed boost
KANSAS CITY -- Royals first baseman Eric Hosmer stood next to manager Ned Yost in the dugout when Alex Gordon started the ninth inning with a single as the Royals trailed, 6-4, on Tuesday night.
Hosmer turned to Yost and said confidently, "This is how it starts. This is how it starts."
Hosmer's forecast was spot on. The reeling Royals, losers of six of seven before Tuesday, rallied for three runs off closer Jonathan Papelbon and stunned the Nationals, 7-6.
Certainly a spirited comeback from a game that seemed lost could pull the Royals out of their recent slump. And the stirring win could do wonders for several slumping Royals who played big parts.
Gordon was just 2-for-his-last-25 but got the rally started. Lorenzo Cain, who finished third in the American League Most Valuable Player Award voting last season, entered the game hitting .231. And Cain won Tuesday's game with a two-out single to left-center, driving in Mike Moustakas, whose two-run pinch-single had tied it.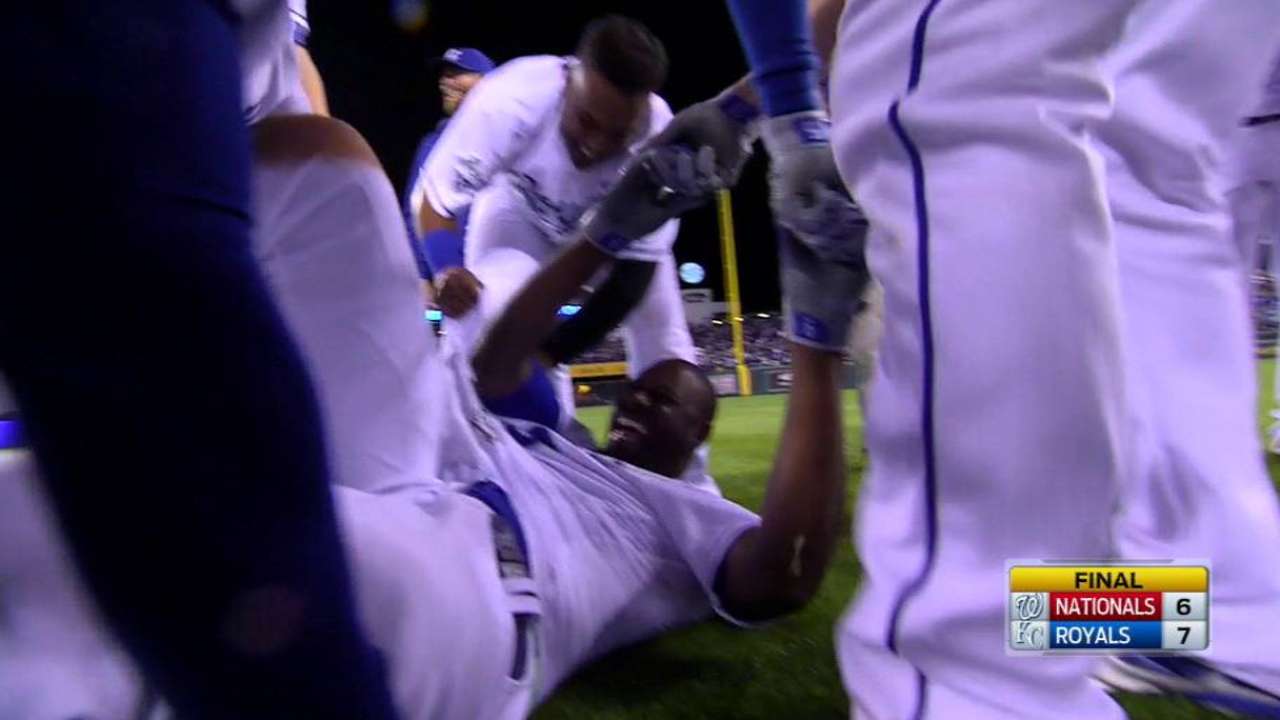 "It definitely helps a lot," Cain said. "I've definitely been struggling … bad! It helps to get going like that. Hopefully it will turn things around for me."
Cain said once he got down 0-2 in the count, he changed his approach to be more conservative.
"I was just trying to shorten up my swing and put a nice easy swing on the ball," he said. "I just wanted to put it in play and try to use my legs.
"He ended up throwing up and in, and I pulled it."
The ball ended up in deep left-center, just past center fielder Michael Taylor.
"I definitely watched it the whole way," Cain said. "Taylor is pretty fast. He gets to a lot of balls. But fortunately, it got down."
Moustakas hadn't started the past two games because of a bruised thumb on his left hand. But he told Yost before the game that he was available to pinch-hit. He took a few practice swings in the dugout tunnel, then proceeded to deliver a two-run single with one out in the ninth while pinch-hitting for Christian Colon.
"I think it was a splitter, and I just stayed down on it," Moustakas said. "[The thumb] still hurts a little, but I could swing. That's a big win for us."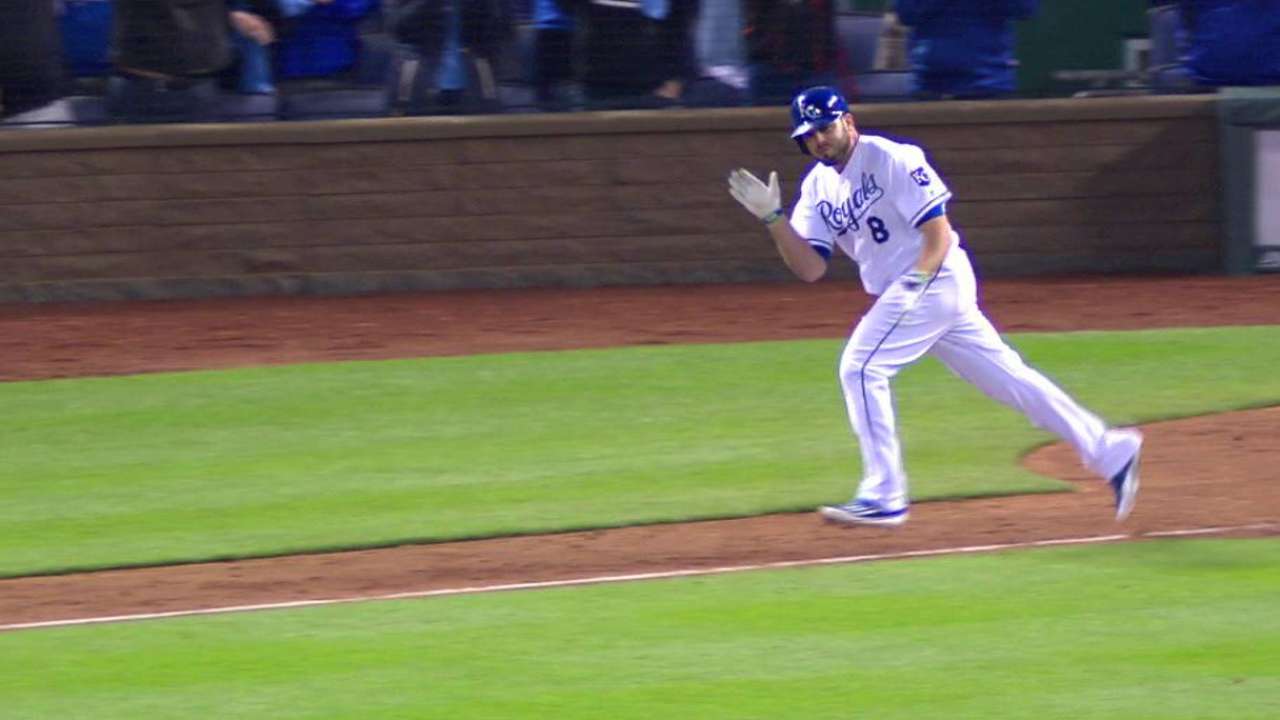 Cain has been smack in the middle of many Royals rallies over the past two seasons, and this one, he believes, could pull the Royals out of their funk.
"Every game is important," Cain said. "We've been scuffling, so it's good to break out in a huge way.
"We play a lot of games like that. We've won a lot of comeback games. Once Moose got that hit, we felt it was ours."
Jeffrey Flanagan has covered the Royals since 1991, and for MLB.com since 2015. Follow him on Twitter @FlannyMLB. This story was not subject to the approval of Major League Baseball or its clubs.