Hurdle: Rivalry with Cubs 'good for the game'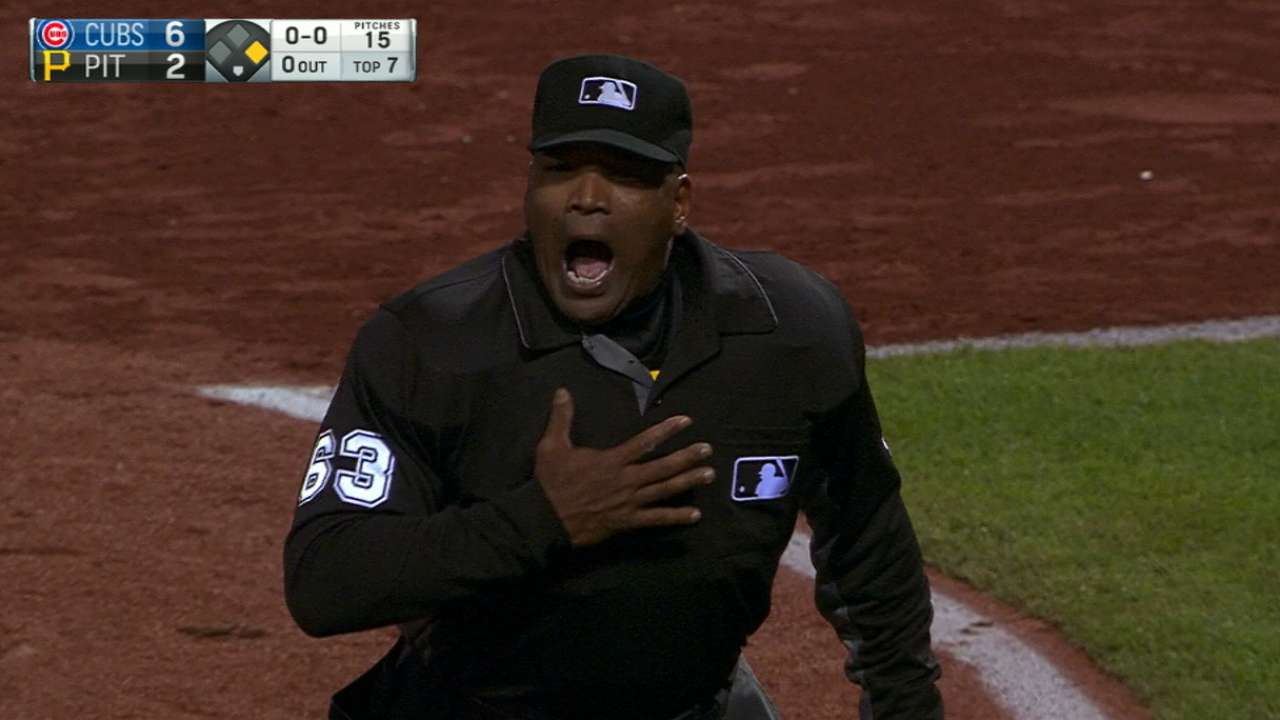 PITTSBURGH -- After tempers flared during the Pirates' 7-2 loss on Monday night at PNC Park, Cubs manager Joe Maddon said the National League Central rivals had developed "an actual organic rivalry" that benefits baseball. Does that ring true for the Pirates?
"I think rivalries within a sport are healthy. I think they're good," Pirates manager Clint Hurdle said. "I think it's good for the game."
• Nothing contrived about Cubs-Pirates rivalry
The tension dates back to the NL Wild Card Game in October, when the benches cleared after Tony Watson plunked Cubs starter Jake Arrieta.
Hurdle said the Pirates didn't even address the topic in their pre-series meetings. But it was clear the teams had history when Jason Hammel hit Starling Marte in the sixth inning -- the Major League-high 66th time since 2013 that Marte has been hit by a pitch.
Kyle Lobstein then plunked Ben Zobrist in the seventh, and Maddon began shouting at Lobstein. Catcher Francisco Cervelli then exchanged words with the Cubs' dugout, and Hurdle began yelling and pointing across the diamond.
Did Maddon's behavior upset the Pirates?
"I don't think Joe was offended. I think Joe was mad. I can't speak for Joe," Hurdle said. "We were mad when Marte got hit. We've been mad 66 times in the last three years. Maybe someone got mad that Marte got hit for the sixth time this season. I don't have that feeling."
Around the horn
• Marte was out of the starting lineup Tuesday, but it was a scheduled day off, unrelated to him being hit Monday night.
• With Marte on the bench, Hurdle slotted Matt Joyce into the cleanup spot. Joyce is one of the few Pirates to have success against Arrieta, although they hadn't faced each other since 2013, when Joyce was a Ray and Arrieta was an Oriole.
"Hard to walk away from Joyce's numbers," Hurdle said, pointing out Joyce was 7-for-14 against the reigning NL Cy Young Award winner. "Try a different guy and see where he can take it."
• The Rockies announced Tuesday that their postponed game against the Pirates on April 28 at Coors Field has been rescheduled for 5:10 p.m. ET on Thursday, June 9.
The timing isn't exactly ideal for the Pirates, as the game will break up a nine-game homestand. On a scheduled off-day following a home series against the Mets, the Bucs will fly to Denver to play the Rockies, then travel back to PNC Park for three games against the Cardinals.
Adam Berry has covered the Pirates for MLB.com since 2015. Follow him on Twitter at @adamdberry. This story was not subject to the approval of Major League Baseball or its clubs.