New swing serving Phillies' Rupp well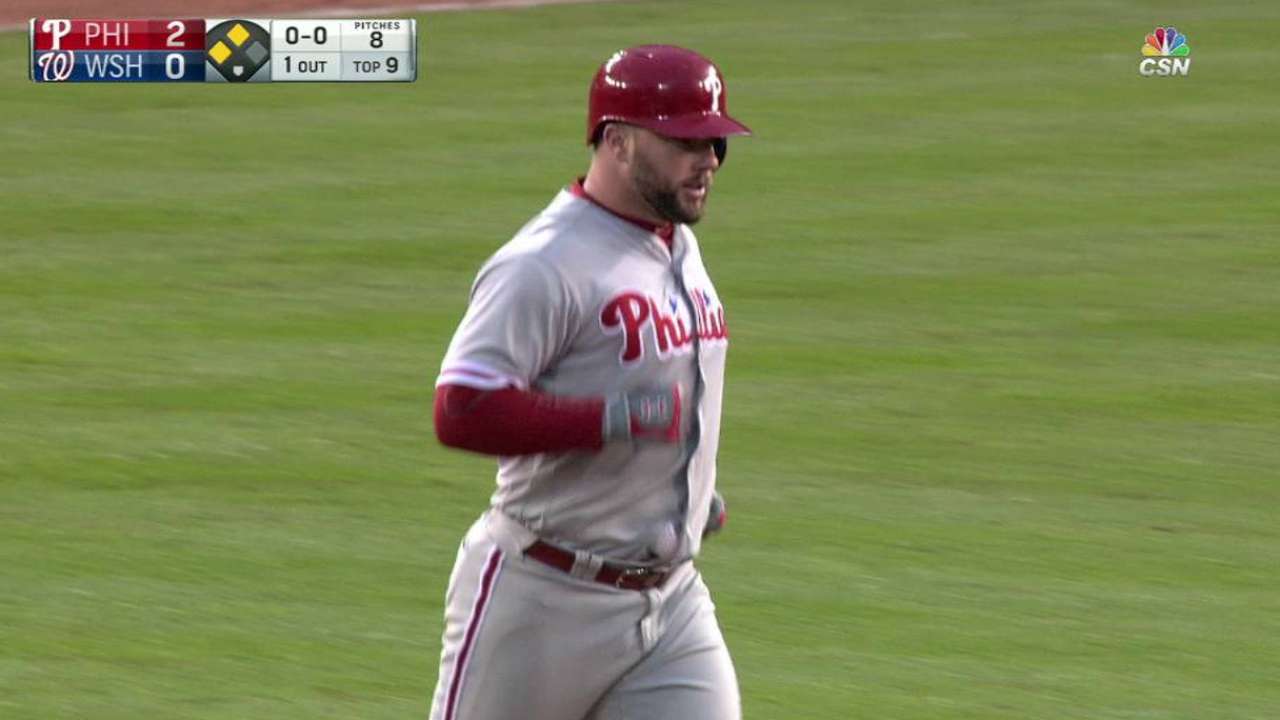 ST. LOUIS -- A new swing has helped Phillies catcher Cameron Rupp build off of a strong finish to the 2015 season.
Rupp slugged eight home runs in his final 38 games last season after having just one long ball in his first 65 games in the big leagues. Still, the 27-year-old saw room for improvement and worked on a change in his swing path in the offseason.
"I did alter it, working more down towards the ball," Rupp said. "I do believe that it has helped with some of the success we've had this year early on."
Rupp had a seven-game hitting streak snapped against Cleveland on Saturday. He has hit safely in 11 of his 14 games and five of his last six hits have been doubles.
Rupp is hitting .263, which is 30 points above his career average, with one home run and four RBIs this season.
"I think he's got a better chance to hit," Phillies manager Pete Mackanin said. "How far that's going to go we'll find out. But he looks better than last year."
Mackanin gives Rupp credit for sticking with the new approach.
"Their flaws are always pointed out on a daily basis and at some point they've got to carry it over to the game," Mackanin said. "They can do it in batting practice, but it's difficult to carry it into the game."
Mackanin compared it to taking golf lessons. Hitters in both sports can be taught the proper techniques in practice, but as soon as a few bad swings or shots take place, the natural inclination is to revert back to what feels comfortable.
Rupp is determined to not look back.
"A lot of balls I've had for hits this year I don't think would have translated into hits last year," Rupp said. "Maybe a couple of routine fly balls on the doubles I hit, even the home run I hit wasn't handled very well last year. So I think it has kind of given me more success this year and early on it shows."
Joe Harris is a contributor for MLB.com based in St. Louis. This story was not subject to the approval of Major League Baseball or its clubs.