MLB.com Columnist
Barry M. Bloom
For Yanks and O's, early tests of all varieties
BALTIMORE -- The realities of a 162-game season have a way of creeping in. And the Orioles and Yankees are feeling it big-time at the outset of May.
The O's opened 2016 with seven consecutive wins, but they have gone 8-10 since then, including Tuesday night's 4-1 victory over the Yanks in the opener of a three-game series at Camden Yards. And now they've lost J.J. Hardy, their starting shortstop, for at least four to six weeks, and closer Zach Britton probably for at least this series.
The Yankees, at 8-16, are on their worst season-opening run since they started 8-17 in 1984. Matters became even worse for the pinstripes on Tuesday night when Alex Rodriguez sustained a right hamstring injury trying to leg out a grounder to short in the fifth inning. He had just come off a four-RBI game in Boston on Sunday, when he hit his 692nd home run.
A-Rod will undergo an MRI exam on Wednesday morning, and he's certainly a candidate for the disabled list.
"I don't know how bad it is; I guess we won't know until the MRI," manager Joe Girardi said after the Yanks lost their sixth in a row and seventh in their past eight games. "It's definitely worrisome. He just started swinging the bat, too."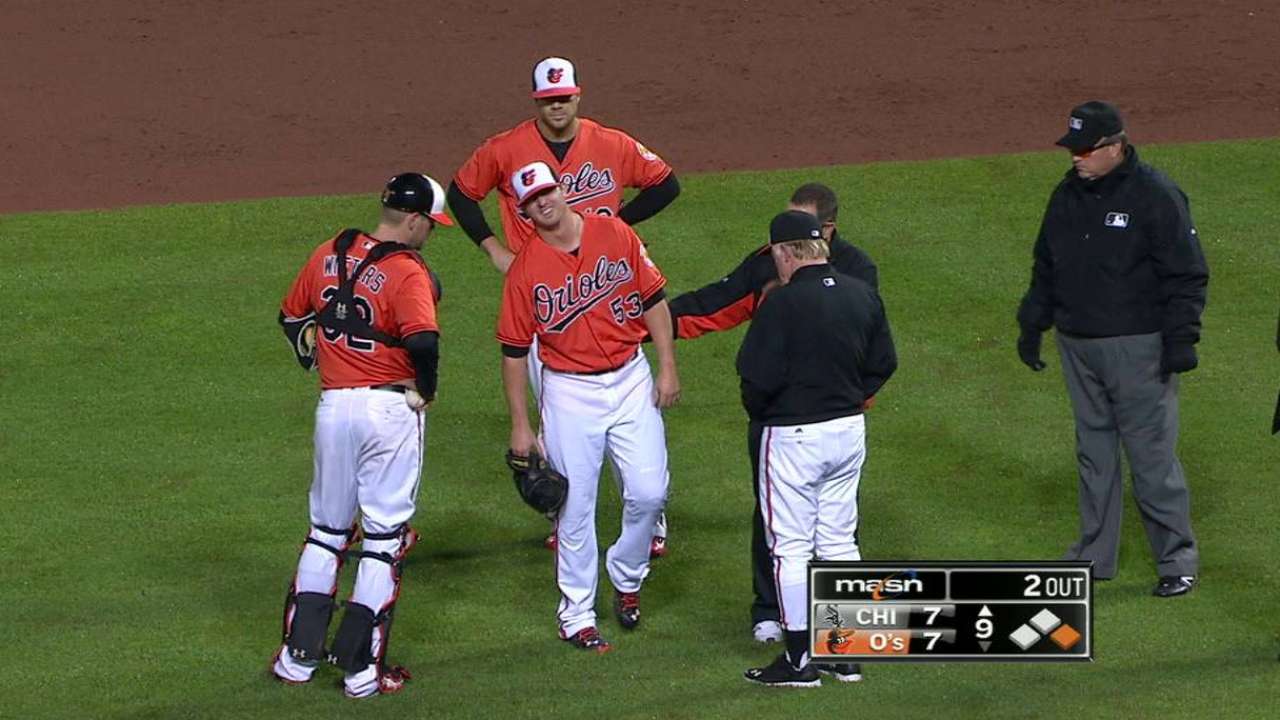 Britton sprained his left ankle on Saturday night trying to field an Adam Eaton bunt. And Hardy was injured on Sunday fouling a ball off his left foot.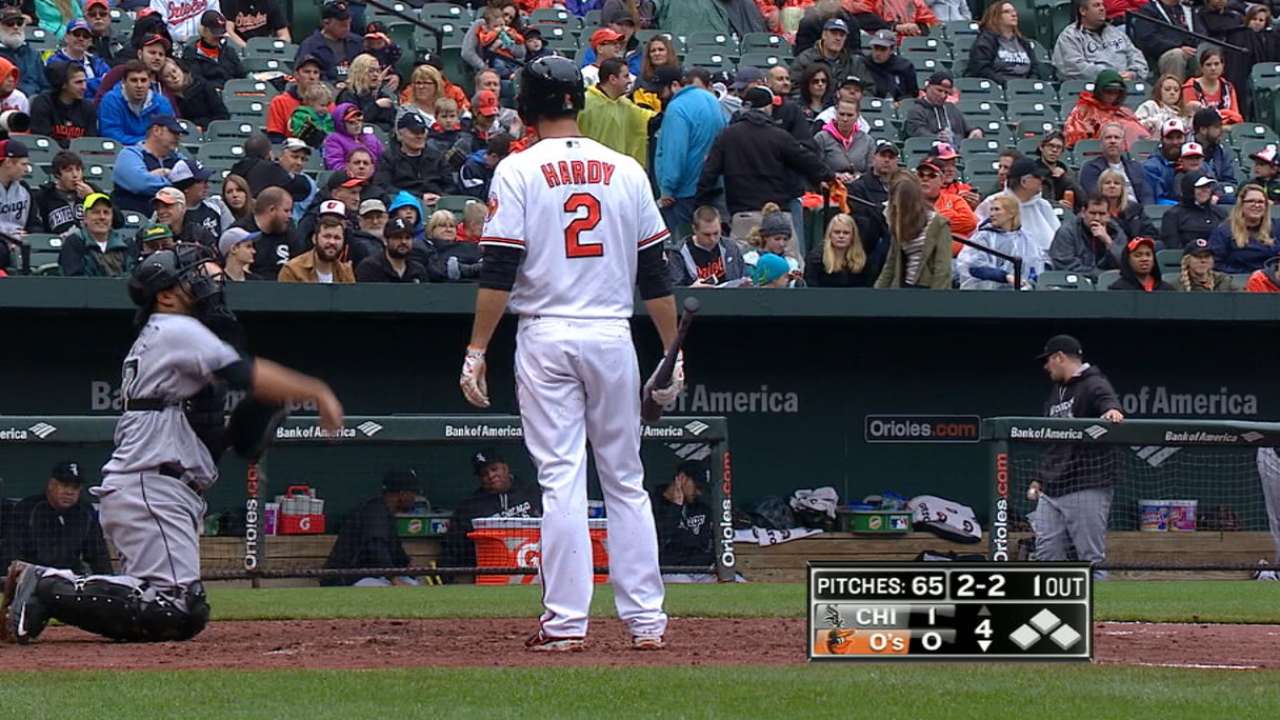 Hardy went on the DL and was replaced on the roster by Ryan Flaherty. Though Orioles manager Buck Showalter tried to play down the severity of the injury and how long Hardy will be out, the fracture is to the tarsal navicular bone, his teammate Mark Trumbo said after hitting a pair of homers off Luis Severino in Tuesday's game.
Trumbo is an expert on foot injuries, having broken the tarsal navicular when he was with the Angels before incurring a stress fracture as a member of the D-backs. Hardy went to Trumbo for counseling, and the big right-handed power hitter schooled him on what to expect from the injury.
"I had a little crack in that same bone," Trumbo said. "I just tried to tell him what I went through, kind of the dos and don'ts. You just want to stay off it and give that bone a chance to regrow at the fastest pace possible. But that area doesn't always get a lot of blood supply. So that's the challenge there."
Asked how long it took him to recover from that injury, Trumbo added:
"It was a matter of months. It took a little while. I fortunately had the entire offseason to get it right. It's the challenge of an in-season injury. But apparently his is not particularly severe."
Be that as it may, the O's are hoping Hardy won't need long to recuperate. And on Tuesday night, Showalter did make the radical move of shifting Manny Machado from third base to shortstop and installing Flaherty at third. The original lineup had Flaherty at short and Machado at third.
But Showalter said he thought about it.
"Which is my prerogative," Showalter said.
Showalter then had chats with Machado, Flaherty and even sought some input from Hardy, before he made the move.
Like the Yankees' potential need to adjust to losing A-Rod, this is not the way Orioles executive vice president of baseball operations Dan Duquette drew it up.
Asked whether he preferred to have Machado at short or third, Duquette said: "Both."
Well, since that's not possible unless Buck permanently employs the left-handed shift and leaves Machado to cover that entire side of the infield, Duquette had to make a choice.
"Manny is an immensely talented player," Duquette said. "But personally, I'd rather see Hardy at short and Manny at third. That's our strongest left side. J.J. does a nice job of being in the right place at the right time. He has a real knack for that. He knows where everybody else is supposed to be, too."
But that alignment could be months away, and there's never any time to lose in the rough and tumble American League East. Hardy revealed that he'd be in a walking boot for at least three weeks with little or no aerobic exercise. Even after he heals, there will be a period of rebuilding and a Minor League rehab assignment.
Hardy, who has sustained a series of injuries during the past few years, said he felt frustrated by the latest bit of misfortune to befall him.
"I had an idea when I came out of the game that something wasn't right," Hardy said. "I knew after they did the X-rays and they wanted to take a look at something closer that something was wrong."
An MRI exam revealed the hairline fracture, which was the good news. If it had been displaced, that might have meant surgery and certainly the end of Hardy's season. Now, there's nothing else to do except undergo therapy and let it heal. There are no magic elixirs.
"There are a lot of gimmicks, but obviously, I think time is the biggest thing," Trumbo said. "You just have to be patient at times. Sometimes it heals quicker than others. You can't get discouraged because sometimes the healing can take awhile and then accelerate out of nowhere, and you're back on the field."
That, at least, is the hope.
Barry M. Bloom is a national reporter for MLB.com and writes an MLBlog, Boomskie on Baseball. Follow @boomskie on Twitter. This story was not subject to the approval of Major League Baseball or its clubs.