Issues identified, Dozier showing improvement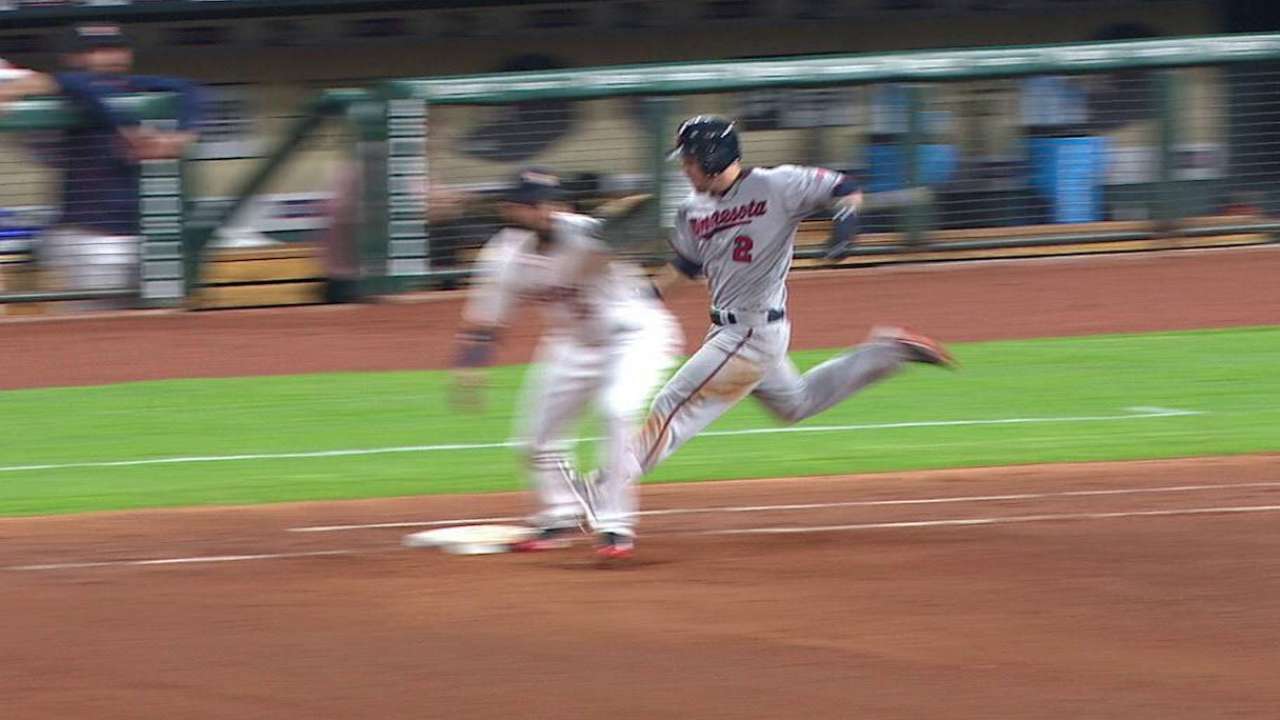 HOUSTON -- Second baseman Brian Dozier is showing signs that he's emerging from his early-season slump, and he credits working with hitting coach Tom Brunansky for helping him see what was causing his issues at the plate.
Dozier, who had three hits against the Astros on Monday but entered Tuesday batting .204/.287/.350, said it was as simple as realizing he was standing too close to the plate, as he uses a slightly closed stance to help generate his pull power to left field. He noticed the issue when watching video with Brunansky.
"I didn't even know I was doing it, but I got into the habit of having my feet almost on the white line over the plate," Dozier said. "Some of the pitches that were close to hitting me, I realized were actually middle-in or over the plate. So mentally, it got me in the habit of trying to cheat on inside pitches. And I was swinging at balls way off the plate that I thought were on the black. So it was totally different than last year."
Dozier has been better the last week or so, hitting .250/.308/.417 with a homer, three doubles and six RBIs over his last eight games. It's closer to his line last season, when he batted .236/.307/.444 with 28 homers en route to his first All-Star Game selection.
There are some encouraging signs from advanced stats on Fangraphs.com, as Dozier's walk rate is up from 8.7 percent last year to 9.5 percent this season, while his strikeout rate has dropped from 21 percent to 17.2 percent. One issue is that he's hitting a career-low .225 on balls hit in play, which is much lower than his .267 career average on balls hit in play.
His line-drive rate is slightly down, from 22.6 percent to 19.8 percent, but he's also cut his infield popup rate from 19.7 percent to 12.5 percent. He's hitting fly balls a career-high 49.4 percent of the time, but he believes that's because of his issue of standing too close to the plate.
"The way my swing works is that I have to create space," Dozier said. "I like to be able to get extended, but I felt trapped and that I had to cheat, which caused me to drop [my hands]. So it's night and day now. I feel good."
Manager Paul Molitor believes Dozier is on the verge of breaking out and that Monday's game was a good sign.
"He's done a few things with Bruno the last couple days to create more consistent contact," Molitor said. "I'm hoping last night convinces [people] that some of the things that he's been trying to do, he's more confident about it. He's one of those rare guys who can turn around the best fastballs in the game."
Rhett Bollinger has covered the Twins for MLB.com since 2011. Read his blog, Bollinger Beat, follow him on Twitter @RhettBollinger and listen to his podcast. This story was not subject to the approval of Major League Baseball or its clubs.