Cashman: Coaching staff not to blame for skid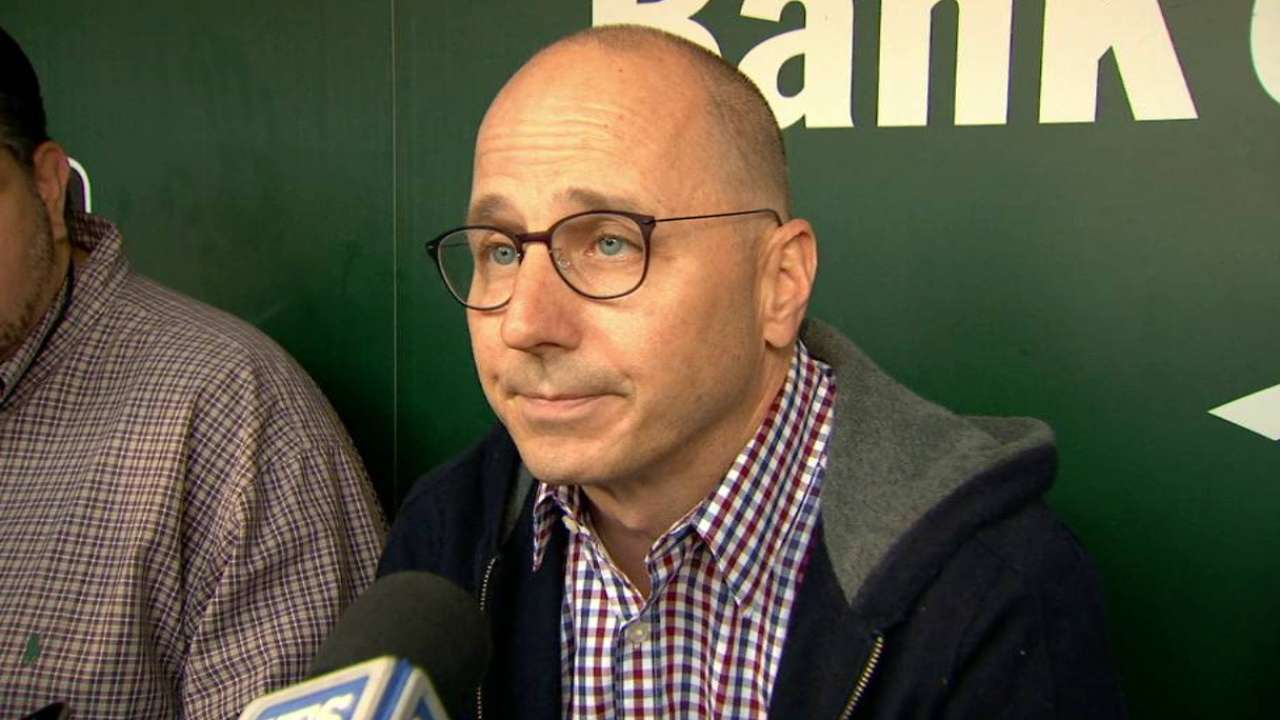 BALTIMORE -- Yankees general manager Brian Cashman joined his team on Tuesday in Baltimore's Inner Harbor, acknowledging the serious situation that their sluggish April has created, though he stressed that his presence should not be construed as a warning shot at manager Joe Girardi or his coaching staff.
While Cashman is preparing for the possibility of changing the active roster should the Yankees' slide continue -- they have been outscored 37-13 during their current six-game losing streak -- he said that Girardi and the coaching staff are still the right people to lead the team out of the American League East cellar.
"I think Joe and coaches are doing everything they possibly can. That's the bottom line," Cashman said. "They're not responsible for this. If anything, I put this roster together and it's underperforming, so it's my responsibility.
"[We're] looking for these guys, in five more months, to show what they're really capable of. I don't think this is a coaching issue or a managing issue in any way, shape or form."
Cashman said that the offense has been the most consistent area of underperformance. Chase Headley still lacks an extra-base hit, though he hasn't been the only weak link in the lineup. The starting rotation has also had its share of issues, outside of Masahiro Tanaka.
"For the collection of talent that we have, for it to go on for this extended period of time, that's abnormal," Cashman said. "Now we need to obviously make changes in terms of that type of performance or we'll be forced to do something about it."
Girardi said that he tries not to think about his job security -- "I don't ever worry about my job. I'm going to do what I do," he said -- but he interpreted Cashman's words as a vote of confidence for the players as well as hitting coaches Alan Cockrell and Marcus Thames.
"I think it affects everyone in that room," Girardi said. "I don't think it just falls on one coach or two coaches. We all take responsibility. We'll share that responsibility and I'll take the most of it. I'm in charge here. I know Marcus and Alan are working extremely hard trying to get things right."
Ownership, led by managing general partner Hal Steinbrenner, has been displeased by the 8-15 start.
"I'm not going to represent ownership, but clearly they're not happy," Cashman said. "I'm sure you'll have chances at some point to talk to Hal. It's a catch-all; there's no one that would be happy other than our opponents."
Cashman said that he believes there is flexibility to maneuver the roster if necessary, even with some of the substantial long-term contracts the Yankees are riding out. The prime example is what Cashman did in May 2005, when the Yankees summoned Robinson Cano and Chien-Ming Wang from the Minors to rescue a sluggish start to the season.
Some fans have clamored for the Yanks to inject a spark by adding Aaron Judge, Rob Refsnyder or even Nick Swisher from their top Minor League affiliate. Cashman reported that Swisher is "swinging the bat well, he's energizing the club" at Triple-A, but the Yankees have not reached that point yet.
"If we turn to Triple-A, it's because we believe somebody down there is going to give us a better shot than what we have up here," Cashman said. "And if we don't, we obviously haven't done that to this point and there's a reason for that. We feel like what we have up here is capable of getting the job done at a much higher level than what we have down there."
Bryan Hoch has covered the Yankees for MLB.com since 2007. This story was not subject to the approval of Major League Baseball or its clubs.