Hahn, Alvarez may offer A's-level fantasy stats
Unheralded Oakland arms could make real dent in deeper leagues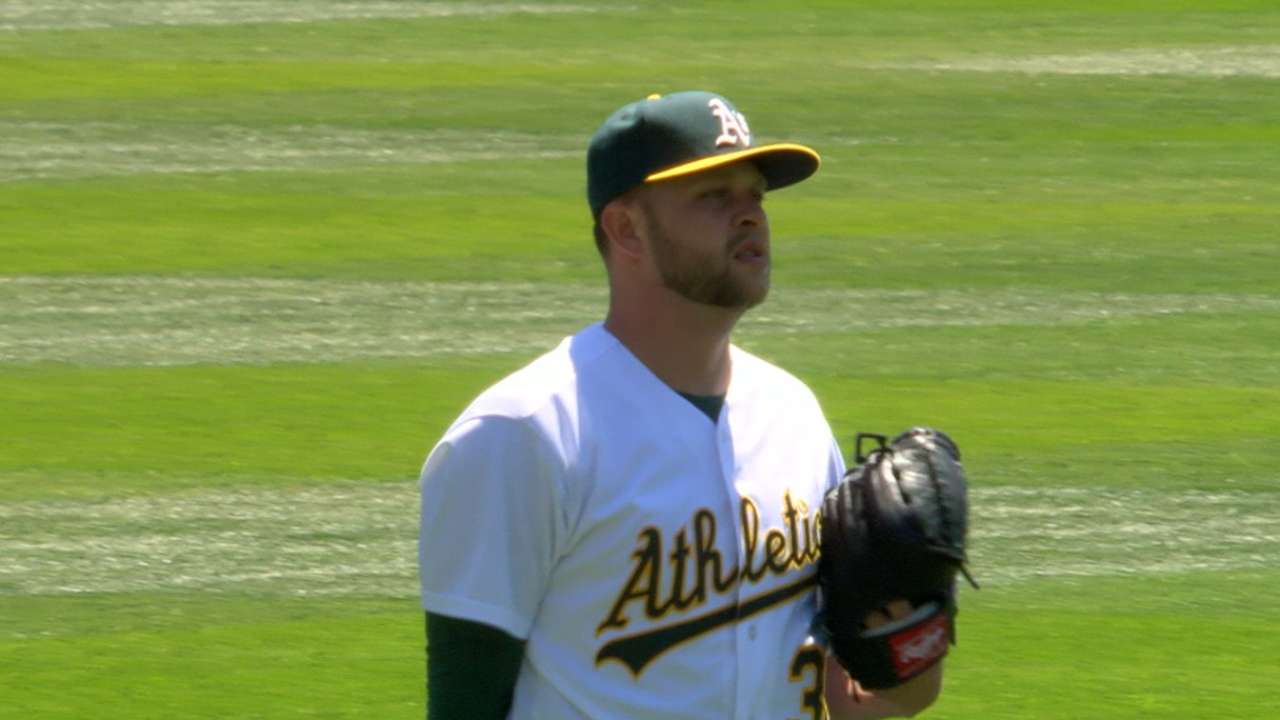 The A's may not boast one of the more prolific rotations in baseball, but they certainly featured one of the deepest entering the season. Now with Felix Doubront lost to Tommy John surgery and sleeper Chris Bassitt likely facing a similar fate, the rotation suddenly looks a tad shallower. So this week, we look at two pitchers available in a vast majority of leagues who've either made it back to Oakland or who we can expect to arrive there shortly.
Jesse Hahn : Hahn pitched well last season in just under 100 innings before ultimately succumbing to elbow inflammation and forearm tightness. Overall, he finished the season with a 3.35 ERA, sub-4 FIPs, and a 1.17 WHIP. So it was a bit of a surprise that even after a rocky spring, the A's sent him down to Triple-A Nashville to work on his command. After all, Hahn was widely considered to be one of Oakland's three best starters at the outset of the season.
Hahn's 2015 peripherals were a mixed bag, but they hinted at future promise. His ground-ball rate would have ranked 14th in baseball just behind teammate Sonny Gray had he pitched enough innings to qualify. Hahn also posted the lowest BB/9 (2.70) of his young career (including the Minors), so it was a little discouraging to see his control escape him as he walked seven in just over 15 1/3 spring innings.
The walks were still an issue in Nashville, but he pitched well enough for the A's to promote him, albeit after Sean Manaea. In his first 2016 MLB start, Hahn went 6 2/3 innings, walking just two, striking out four and inducing ground balls more than three-quarters of the time. And then there's this:
It's too early to draw any conclusions, but if Hahn pairs the elite ground-ball rates he's displayed over his career with this newly found velocity, we can afford a little more patience while he struggles to regain his command. Hahn likely won't be available in deeper leagues, but he can still be plucked in many formats.
Henderson Alvarez: First Doubront, then Bassitt. Next up? It's hard to say. Perhaps Manaea struggles to adjust to Major League hitting and the A's will demote him. Or Kendall Graveman's home run problems turn out to be more fact than fiction and he winds up in the bullpen. Or Hahn's elbow issues resurface. Or the Rich Hill from 2015-16 relapses into the 2008-14 version. There's quite a bit of volatility in this rotation, so the question as to when Alvarez will get his shot should be prefaced with "when" not "if."
So far, Alvarez has made three rehab starts, totaling nine innings over which he's struck out six, walked just one, and induced his typically unfair share of ground balls. It's been difficult finding reliable reports on his velocity, but it looks like he was around 90-94 mph in his last start, which is in line with his career averages. Alvarez won't help you in strikeouts, but remember, this is the same guy who, from 2013-15, allowed just 0.49 home runs and 1.93 walks per nine while hanging a 54 percent ground-ball rate on National League hitters.
The risks here are obvious. Alvarez is clawing his way back from shoulder surgery and moving to the American League. But the change in ballpark is hardly drastic, and if you act quickly, he won't cost much to acquire. The A's have quietly put together an excellent ground-ball-heavy rotation this season, so it's not hard to see them adding Alvarez to their shrinking stable of worm burners at some point soon.
A version of this article also appeared at FanGraphs.com.
Rylan Edwards is a contributor to MLB.com. This story was not subject to the approval of Major League Baseball or its clubs.