MLB.com Columnist
Barry M. Bloom
On new teams, Young, Hicks face challenges
Pair of outfielders remain focused on adjusting in season's early going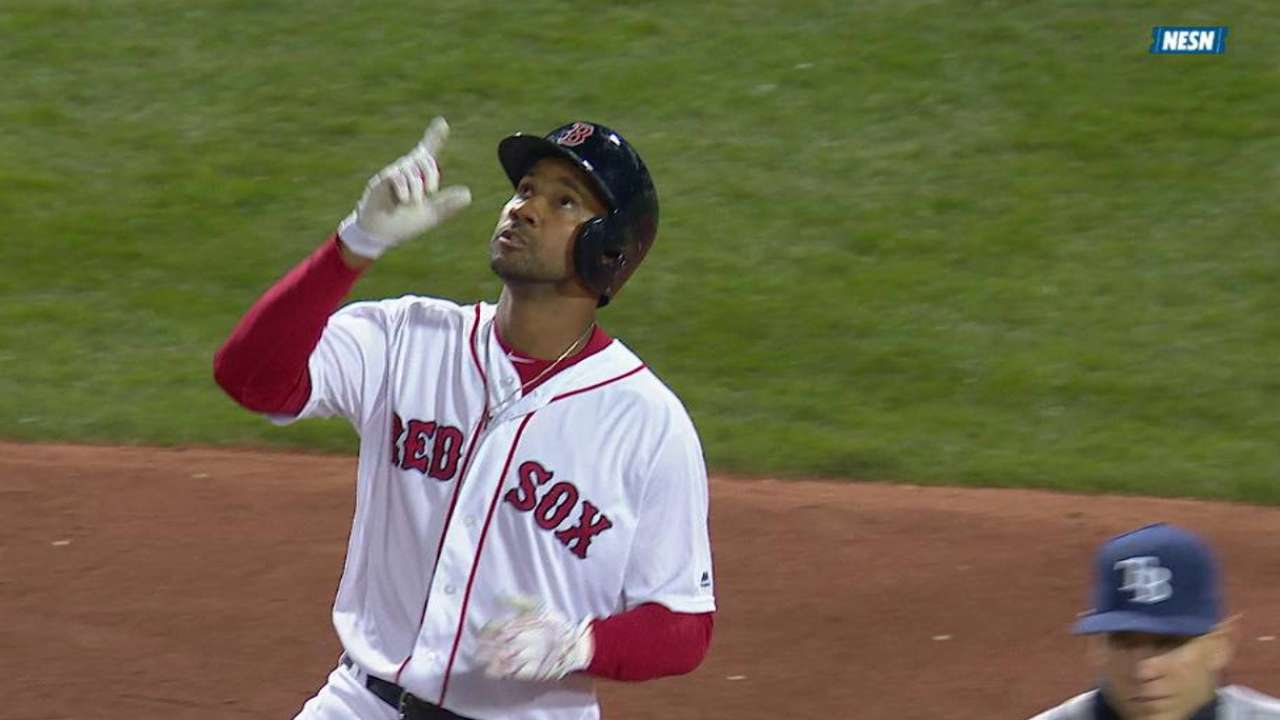 BOSTON -- Chris Young is biding his time right now with the Red Sox and watching his former team, the Yankees, struggle on the other side of the field.
"They've got a good ballclub," Young said this weekend when told that New York's 8-15 start was its worst since 1984. "It's still early in the season. I wouldn't jump to any conclusions. It's too early."
Young played well in the eight months the Yankees utilized him as a backup left fielder, but they let him go to free agency after last season. Right now, he's been the odd man out in the young Red Sox outfield behind Brock Holt, Jackie Bradley Jr. and Mookie Betts.
In both cases, the right-handed-hitting Young was a victim of circumstances. In New York, the Yanks wanted to get younger, and they replaced the 32-year-old Young with the 26-year-old switch-hitting Aaron Hicks.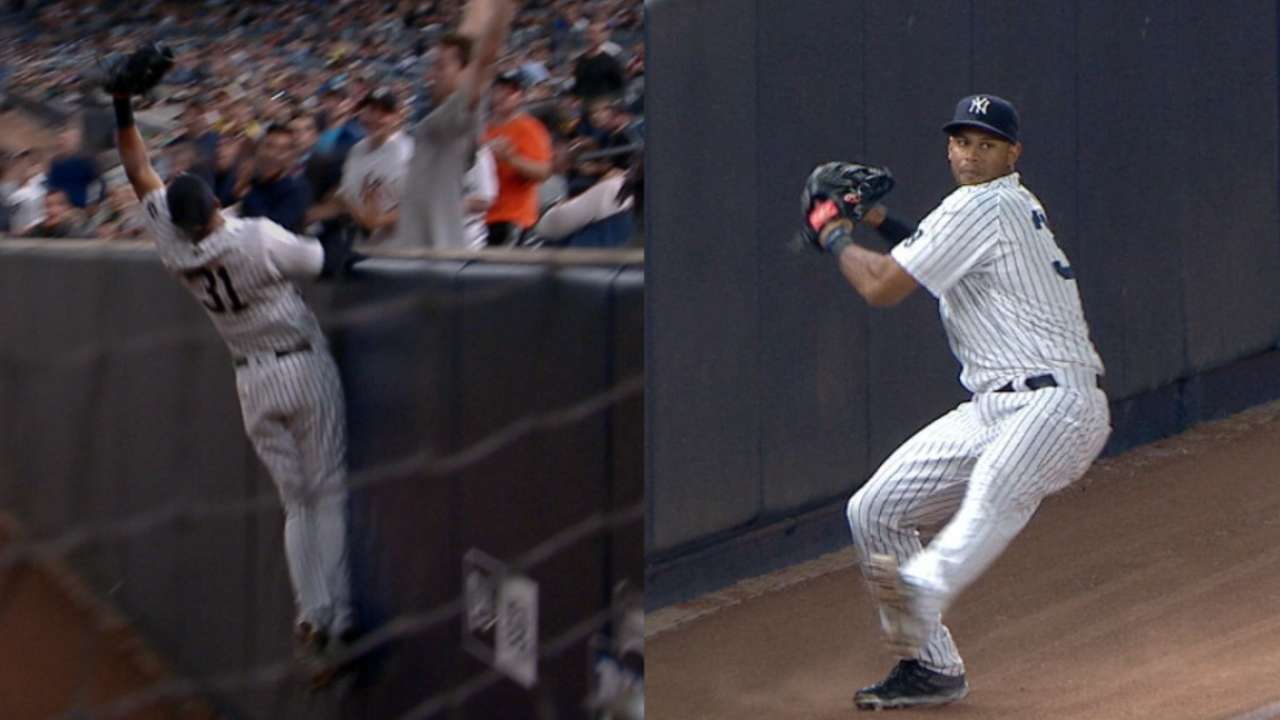 In Boston, the Red Sox have only faced two left-handed starting pitchers 25 games into the season. Young didn't get a single moment of play this weekend as his new team swept his old one in a three-game series at Fenway Park. But that's about to change, Red Sox manager John Farrell said on Sunday.
"Well, we've got three left-handed pitchers coming up in Chicago, so Chris is going to get plenty of at-bats," Farrell said.
The Red Sox travel to Chicago to face the surging White Sox, and indeed, left-handers Jose Quintana, John Danks and Carlos Rodon are slated to start in the three-game series that opens on Tuesday night.
Young has only had 27 at-bats (four hits) in 16 of Boston's first 25 games. He said, though, he's trying to stay ready, hoping his time will come.
"I haven't been used much yet, but I know circumstances will change and that will happen," Young said. "I'm just coming to the ballpark every day to work hard and with a good attitude."
Right now, the Young-for-Hicks exchange hasn't worked out as expected for the Yankees. Young batted .257 with 17 homers and 57 RBIs in 163 games for the Yanks and had some pretty big hits. He was signed by the Yankees after the Mets waived him on Aug 15, 2014, when Ichiro Suzuki was the fourth outfielder.
After that season, the Yankees opted to move on from Ichiro, even though he hit .284 in 143 games -- the highest batting average of any regular position player in 2014. He found a new home with the Marlins. Meanwhile, the Yanks re-signed Young, a .264 hitter against left-handers in his now-11-year Major League career with five teams. In '15, Young also played well, hitting .252 with 14 homers and 42 RBIs in only 318 at bats. Now he's also gone.
Hicks started in right field for the first time on Sunday night after missing seven consecutive starts because of a left shoulder injury he sustained trying to make a dive for a base hit on April 22 against the Rays. He went 0-for-3 against left-hander David Price.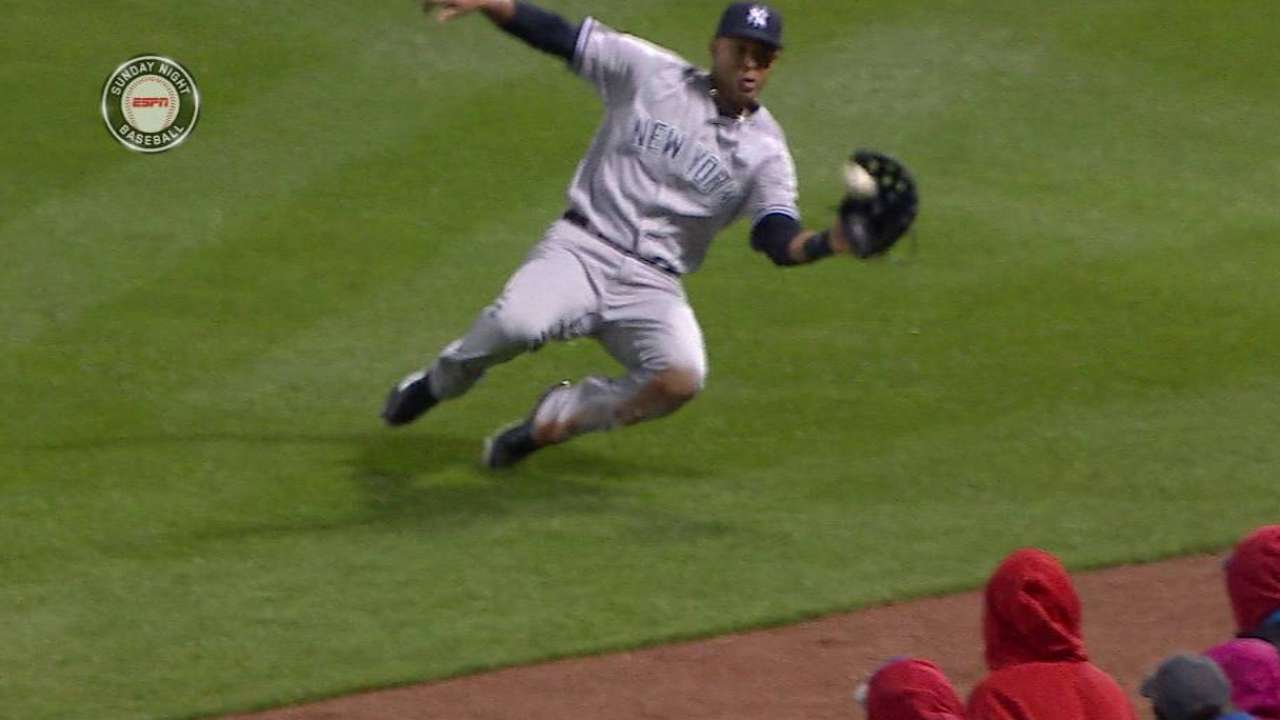 Yankees manager Joe Girardi is fond of saying that Hicks will hit against left-handed pitchers. Hicks is a .258 hitter against southpaws in four-plus seasons. And though the Yanks have seen mostly left-handed pitching this year, Hicks is hitting .077 against all kinds of pitching, and he is 1-for-19 against left-handers.
Girardi has an outfield of aging veterans in Brett Gardner, Jacoby Ellsbury and Carlos Beltran. All three are prone to injury, and Girardi needs Hicks to stay healthy and be productive.
"Physically, he's fine now," Girardi said. "We just have to get him going."
That's an understatement of epic proportions.
If nothing else, Ichiro and Young are both extremely durable. Ichiro, now 42 and in a backup role for the Marlins behind Christian Yelich, Marcell Ozuna and Giancarlo Stanton, is batting .314. His 11 hits place him just 54 short of the 3,000 mark.
Ichiro was ready to move on from the Yankees, but Young told MLB.com he never wanted to leave.
"I had a great time there, but they didn't make me an offer," Young said. "It was a good spot, a good place. I got along with the guys really well. I enjoyed it. It was a lot of fun."
The feeling was mutual.
"He did a tremendous job in the seven or eight months we had him," Girardi said. "He fit in really well in the clubhouse. He's just a really good person and played really well."
Which makes the move to let Young leave that much more perplexing, although money had to be a contributing factor. The Yanks re-signed Young after the 2014 season for $2.5 million. The Red Sox signed him for two years at $13 million, a healthy raise.
Instead, the Yankees traded backup catcher John Ryan Murphy to the Twins for Hicks, who is making $574,000.
It just figures, then, that at some point Boston is going to take advantage of its investment in Young.
"To Chris' credit, he understands," Farrell said. "He comes from a situation last year where teams line up their left-handed starters to pitch at Yankee Stadium. Teams line up their right-handers to pitch at Fenway. Part of that is what's at play, and at the same time, we're trying to find opportunities for Chris. He's going to contribute for us in a big way, especially against left-handed starters."
Barry M. Bloom is a national reporter for MLB.com and writes an MLBlog, Boomskie on Baseball. Follow @boomskie on Twitter. This story was not subject to the approval of Major League Baseball or its clubs.