Marte's 'outstanding' D helps Karns get W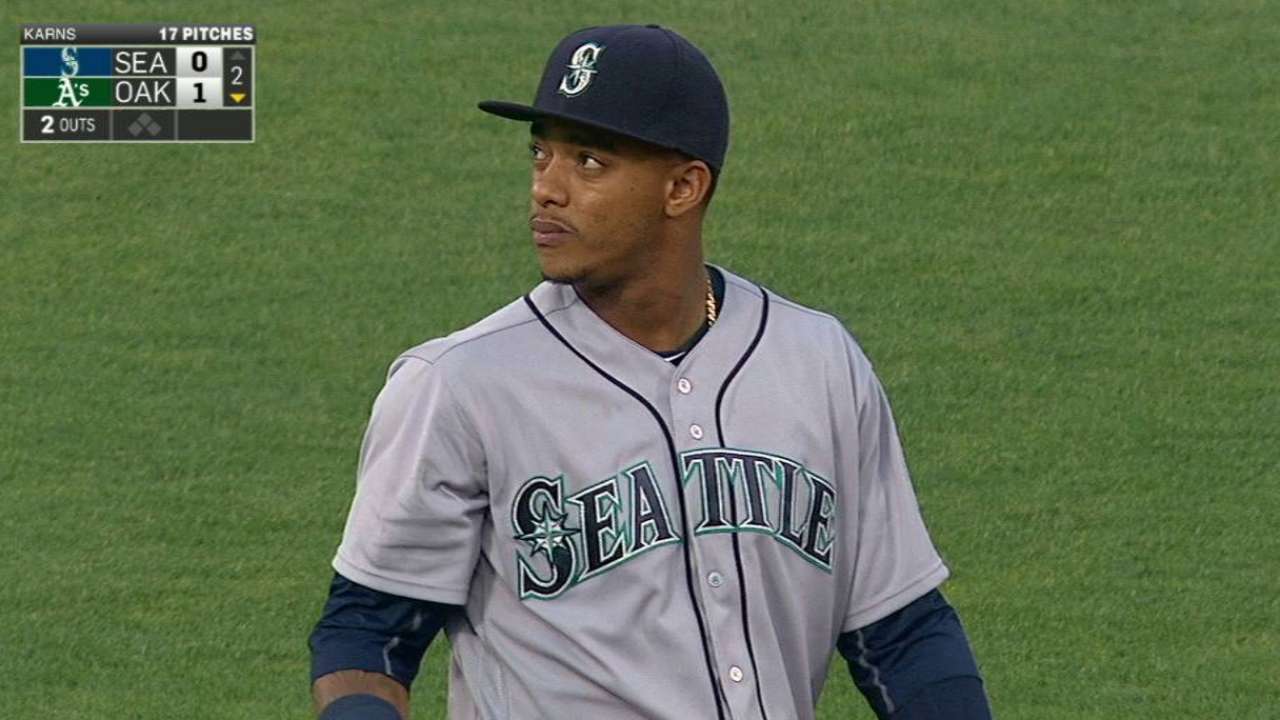 OAKLAND -- Right-hander Nathan Karns has benefited from strong run support in his early going with the Mariners, but Monday it was several defensive gems by young shortstop Ketel Marte that helped Karns notch his third straight victory as Seattle topped the A's, 4-3.
"It felt like he was all over the place," Karns said. "Those were key double plays in the second and third. That's a quality shortstop right there."
Marte made a highlight-reel catch in the second to stymie an early A's rally, snaring a hard line drive by Chris Coghlan up the middle as Marte was shifted just to the first-base side of second against the southpaw swinger.
"That was a great play," Marte said. "I just tried to focus and if it was hit it to me, I was going to catch the ball."
Marte gloved the ball when it was almost already past him, pulling in the line drive and then easily doubling Stephen Vogt off first for a double play. That stellar play helped Karns get out of an inning that started with Khris Davis lacing a homer to left field for a 1-0 lead.
Marte did it again in the third, though this time the ball was smoked directly at him by Billy Burns as he stood right at the second-base bag. Marte snagged the line drive and tagged Marcus Semien, who was running on the play and arrived at second base almost at the same time as the ball.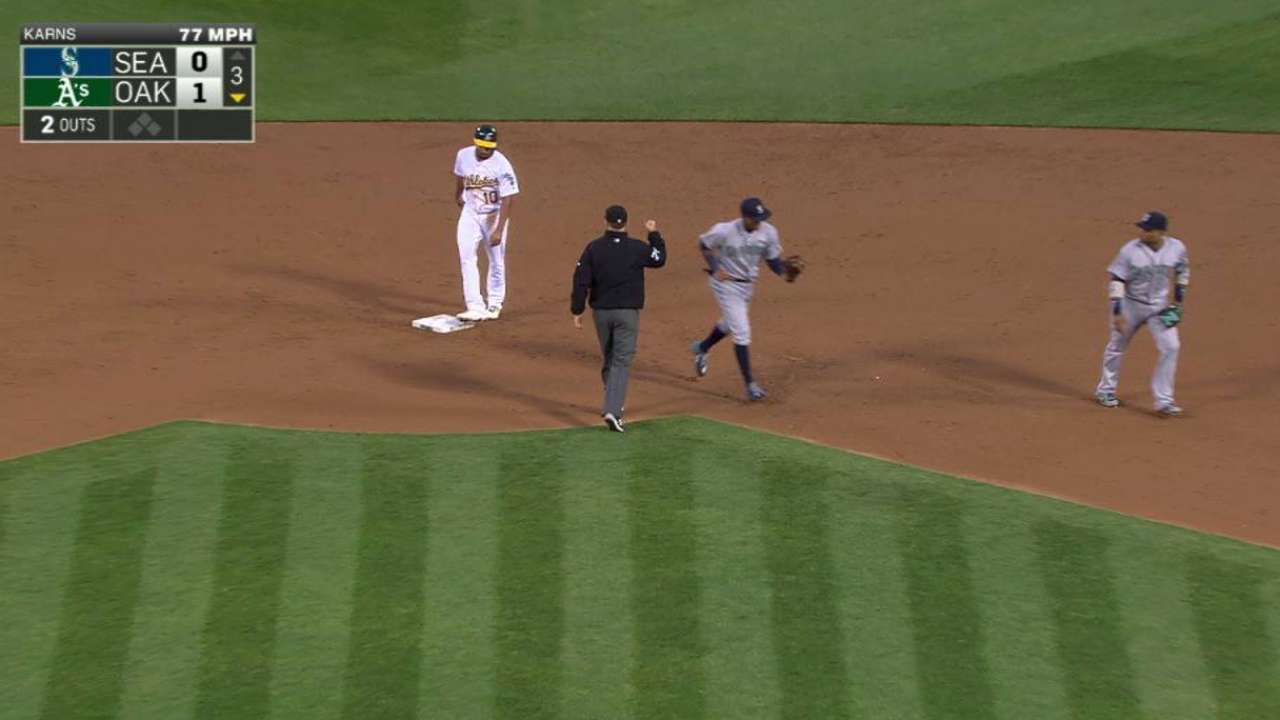 Marte also went deep in the hole to field a grounder by Mark Canha in the fifth, then made the jump throw to second to force Vogt as his confidence seemingly grew by the minute.
Karns was the beneficiary and the 28-year-old right-hander took care of the rest, outside of a pair of home runs by Davis that accounted for all three A's runs. Karns held Houston scoreless for seven innings of two-hit ball in his previous outing and has allowed just three runs and eight hits over his last 13 innings in improving to 3-1 with a 3.81 ERA.
But Marte kept doing work even after Karns' departure, ranging far to his left -- again on the shift -- to track down a slow roller by Yonder Alonso to get the final out for reliever Nick Vincent in the seventh and leave the tying run stranded at second.
"Outstanding," said manager Scott Servais. "Really good defense. He had a number of key plays in the game. The backhand jump, the force play at second, a couple balls up the middle, a good at-bat late in the game when we were trying to get something going there in the ninth.
"I thought the thing for Marte tonight was he's being able to slow the game down. His internal clock is getting a lot better, knowing who is running and knowing the situation. That's what being an everyday big league shortstop is about."
And the 22-year-old continues showing he's ready for that responsibility, with his .276 batting average just an added bonus if he keeps playing stellar defense.
"I'm trying to play good defense and help my team and you can see what happened," Marte said. "I feel comfortable out there. That's my natural position. I feel good."
Greg Johns has covered the Mariners since 1997, and for MLB.com since 2011. Follow him on Twitter @GregJohnsMLB and listen to his podcast. This story was not subject to the approval of Major League Baseball or its clubs.