Demeritte, Mendez among top prospect performers Monday
Rangers' No. 21 prospect grabs Minor League homer lead, No. 14 hurls five one-hit frames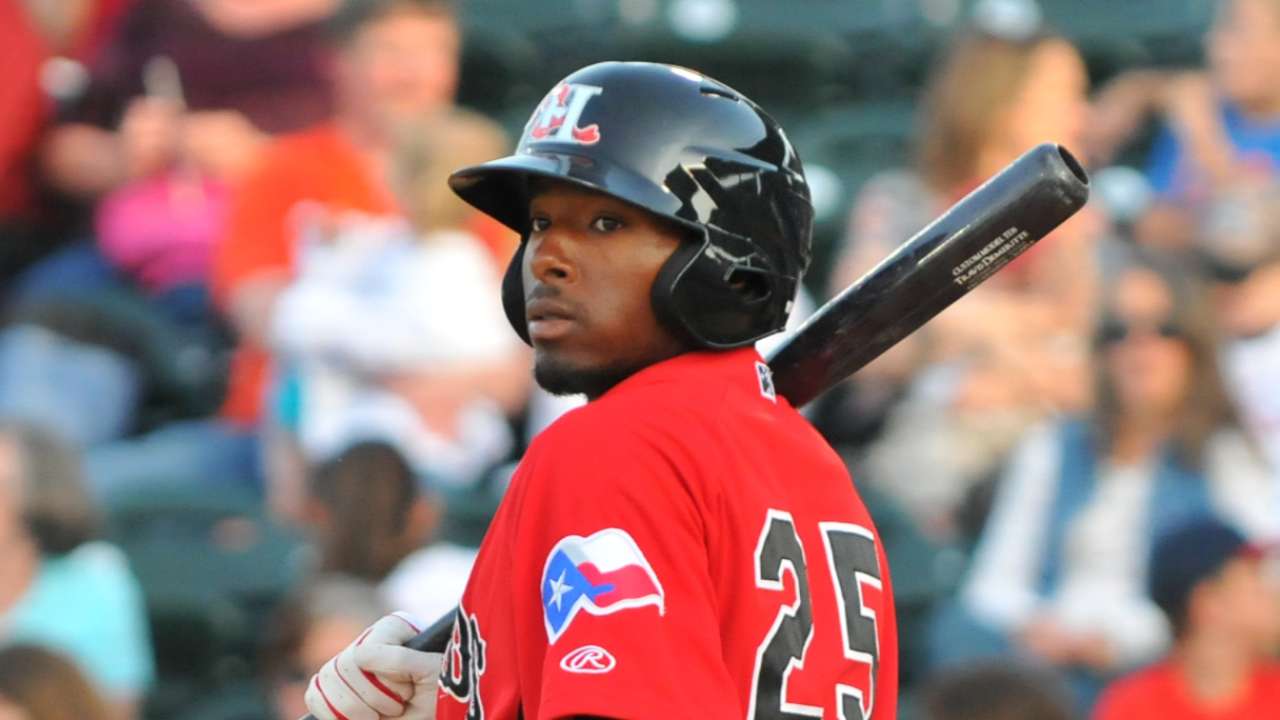 Class A Advanced High Desert has been rolling of late, winning 13 of its last 15 games to move into first place atop the California League South division with a 19-6 overall record.
Left-hander Yohander Mendez (Rangers' No. 14 prospect) and second baseman Travis Demeritte (No. 21 prospect) have been key to High Desert's early season success, and both thrived Monday as the Mavericks edged Visalia, 2-1.
Making his fifth start of the year for High Desert, Mendez, 21, struck out eight while limiting the Rawhide to just one hit in five scoreless innings. It was the third scoreless performance for the 6-foot-5 lefty in his last four starts, during which he's posted a 27/6 K/BB ratio and yielded just one earned run in 21 innings.
"One of the things that Yohander is really gifted with is his ability to make adjustments," Mavs pitching coach Oscar Marin told MiLB.com. "He controls his pitches because he controls his delivery and he's able to repeat it. He has the ability to make adjustments as he goes along during the game, which is key. A lot of younger pitchers are unable to do that in the heat of the moment and it takes them until their next outing to make the adjustments.
Demeritte powered the Mavericks in the victory with a tie-breaking, two-run home run in the bottom of the sixth inning. The dinger was the 21-year-old's ninth of the season and helped him retake the Minor League lead. After a disappointing 2015 campaign that saw him serve an 80-game suspension for PEDs, Demeritte has rebounded this year to hit .292/.373/.730 with 19 extra-base hits, 24 runs scored and 18 RBIs in 22 games.
The rest of the best performances from top prospects Monday
• No. 20 overall prospect Franklin Barreto (A's No. 1) stayed red hot in Double-A Midland's win against San Antonio, going 3-for-5 with his third home run, two RBIs and a pair of stolen bases. The multi-hit performance was Barreto's seventh in his last 10 games. Matt Chapman (A's No. 6) also slugged his eighth homer of the season.
• No. 23 overall prospect Bradley Zimmer's (Indians' No. 1) only hit in four at-bats for Double-A Akron was a big one: a game-tying solo home run -- his fourth of the season and second in as many days -- in the bottom of the seventh inning. The RubberDucks scored another run in the frame en route to defeating Trenton, 2-1. Right-hander Adam Plutko (Indians' No. 15) was sharp on the mound in his fifth start for Akron as he struck out six in 6 2/3 innings.
• No. 65 overall prospect Amir Garrett (Reds' No. 4) kept rolling for Double-A Pensacola with five innings of two-run ball (one earned) in a win against Birmingham. The 24-year-old southpaw scattered three hits, walked two and struck out seven. Garrett has been one of the better pitchers in the Minors to begin the season, posting a 1.52 ERA, 0.88 WHIP and 32/6 K/BB ratio across 29 2/3 innings (five starts).
• Astros No. 8 prospect Joe Musgrove hurled six scoreless innings in Double-A Corpus Christi's 8-2 win against Round Rock. The right-hander allowed five hits, issued one walk, struck out five and lowered his ERA to 0.39.
"I was attacking guys, taking chances in the zone, and I established fastballs inside early, which opened up the outer half for me," Musgrove told MiLB.com. "I tried to pitch to contact early to try to get myself deep into the game and give my 'pen a little bit of a rest."
• Astros No. 11 prospect Albert Abreu was nearly unhittable for Class A Quad Cities, allowing one knock over six innings in a loss to Great Lakes. The lone hit off the 20-year-old righty came in the first inning, as did the one run he permitted in the contest, but he dominated the rest of the way en route to piling up a career-high nine strikeouts. Abreu has fanned 31 hitters (against 10 walks) in 20 1/3 innings on the season.
• Athletics No. 5 prospect Renato Nunez and Daniel Mengden (A's No. 14) paced Triple-A Nashville at the plate and on the mound, respectively, in a win against Iowa. Nunez, 22, went 3-for-4 with his fifth home run of the season -- and third in his last six games.
Mengden, in his Triple-A debut, tossed six scoreless innings. The right-hander has made five scoreless starts in six turns between the Double- and Triple-A levels.
"You know, I try not to make the game bigger than it is," Mengden told MiLB.com. "The only thing that changed from Midland to Nashville is the stadium and the jersey. It's the same game, just different places. I just tried to go out there and do the same thing -- first-pitch strikes and keep the ball down."
• Brewers No. 21 prospect Bubba Derby struck out a career-best nine batters over five innings as Class A Brevard County defeated Dunedin, 8-2. Derby yielded one run (unearned) on three hits and one walk in the outing.
• Cardinals No. 23 prospect Trey Nielsen allowed one hit in six scoreless innings, striking out four, to defeat Arkansas in his best start of the season for Double-A Springfield. The 2013 30th-rounder gave up a combined 10 earned runs between his first two starts but has been better of late, with three earned runs allowed in his last 16 2/3 frames.
• Rays No. 7 prospect Daniel Robertson went 4-for-5 with four RBIs and finished a home run shy of the cycle in Triple-A Durham win against Indianapolis. The 22-year-old shortstop raised his batting average to .253 from .214 with the four-hit effort, though it was just his third multi-hit game of the season.
"I felt good, just felt like I was in a good position to hit the ball, just stayed within myself and had a good approach. I was looking for a certain pitch and when I got it, I spread it out pretty well. So it was good," Robertson told MiLB.com.
• Royals No. 15 prospect Hunter Dozier's resurgence continued when the third baseman went 2-for-4 with a home run (his third in the last four games), double and pair of RBIs to power Double-A Northwest Arkansas past Tulsa. After batting just .213 with 12 home runs and a 45/151 BB/K in 128 games for Northwest Arkansas in 2015, Dozier, 24, has rebounded to hit .316/.419/.684 with seven homers and a 13/20 K/BB ratio over 22 games this season in his return to the Texas League.
• Yankees No. 22 prospect Cale Coshow allowed one hit over six innings in his second straight scoreless start for Double-A Trenton, who fell to Akron, 2-1. The 23-year-old righty has posted 11 2/3 blank frames in that span, during which he's lowered his ERA to 2.89 from 4.96.
"Today, he didn't have his best stuff, especially his fastball command," Trenton pitching coach Jose Rosado told MiLB.com. "He did a very good job of holding the runners on and limiting any damage. He was able to adjust and control the game."
Mike Rosenbaum is a reporter for MLB.com. Follow him on Twitter at @GoldenSombrero. This story was not subject to the approval of Major League Baseball or its clubs.