Patience pays off for Twins against Keuchel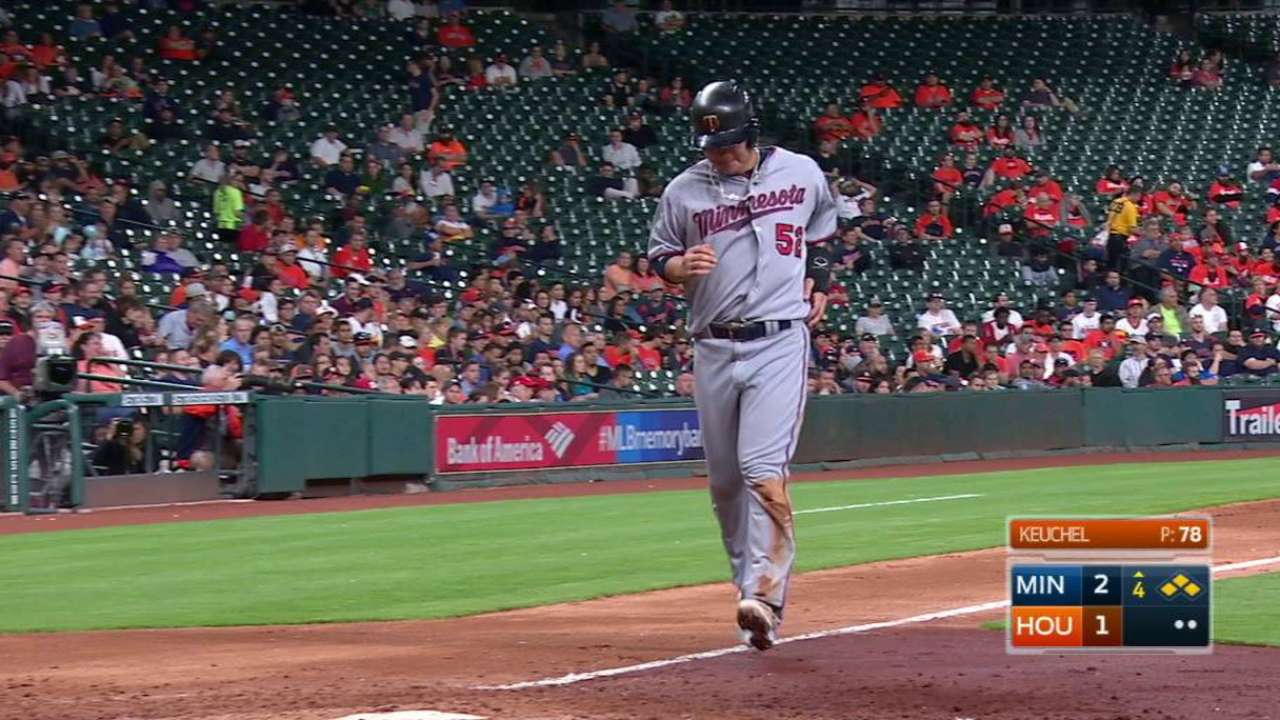 MINNEAPOLIS -- When describing reigning American League Cy Young Award winner Dallas Keuchel before Monday's game, Twins manager Paul Molitor noted how few strikes Keuchel throws and how that's part of his success -- getting hitters to chase at pitches, especially down and out of the zone.
The numbers back that up, as Keuchel threw the second-smallest percentage of pitches in the strike zone last season and the 10th fewest this year, per Fangraphs.com. The Twins used that to their advantage, drawing five walks against him, including four in a three-run fourth, en route to a 6-2 win over the Astros at Minute Maid Park. The win snapped Keuchel's unbeaten streak at home, as he was 17-0 in Houston dating back to Sept. 20, 2014.
"Part of his effectiveness is that he gets hitters to expand the zone, and we really tried to preach that in our game plan -- to be patient and get the ball up," Molitor said. "He tries to expand down. For the most part, particularly in that inning where we had the rally, we drew walks and made him throw pitches. And the more he threw, the more patient we got. It's kind of funny to start a rally by walking, but you have to take what you can get."
Patience was the key to the Twins' three-run rally, as Miguel Sano and Byung Ho Park each drew one-out walks to load the bases. Eduardo Escobar jumped on a first-pitch fastball for an RBI single to left before Eddie Rosario hit a sacrifice fly to left.
John Ryan Murphy followed with a seven-pitch walk to load the bases for Eduardo Nunez, who promptly walked on four straight pitches to send home the inning's third run. Keuchel then fell behind Danny Santana, 3-1, but Santana grounded out to end the inning.
"He's a guy who lives on the edges down and on both sides of the plate," Murphy said. "That's just how he's been able to be so good in his career. He's a tough pitcher to face. Tonight we had some calls go our way. We waited him out that inning. He had a long, tough inning there, and that was the inning that hurt him."
As Murphy noted, the four walks led to a 46-pitch inning for Keuchel, getting him up to 83 pitches entering the fifth. The Twins then used Houston's shifting to their advantage, as Brian Dozier dropped a leadoff bunt single before Sano singled through the right side with one out. That set up the knockout blow from Park, a two-run triple to Tal's Hill in center field on a rocket that left the bat at 111 mph and went an estimated 418 feet, per Statcast™.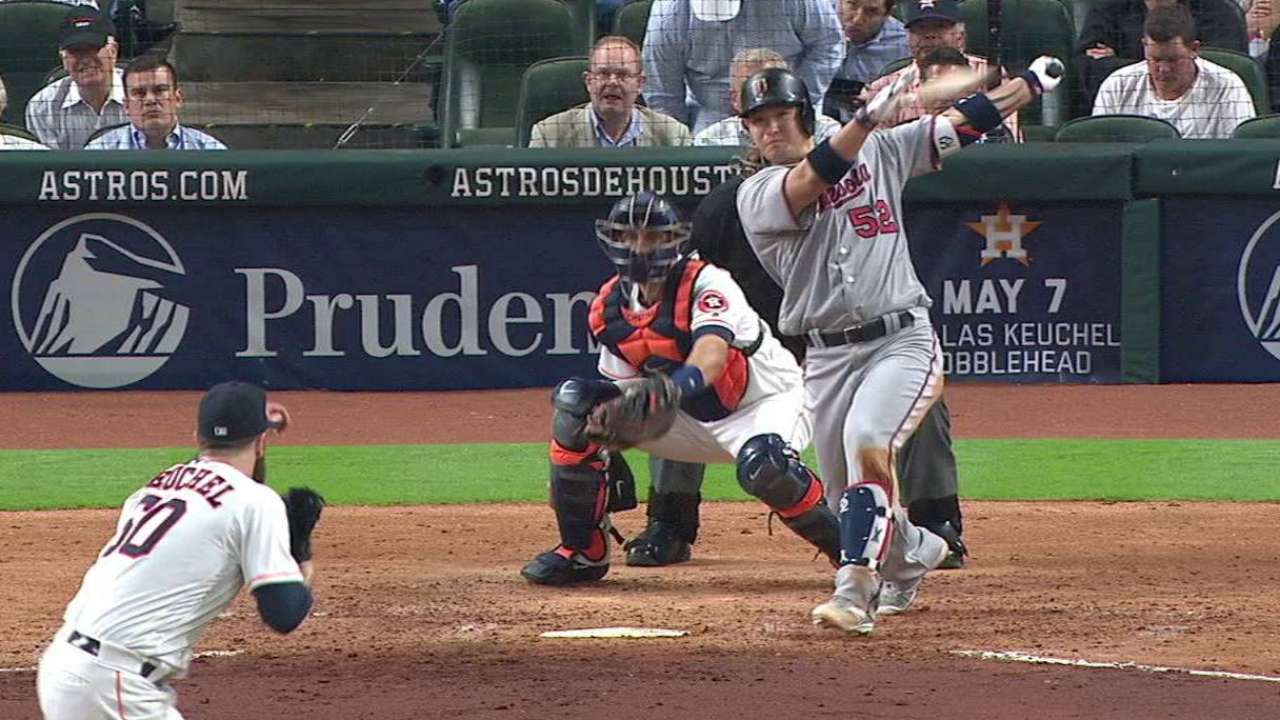 "They laid off some tough pitches," said Keuchel, who threw 51 of his 97 pitches for strikes. "I knew their game plan all along was to make me throw strikes and attack the zone. I'm going to have to get back to the drawing board and not be as fine and rely on my stuff to play, and we'll go from there."
Rhett Bollinger has covered the Twins for MLB.com since 2011. Read his blog, Bollinger Beat, follow him on Twitter @RhettBollinger and listen to his podcast. This story was not subject to the approval of Major League Baseball or its clubs.