Nelson ventures into Crew's ace role
Starter has recorded four of Milwaukee's six quality starts so far this season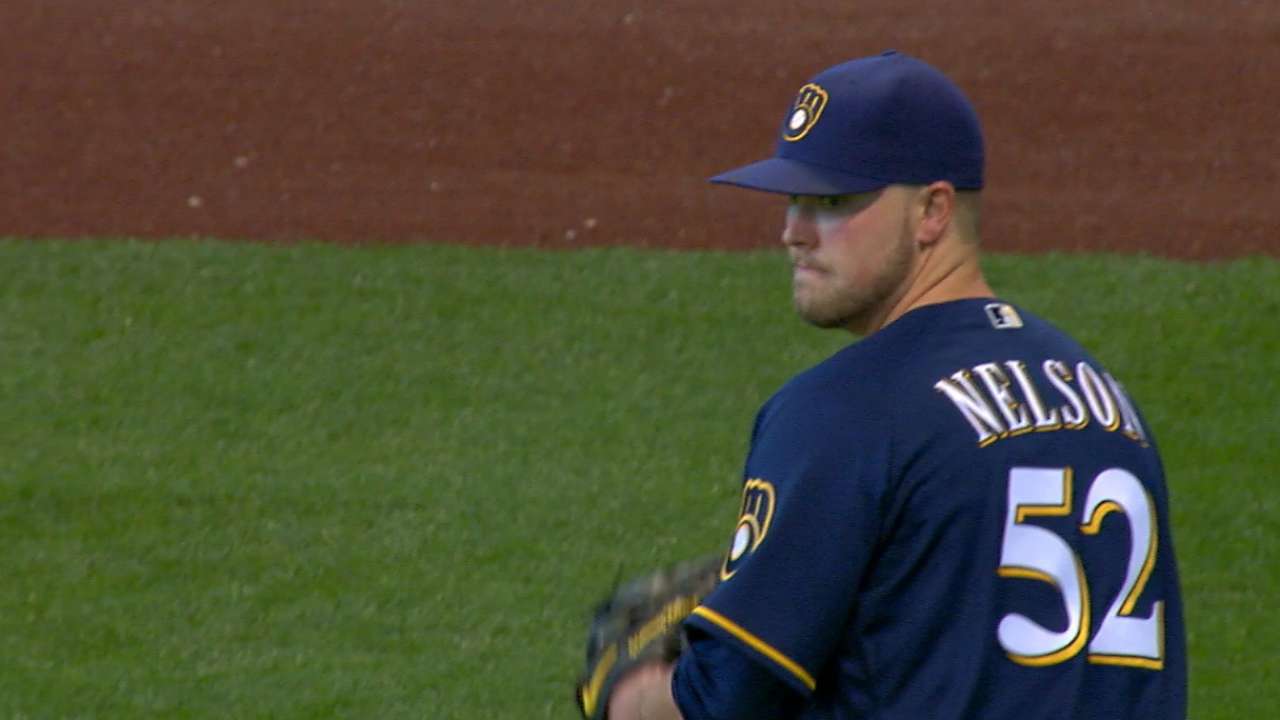 MILWAUKEE -- The Brewers' best pitcher this season was one of their best hitters on Monday night, too. Jimmy Nelson delivered two hits and the game-winning RBI to back his own quality start in an 8-5 win over the Angels at Miller Park, further cementing Nelson's status as a bright spot on Milwaukee's struggling starting staff.
So the first question in the postgame scrum was, "Where to start? The pitching or the hitting?"
"That's the first time I've gotten two hits in a game since I was, like, 15," Nelson said. "So probably the hits."
OK, start with the hits.
The Brewers were coming off their best offensive game of the season, a 14-run, 18-hit attack in Sunday's win over the Marlins, but they were silenced through four innings Monday by Jered Weaver's 83-mph fastball and diet of offspeed offerings. That changed in a four-run fifth, when the Brewers tied the game at 1-1 thanks to Angels left fielder Rafael Ortega's error, then went ahead on Nelson's "slash" single, his second hit of the game.
Nelson showed bunt, then pulled back the bat and swung away for a base hit to right field.
"It's a play that we know is in everybody's playbook," Angels manager Mike Scioscia said. "When a pitcher executes it, you're hoping for a foul ball or something, which can get you command of a count and change the situation. But he did a good job with it."
"That's Jimmy's second hit this year on a slash, actually," manager Craig Counsell said. "He kept the rally going. That was a big spot."
Said Ryan Braun, who had three hits of his own for the second straight day, "Obviously, every run we get right now is a big run."
That's because the Brewers, despite Nelson's efforts, have the poorest starting pitching in the Majors, with a 6.39 ERA entering Monday. Nelson has been the exception. He is 4-2 with a 3.05 ERA and a .204 opponents' batting average.
Including seven innings of two-run ball on Monday, with four hits, three walks and six strikeouts, Nelson owns four of the Brewers' six quality starts. He has also accounted for all three of the team's starts of more than six innings.
"It's not like any added pressure or anything," Nelson said "Everybody here in this clubhouse has been able to throw deep in games … [but] we're going through a little struggle right now. Being in the big leagues, you adjust to it and learn from it."
Now, if the Brewers could only get another starting pitcher or two on track.
"It seems like he's into that role where he's kind of the guy who becomes the stopper, who becomes our ace," Braun said of Nelson. "He wants to be that guy. He works hard enough to be that guy. I think that's something that's earned over time, but right now he's doing everything in his power to head in the right direction to become that guy for us."
"The thing I'm the happiest about is he's taken a step forward this year," Counsell said. "It is his second full season. Last year, in his first full year, there were lots of learning experiences throughout the season. I really think he's taken a step forward in a lot of ways. There are more steps to take, but he's certainly taken a step forward."
Adam McCalvy has covered the Brewers for MLB.com since 2001. Follow him on Twitter @AdamMcCalvy, like him on Facebook and listen to his podcast. This story was not subject to the approval of Major League Baseball or its clubs.