MLB.com Columnist
Jim Callis
Draft prospects with rising, falling stocks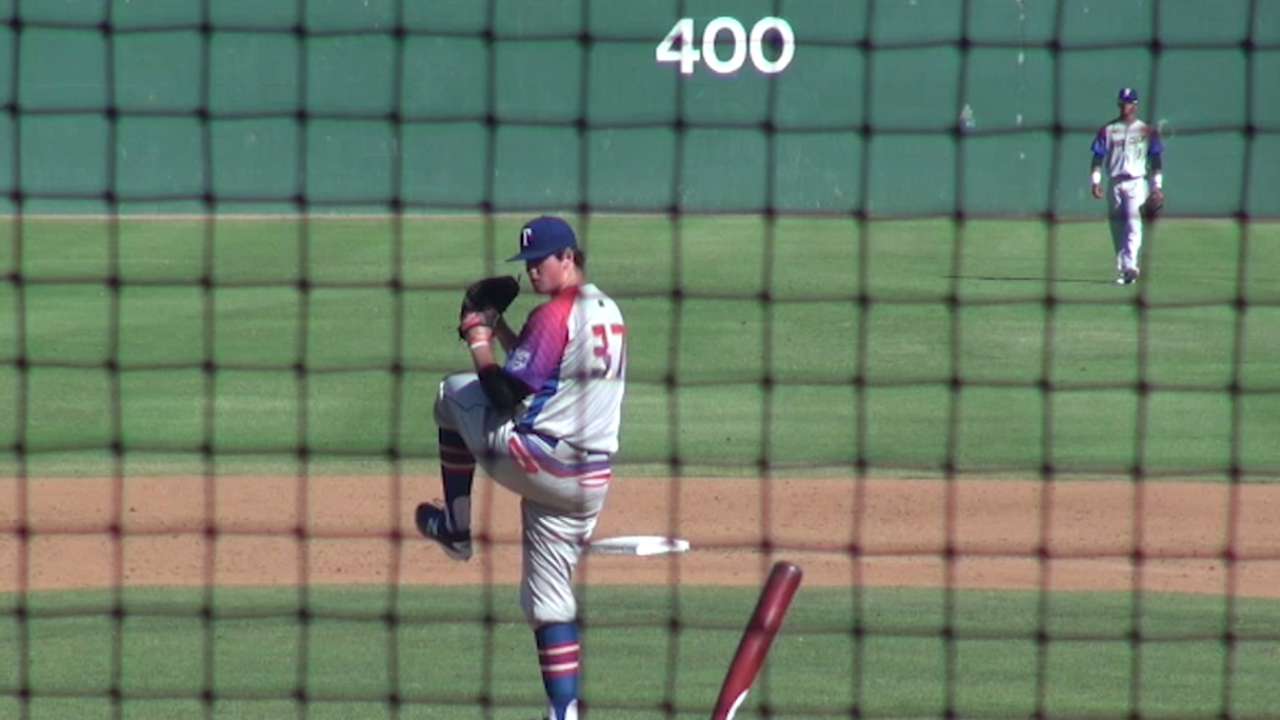 Joey Wentz had a dead arm that prevented him from pitching last summer, so he traveled the high school showcase circuit as a first baseman and made an impression with his power. He smacked a 543-foot homer during the Junior Home Run Derby, part of the All-Star Game festivities in Cincinnati, and projected as a third- to fifth-round pick as a hitter.
Wentz built his arm strength back up with an offseason throwing program, and now there's no chance that he'll get drafted as a position player or make it anywhere close to the third round. He allowed just two hits while striking out 60 in his first 30 innings this spring for Shawnee Mission East High (Prairie Village, Kan.) while showing the potential for three plus pitches. Add Wentz's impressive size (6-foot-5, 210 pounds) and athleticism, plus the fact that he's left-handed, and pro teams love him all the more.
• Eight players who could go No. 1 in the Draft
"It comes out good," said an area scout who has Wentz in his territory. "He's athletic and has a good delivery and can pitch. He throws 90-95 mph with more velocity to come, and it doesn't have to because the angle on his pitches is so good. He's like Cole Hamels in high school, with a little less stuff but more physical."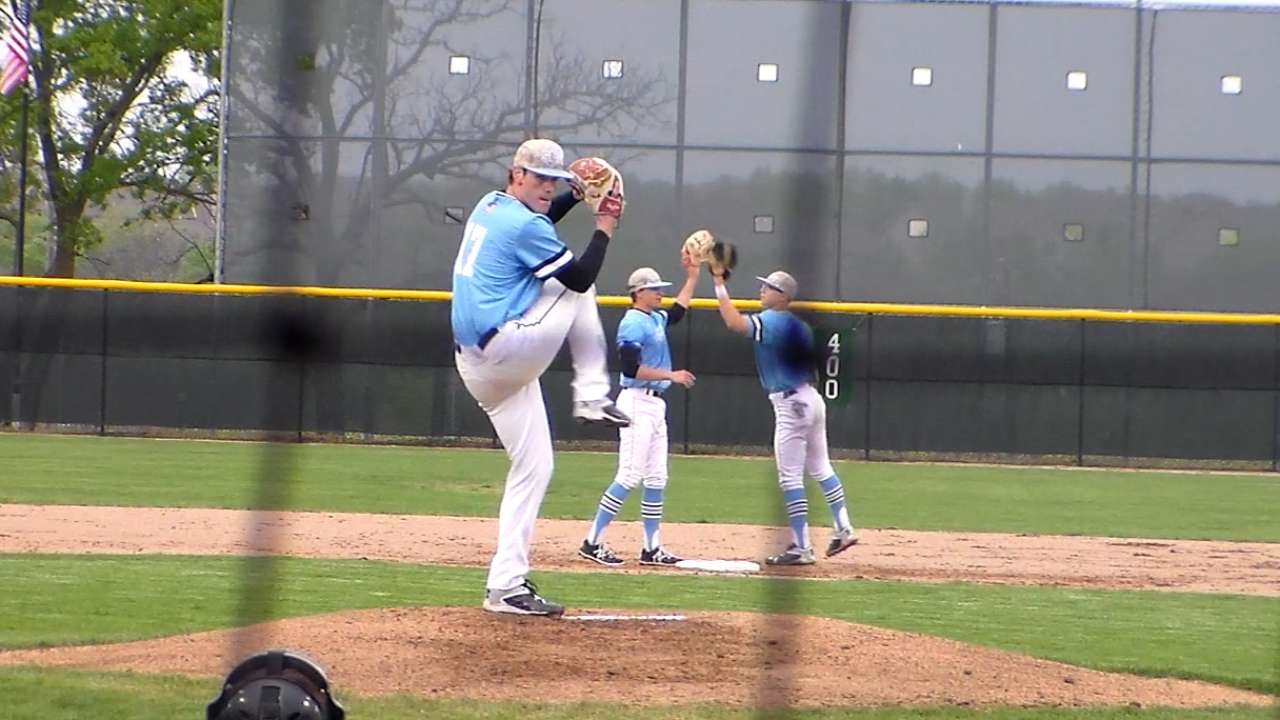 After not making MLBPipeline.com's preseason Draft Top 50 Prospects list, Wentz made the biggest leap of anyone onto our updated Draft Top 100 that came out last week, checking in at No. 12. Here are four more players who have thrust themselves into mid-first-round consideration:
Forrest Whitley, RHP, Alamo Heights HS/San Antonio, Texas (unranked in December, No. 13 in April)
He tightened up his 6-foot-7 frame by dropping 25 pounds to get to 225, and his stuff has kicked up a notch. Whitley consistently shows a 92-97 mph fastball, a power curveball and a solid changeup, and there no longer are questions about whether he'll get picked high enough to give up his Florida State commitment.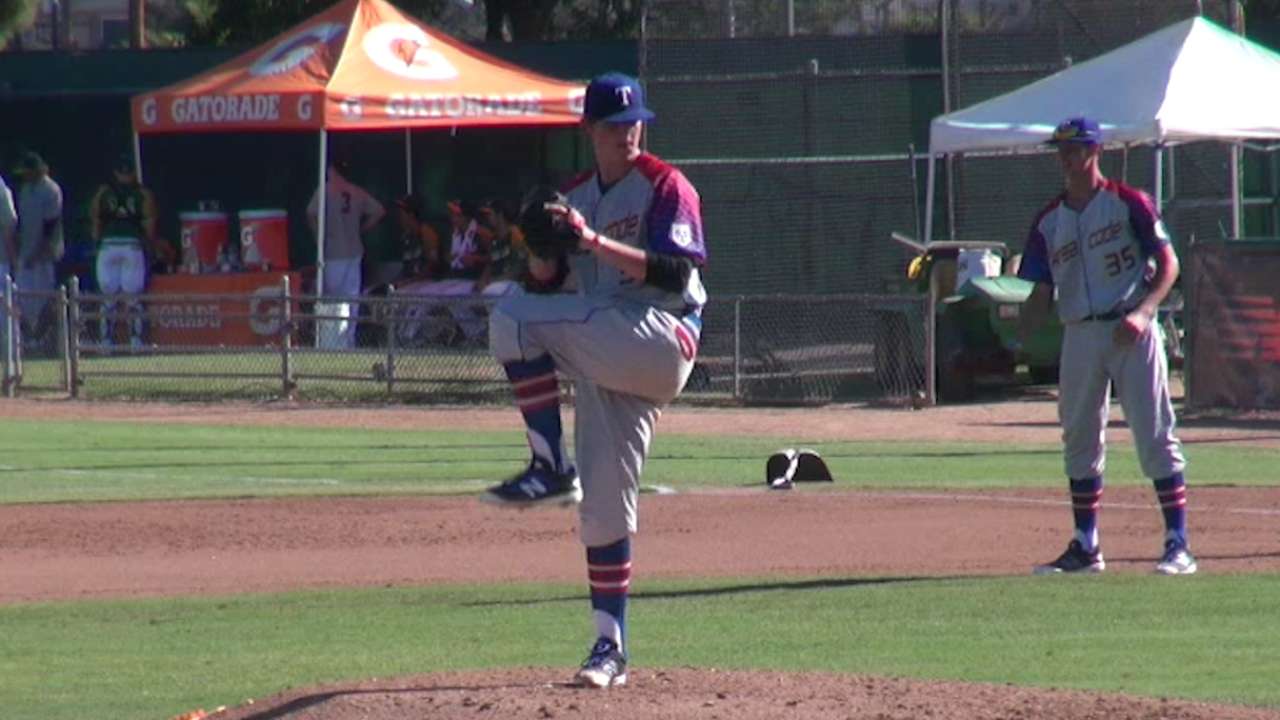 Alex Kirilloff, OF, Plum HS/Pittsburgh (unranked in December, No. 18 in April)
The best Pittsburgh-area prep prospect since Neil Walker went 11th overall to the hometown Pirates in 2004, Kirilloff won the home run derby at the Perfect Game All-American Classic at Petco Park last August. Power is his most obvious tool but far from his only one, as he's also one of the best hitters in the high school class and has the solid arm strength and athleticism to profile well in right field.
• Callis and Mayo's second mock Draft
Zack Collins, C, Miami (unranked in December, No. 20 in April)
A team that believes Collins can stay behind the plate could take him in the top 10. Even if he has to move to first base, he has the big left-handed power to become a star. Collins is hitting .417/.580/.713 for the Hurricanes this spring, leading NCAA Division I in on-base percentage and walks per game (1.23) while drawing comparisons to Kyle Schwarber.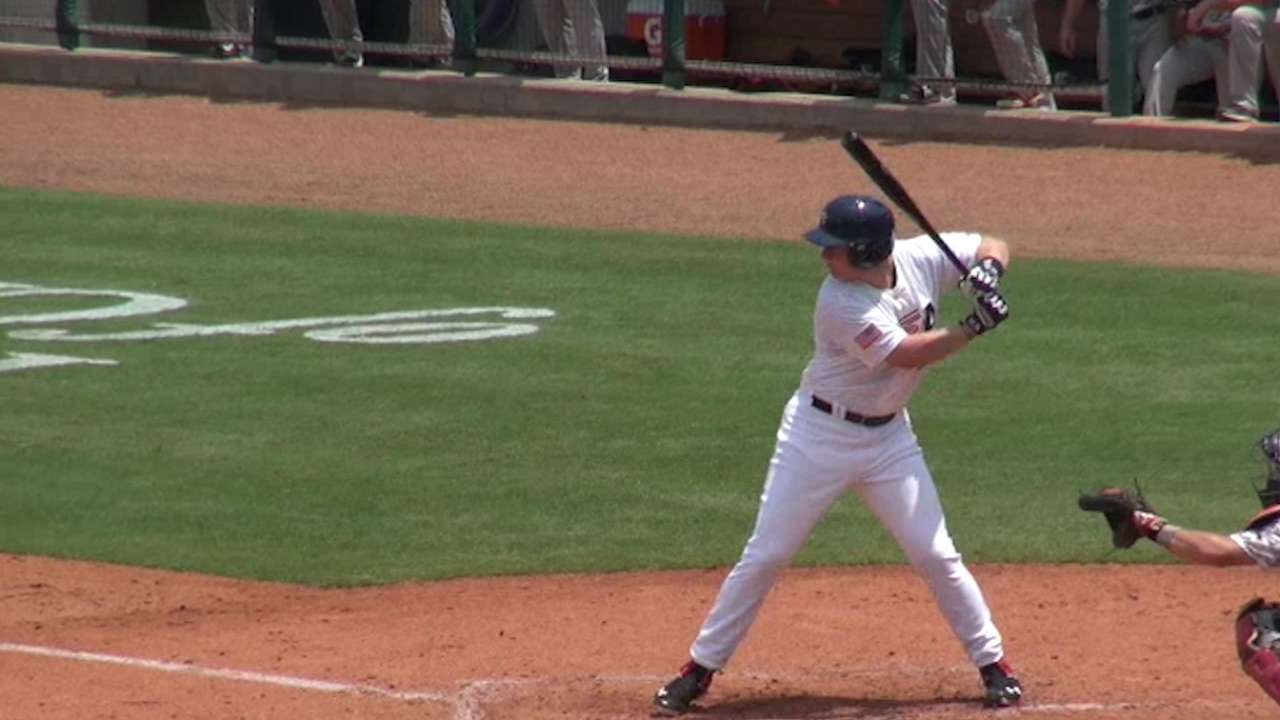 Matt Manning, RHP, Sheldon HS/Sacramento, Calif. (unranked in December, No. 21 in April)
The son of former NBA power forward Rich Manning, Matt averaged 20 points and six rebounds per game as a Sheldon High senior. His future is definitely in baseball, however, as he seems to keep growing and getting better on the mound -- he's now a 6-foot-6 right-hander with a fastball that reaches 97 mph, a hard curveball and plenty of athleticism.
Headed in the opposite direction
With a 6-foot-7 frame that produces upper-90s fastballs and a pair of power breaking balls, Oklahoma right-hander Alec Hansen was a candidate to go No. 1 overall entering the season. But he quickly took himself out of consideration when his control and command disintegrated, and the Sooners pulled him from their rotation and made him a mop-up reliever in late March.
Hansen still shows overpowering raw stuff, so there's some thought that a club with extra Draft choices could still take him in the top 50 picks. But there also are serious worries about his wildness, his delivery and his health (he missed the fall with forearm tightness), so he could drop to the third round or lower. Hansen slid from No. 3 in our preseason rankings to No. 64 last week, and below are four more former first-round prospects trending in the wrong direction: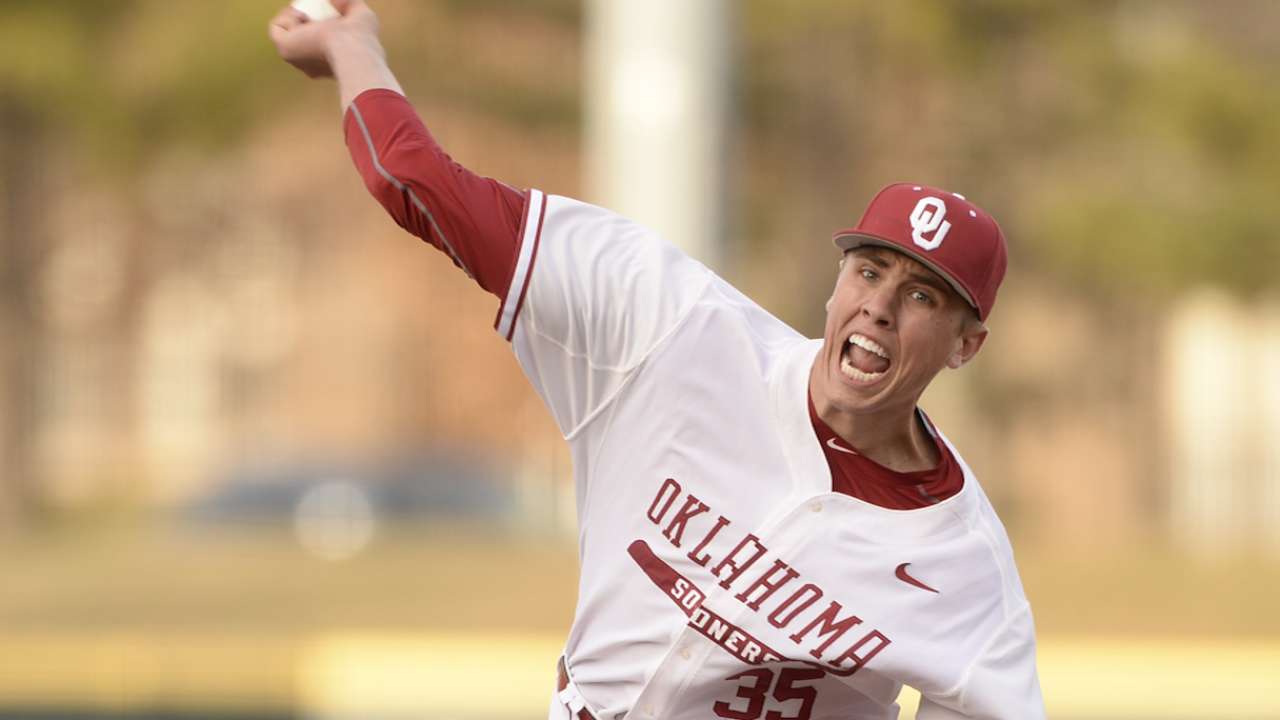 Kyle Funkhouser, RHP, Louisville (No. 23 in December, unranked in April)
A Dodgers first-rounder (35th overall) last June, he won't come close to going that high after returning for his senior year. Funkhouser has lost about 3 mph off his fastball, and his slider, changeup and control also have regressed.
Austin Bergner, RHP, Windermere (Fla.) Prep (No. 31 in December, unranked in April)
With an impressive three-pitch mix and a projectable 6-foot-4 build, he emerged as one of the top 2016 prep prospects in the summer after his sophomore year. Bergner's stuff hasn't been as sharp during his senior season and there have been concerns about his short arm action for some time, so he might not go high enough to divert him from his North Carolina commitment.
• Complete Draft order, coverage on Draft central
Nick Banks, OF, Texas A&M (No. 16 in December, No. 95 in April)
Scouts considered him the best pure hitter on the U.S. National Collegiate team last summer, and they also liked his above-average raw power, speed and arm strength. But Banks hasn't looked the same since having a cyst removed from his lower back last fall, as he's stiffer and his tools have gone backward.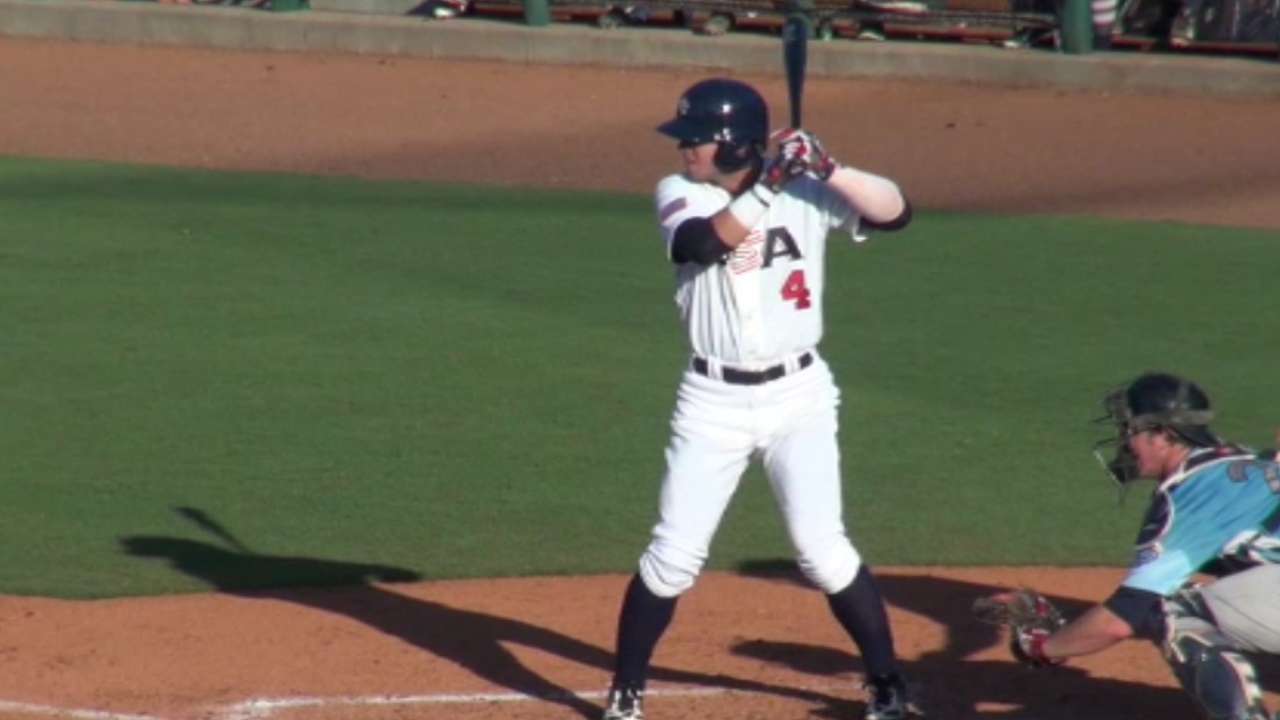 Bobby Dalbec, 3B, Arizona (No. 15 in December, No. 85 in April)
He led the Pacific-12 Conference with 15 homers and the Cape Cod League with 12 in just 27 games a year ago, and he was supposed to be the best college power hitter in the 2016 Draft. Instead, Dalbec is hitting just .231 with five homers and a 31 percent strikeout rate as his swing-and-miss issues have snowballed -- and he has been more impressive as a closer with a low-90s fastball.
Jim Callis is a reporter for MLB.com. Follow @jimcallisMLB on Twitter. This story was not subject to the approval of Major League Baseball or its clubs.